Buy 2 Get 1 Free
Omnia Side Table
---
Low: Diameter 13.8" - 15.4" x Height 11.8"
Middle: Diameter 13.8" - 15.4" x Height 15.7"
High: Diameter 13.8" - 15.4" x Height 19.7"
Wood furniture is beautiful, easy to care for, and classic. Quality wood furniture can last generations when properly maintained.

To clean: Wipe away debris with a damp, cotton cloth. You may use mild soap on a damp cloth if needed. Always test first on an inconspicuous area. Remove any soap with a clean damp cloth. Wipe dry with a clean cloth. To remove dust, use a microfiber or disposable duster or a vacuum cleaner with an upholstery brush to dust the entire surface. This will prevent excessive soil build-up in the weaving. To remove any stubborn build-up, use a soft-bristled toothbrush or blast compressed air in tight areas to dislodge dust and dirt.

To protect: Keep your wood furniture away from any heating source, moisture source, vent, and direct sunlight to prevent fading, discoloration, and warping.

For minor touch-ups: Minor scratches or dents - rub a color-matched marker, shoe polish, or furniture pen over the damaged area to make it less noticeable.
Low
Carton Size: 18"L x 18"W x 13"H
Total Carton Weight: 29.76 lbs

Middle
Carton Size: 18"L x 18"W x 18"H
Total Carton Weight: 39.68 lbs

High
Carton Size: 18"L x 18"W x 21"H
Total Carton Weight: 49.6 lbs
Because this is a natural product the size and color with vary.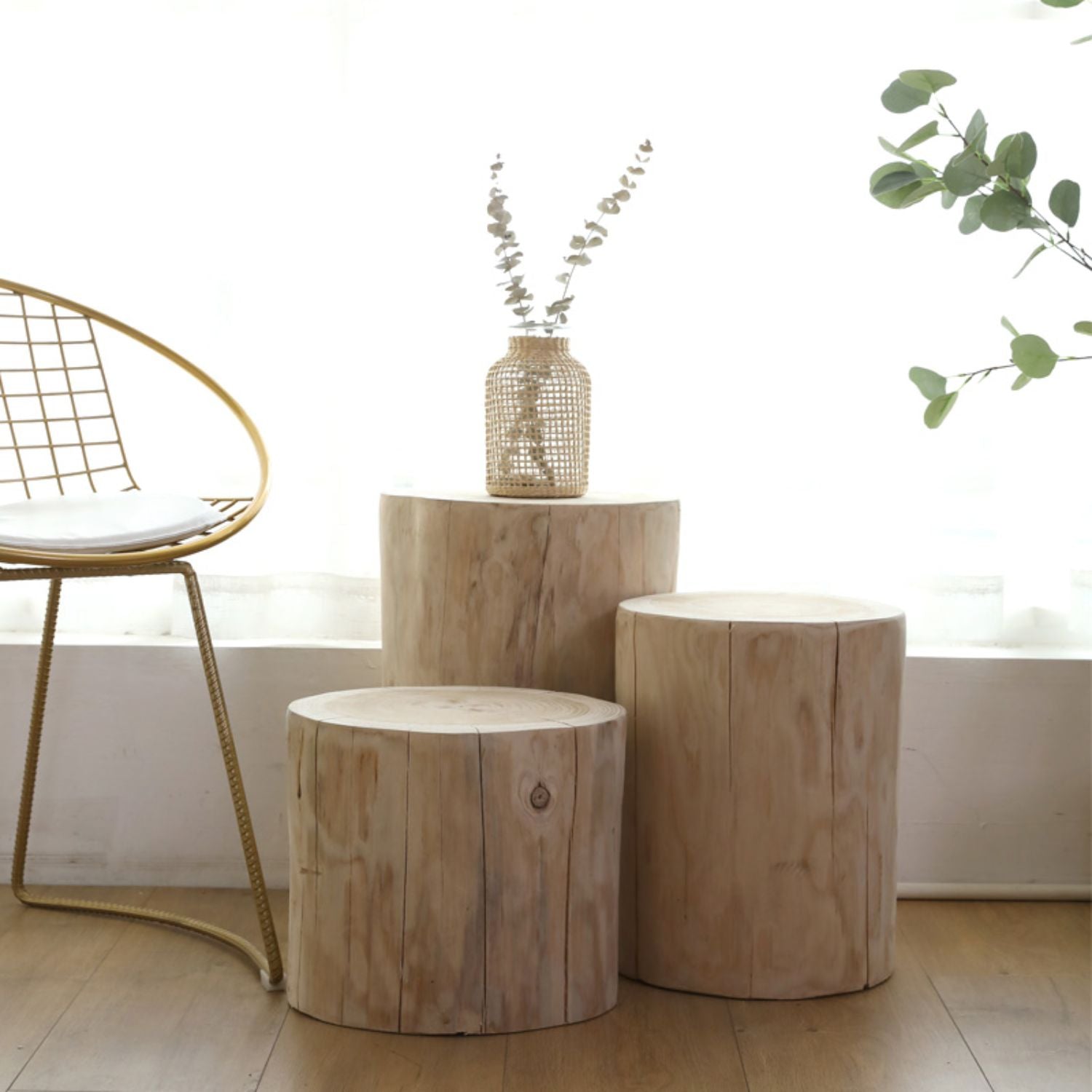 Wood works wonder table
Introducing the Omnia Side Table! Not only does it bring a touch of rustic charm to any space, but it also makes room for a mean cup of coffee.
Lumber lounger
Crafted from beautiful, natural wood preserving natural color and finished with a silky smooth surface, this table will have you lounging in comfort and style.
Block and Roll
Choose between one Omnia side table, or get all three. It is sure to make your space both stylish and functional, making your morning coffee ritual an enjoyable experience. So let the good times roll with this block table and roll the fun!
This product has no reviews yet.