Portage Chest
---
Add Protection Plan
What's covered
Width: 48.4"
Depth: 22.4"
Height: 25.6"
Frame: MDF Wood
Overall: Aluminum
To clean: Wipe with a damp microfiber cloth as needed to remove debris and oxidation. Warm water is the best option for cleaning and will be the only cleaning required in most situations.

Treating stains: You may use a small amount of nonabrasive detergent added to water for stains. A drop of mild dish soap works well. Do not use bleach or chloride-based cleaners. Stubborn stains may require a commercial cleaning product. These products can remove stains, protect against scratches, and polish the surface of the metal.
Carton Size: 24"D x 50"L x 28"H Inch
Carton Weight: 74 lbs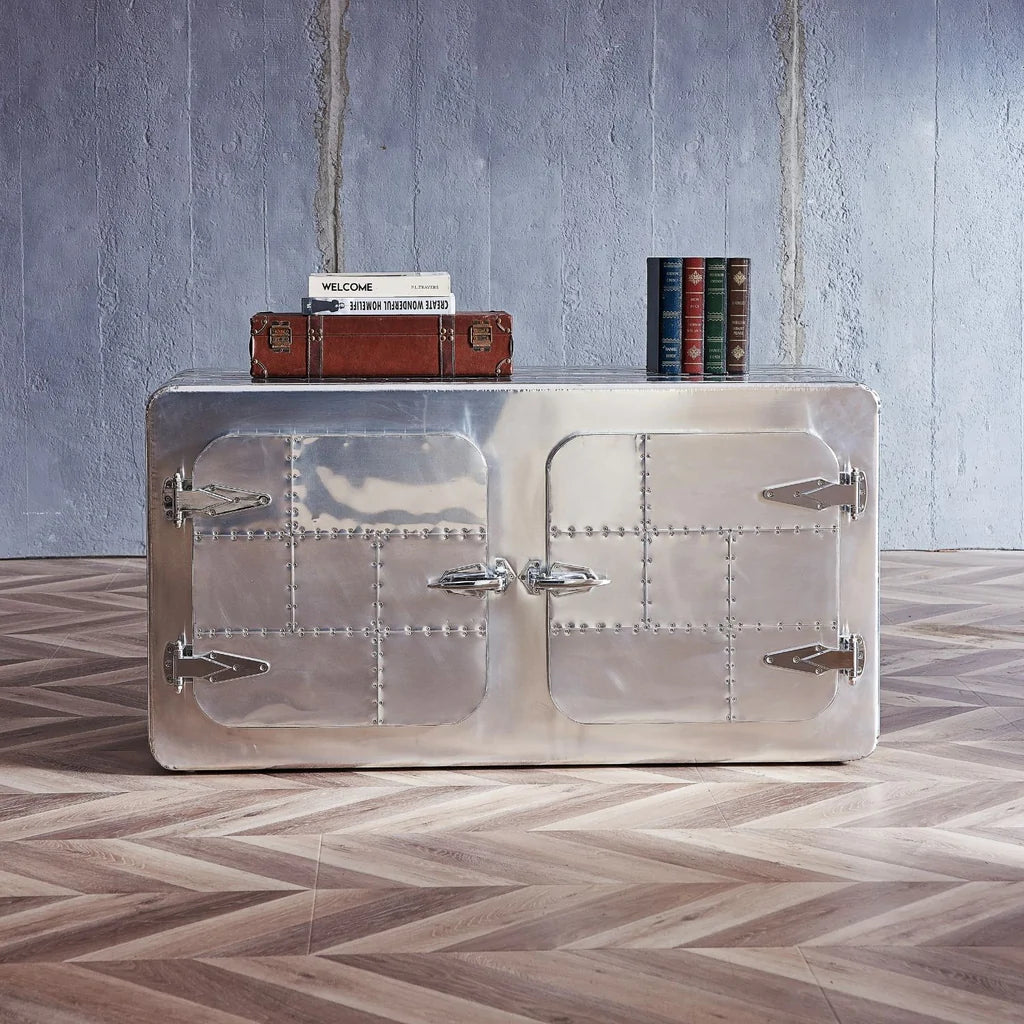 Real industrial materials, real industrial feel
The Portage Chest features an aluminum exterior over a wooden frame with stylish and functional latch and strike closure, and hinges. Each chest is separated into 4 compartments for superior storage and organization. But don't just put stuff in it, you can comfortably put accessories on top too - lamps, books, vases, whatever. Put theses chests anywhere in your home - mix them in with your standard dining room or bedroom decor to give the space a modern flair or add them to your industrial styled kitchen for extra storage.

Industrial style
Take that stainless steel commercial kitchen look, mix in a little garage vibe, add a sprinkle of patchwork for something different, you've got the Portage Chest.
In Real Life
Video taken by an iphone 12. No filters, No edits.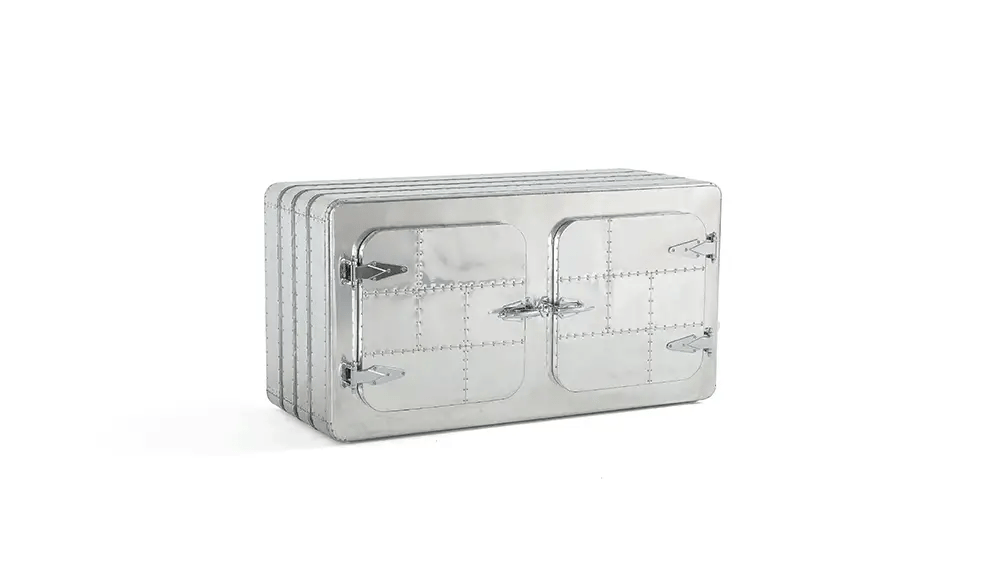 Storage done right
Measuring 48.4" x 22.4" x 25.6" the Portage Chest is just the right size for your extra storage needs.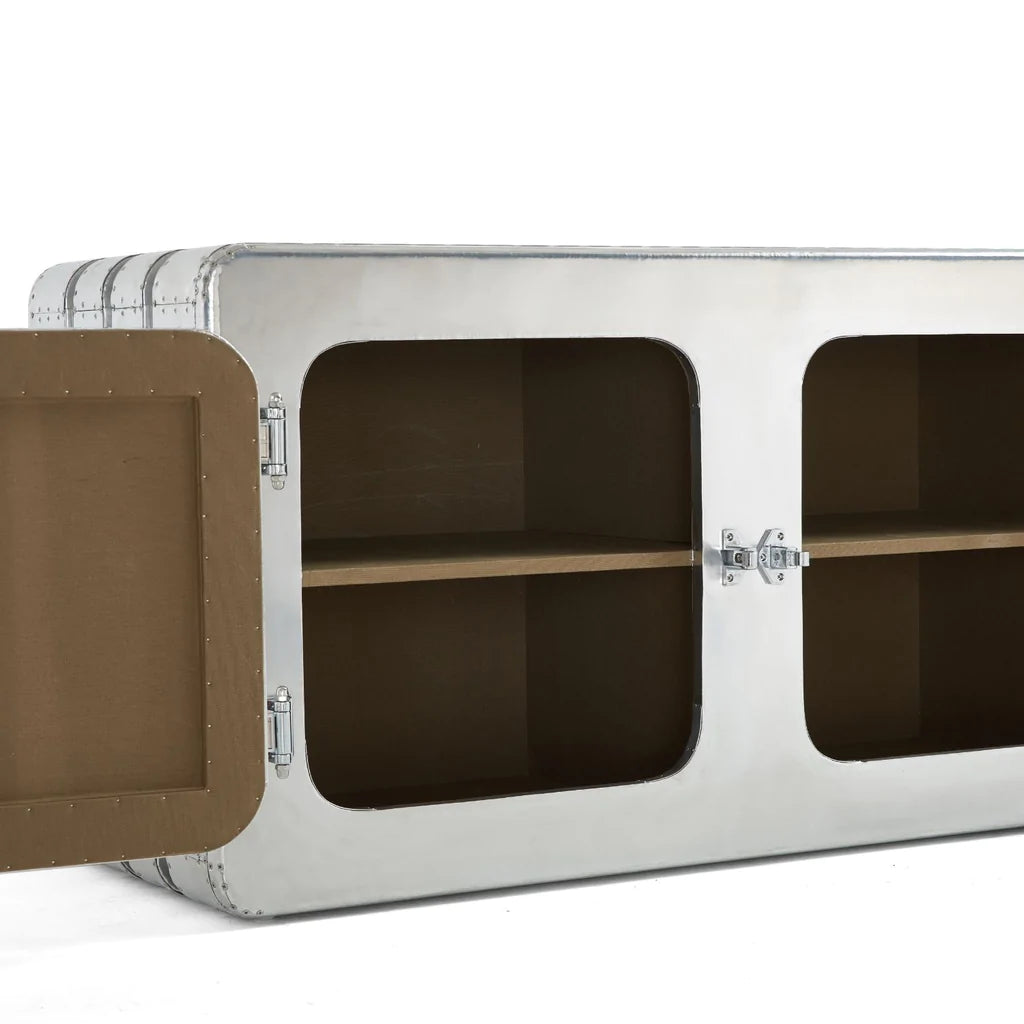 Sturdy construction
Built on a solid wood frame with a shiny aluminum outer, the Portage Chest is made to last.
Dimensions
Dimensions
Width: 48.4"
Depth: 22.4"
Height: 25.6"
This product has no reviews yet.