Soho Sectional
---
Add Protection Plan
What's covered
Length: 122"
Depth: 37.5"
Height: 28.5"
Chaise Length: 55"
Seat Height: 16"
Leg Height: 7"
Upholstery: Linen Fabric
Inside: Feathers & Medium-Density Foam
Frame: Solid Wood
Legs: Metal
Elegant, airy, and fresh, linen has a unique and highly desirable charm. In addition to being a natural and sustainable fabric, it is timeless and always in season.

To clean: Vacuum the upholstery moving it from left to right in short, overlapping lines. It's important to keep linen-covered sofas out of direct sunlight to prevent discoloration.

Treat stains: Use a clean, damp cloth to dab and lift away any stains. Do not rub a stain in or push it further into the fabric. You may need to use a mild detergent for stubborn stains. Only use soft cloths or sponges. More abrasive scrubbing tools could damage the texture of the fabric.

Washing: Remove your covers, wash on a gentle cycle in cold water with mild detergent. Make sure the covers are zipped closed before putting in the washing machine. Line dry and replace while slightly damp. When drying, avoid clothespin or clips that could crease the fabric. You may use a steamer or warm iron to remove creases.

It's important to keep linen-covered sofas out of direct sunlight to prevent discoloration
Carton Size
Box 1: 81"L x 39"D x 24"H
Box 2: 44"L x 58"D x 23"H
Carton Total Weight: 130 lbs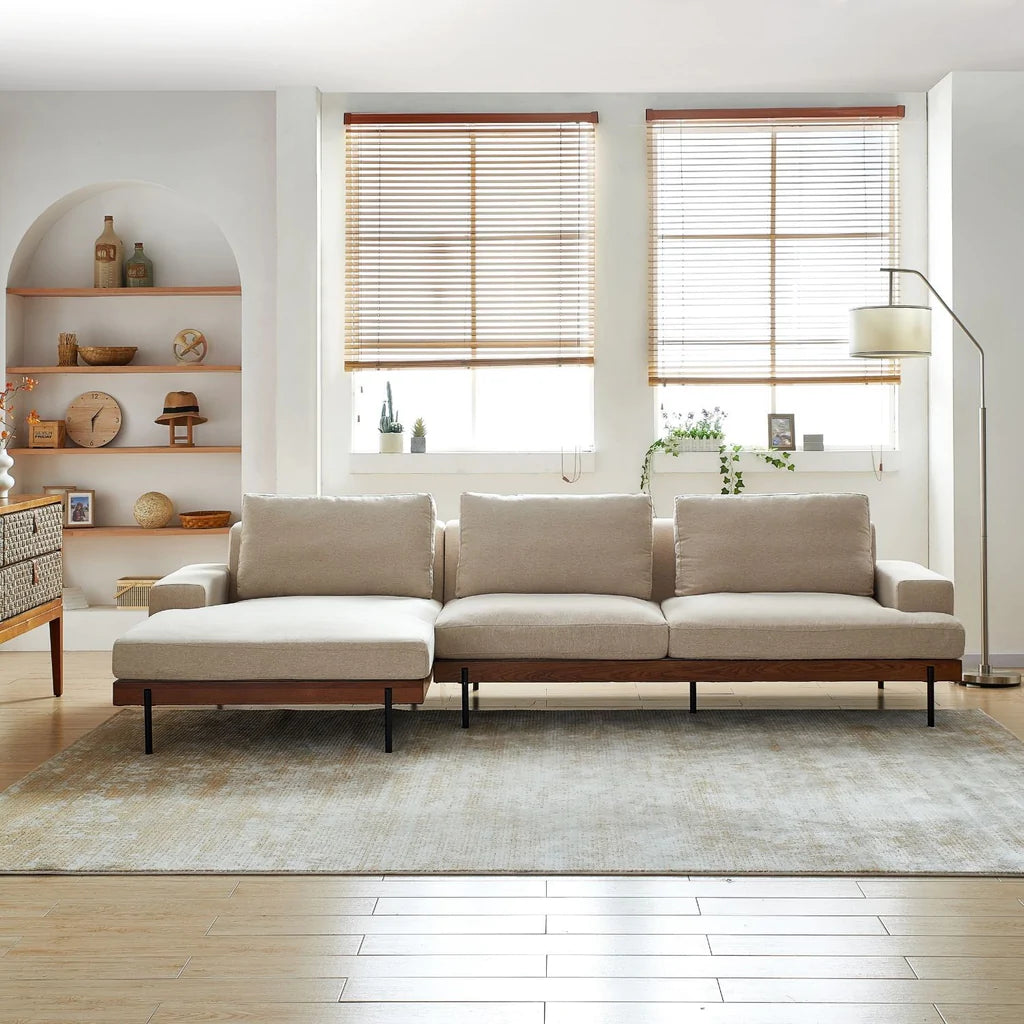 A sofa that feels light as air
Don't let a big old couch weigh you down. If light and breezy is more your style, then the Soho Sectional belongs in your home. This modern sectional is covered in a soft neutral and easy to maintain linen fabric. Sinking into the cushions feels like sitting on a cloud thanks to their feather and foam stuffing. The platform-style wood frame is designed to last. The sturdy metal legs uplift this sectional making your space feel neat and tidy. Curl up with a good read or your furry friend and let this modern sectional take you to the clouds.

Contrasting details
Walnut-stained wood, black metal legs, and neutral linen bring texture into your space.
In Real Life
Video taken by an iphone 12. No filters, No edits.
Comfy and classy
Why not get a modern sectional that's both?
Feel like you're floating
These modern sectionals slim legs add to the airy feel.

This product has no reviews yet.