Apollo Sofa
---
Add Protection Plan
What's covered
Frame: Pinewood
Fabric: HD Technical Microfiber Fabric or Woven 100% Polyester
Filling: HD Memory Foam, Goose Feathers
Legs: Metal
To clean: Vacuum the upholstery moving it from left to right in short, overlapping lines. Change over to the crevice nozzle, and vacuum in between the seams and under the cushions.

Treat stains: Attack stains with the appropriate water or solvent-based cleaner. Let the cleaner sink in, and then blot it with a microfiber cloth. Don't scrub the stain, as the action could push the stain farther into the upholstery or damage the fabric.

Washing: Remove the fabric covers from the Sectional framing and cushions. Wash it on a gentle cycle in cold water with a mild detergent.

Make sure the cover is zipped closed and placed in a laundry bag before putting it in the washing machine. Covers can be line-dried, but many customers prefer to put the cover back on the cushion while it is still damp. Do not machine dry covers.
3 Seat (2 Cartons)
Carton Size: 44" D x 39" L x 23" H
Carton Weight: 59 lbs (each carton)

4 Seat (2 Cartons)
Carton Size: 53" D x 39" L x 23" H
Carton Weight: 73 lbs (each carton)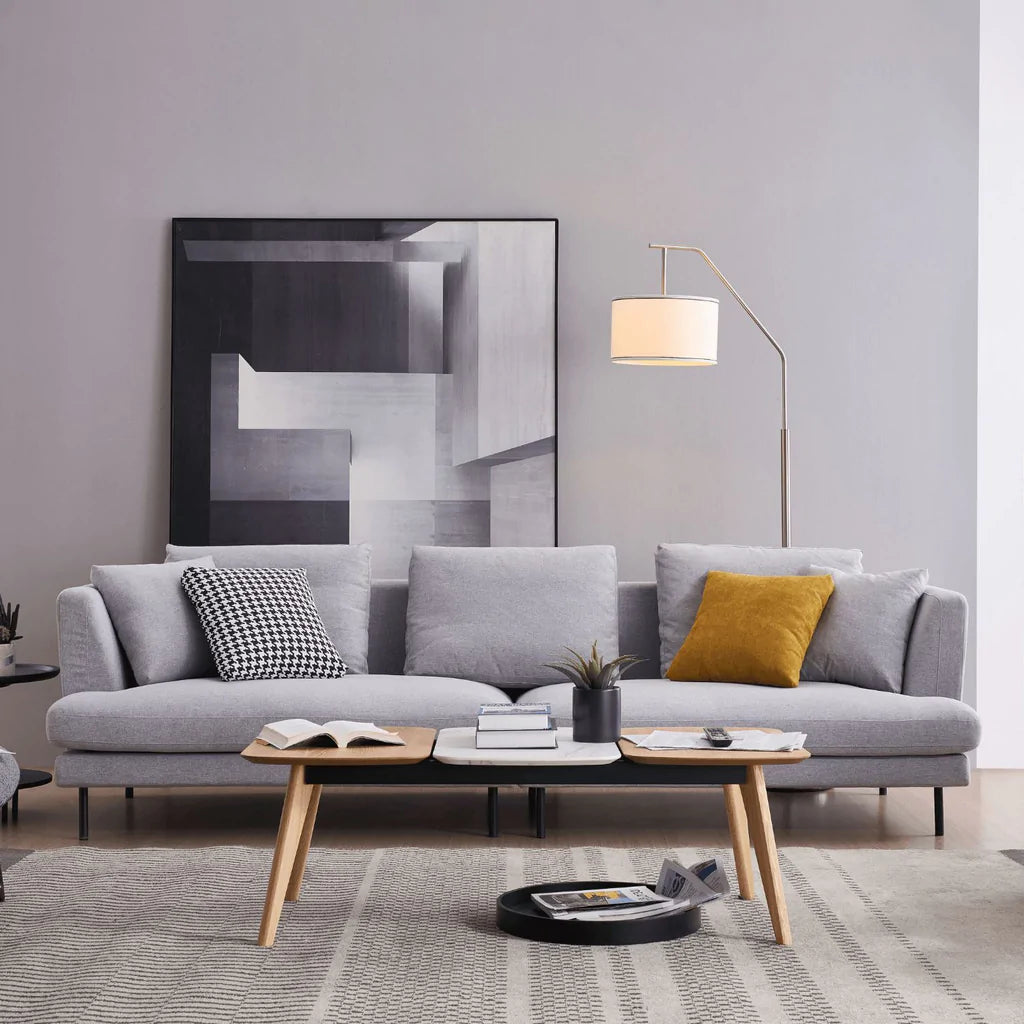 Italian design, life-friendly construction
Mario Capasa didn't just design this sofa to look stunning, they designed it to be lived on. Think stain-resistant, water-resistant, removable, and washable covers, plus anti-scratch pet-friendly fabric. It's sturdy too, with a solid wood frame made to hold 10 adults, and an extra-wide armrest made for trays or even an extra seat. You'll quickly discover that this tough build doesn't sacrifice softness. Goose feathers make it an unbelievably comfy seat. Try it for yourself, in a comfortable three or four-person fit – plus the dog, and the three cats!

Stylier
Handmade, an elegant-but-still-welcoming look, by acclaimed Italian designer – Mario Capasa. A contemporary 2021 design.
In Real Life
Video taken by an iphone 12. No filters, No edits.
Softer
Softer than a regular sofa (tested against 13 sofas that claimed to be soft in December 2019). Sink into the HD memory foam and goose feathers construction.
Designed for living
Stain-resistant, water-resistant, and anti-scratch pet-friendly fabric – proven to be 8 times more durable than commercial grade fabric. Covers are removable and washable – whenever you please.
Removable and Washable Covers!
The Apollo Sofa's cover is designed with convenience in mind, as it is both removable and washable. To ensure the longevity of the cover, it is recommended to wash it in cold water using a mild detergent, avoiding the use of a dryer. While the covers can be line-dried, a popular choice among users is to reapply the cover onto the cushion while it is still damp, allowing it to naturally dry in place. With these practical features and care instructions, the Apollo Sofa offers a hassle-free solution for maintaining cleanliness and freshness in your living space.
This product has no reviews yet.