Bliss Chair
---
Length: 20"
Depth: 17.5"
Height: 29.9"
Seat: Natural Rattan
Frame: Rubberwood

Wood furniture is beautiful, easy to care for, and classic. Quality wood furniture can last generations when properly maintained.

To clean: Wipe away debris with a damp, cotton cloth. You may use mild soap on a damp cloth if needed. Always test first on an inconspicuous area. Remove any soap with a clean damp cloth. Wipe dry with a clean cloth. To remove dust, use a microfiber or disposable duster or a vacuum cleaner with an upholstery brush to dust the entire surface. This will prevent excessive soil build-up in the weaving. To remove any stubborn build-up, use a soft-bristled toothbrush or blast compressed air in tight areas to dislodge dust and dirt.

To protect: Keep your wood furniture away from any heating or moisture source, vent, and direct sunlight to prevent fading, discoloration, and warping.

For minor touch-ups: Minor scratches or dents - rub a color-matched marker, shoe polish, or furniture pen over the damaged area to make it less noticeable.

Specified for indoor use.
Carton size: 22"L x 20"W x 32"H
Total Carton Weight: 13 lbs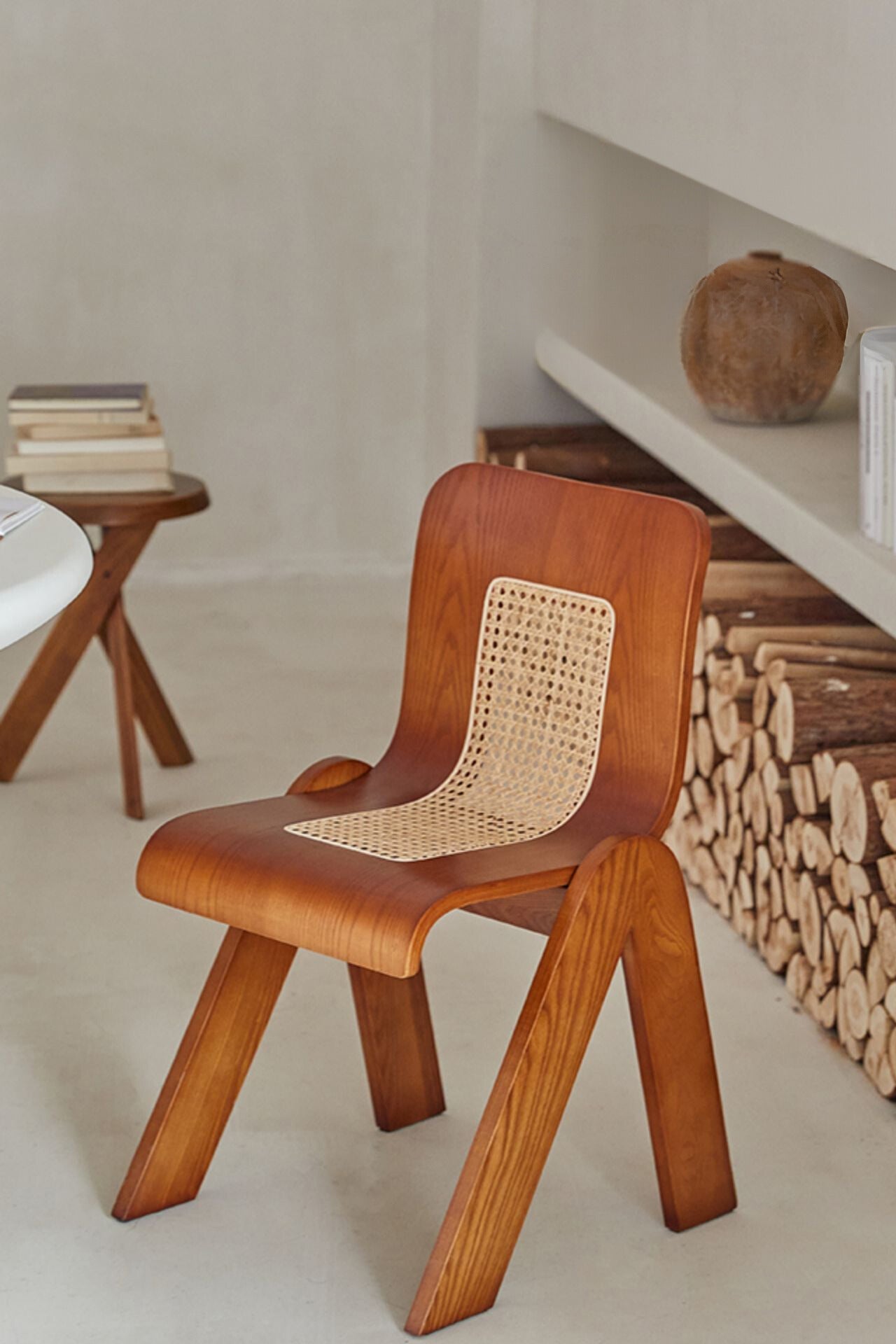 The natural way to sit in style!
Welcome to the world of the Bliss Chair – the ultimate destination for those seeking a fun, creative, and comfortable seating experience! Made from premium natural rattan that allows for unparalleled comfort and support. While the sturdy Rubberwood frame ensures stability and durability. But what really sets the Bliss Chair apart is its bold color scheme – a perfect combination of sleek black, light wood, and dark wood that seamlessly blends into any decor.
The woven wonder
Introducing our exquisite chair made from natural woven rattan and sturdy Rubberwood frame, perfect for adding a touch of organic elegance to any space. This stunning chair is a beautiful blend of traditional craftsmanship and contemporary design, making it a timeless piece that will complement any decor.
Floor-friendly and non-slip stoppers
The Bliss Chair has rubber stoppers on its feet, making it a super practical and versatile piece of furniture that provides stability and safety on different types of flooring. This prevents the chair from slipping, sliding, or scratching the surface. They also absorb shock and reduce noise when the chair is moved, making it ideal for use in busy environments. A smart choice for anyone seeking a functional, reliable, and user-friendly seating solution.
Eco Chic
It is aesthetically pleasing, bringing a touch of style and sophistication to any room in your home. Perfect for movie nights, reading books or just unwinding after a long day at work, the Bliss Chair is a must-have addition to your furniture collection. So, whether you want to snuggle up with a good book, enjoy a glass of wine with friends, or simply relax, the Bliss Chair is here to provide you with an exceptional lounging experience.
Stylish and Sustainable
Whether you're working from home or just need a place to kick back and relax, the Bliss Chair has got you covered. With its modern design and minimalist aesthetic, this chair is the perfect addition to any living space, whether it's a cozy nook in your bedroom or a stylish accent piece in your living room. So why wait? Transform your space and experience true bliss with the Bliss Chair today!
This product has no reviews yet.