Buy 2 Get 1 Free
Harbor Cane Sofa
---
Add Protection Plan
What's covered
Length: 80"
Depth: 41"
Height: 35"
Mahogany Wood & Natural Rattan with a Fabric covered Medium-Density Cushion & Back Pillows
A stylish statement piece that is lightweight, durable and eco-friendly.

To clean: Wipe away debris with a damp, cotton cloth. You may use mild soap on a damp cloth if needed. Always test first on an inconspicuous area. Remove any soap with a clean damp cloth. Wipe dry with a clean cloth. To remove dust, use a microfiber or disposable duster or a vacuum cleaner with an upholstery brush to dust the entire surface. This will prevent excessive soil build-up in the weaving. To remove any stubborn build-up, use a soft-bristled toothbrush or blast compressed air in tight areas to dislodge dust and dirt.

Treating stains: Any food or drink stains should be cleaned right away. Do not rub away these stains because that will push it deeper into the woven fibers. Use a toothbrush to help loosen solids or stain that have dried. Then dampen a microfiber cloth and put just a drop of dishwashing liquid on the cloth. Wipe down the stained area. Follow up with a cloth dampened with fresh water and allow the area to air-dry.

To maintain: Avoid placing furniture in environments with excessive humidity or excessively love humidity to keep fibers well maintained. Rotate furniture to prevent the sun from causing excessive fading on one side.

Specified for indoor use.
Carton Size: 81.9"L x 43.3"D 36.2"H
Carton Weight: 47.7 lbs

Items in our Lemons & Me collection are hand crafted and made from natural materials. The finish you see here may not be the vision you get at home. Nothing major, just different colors and grains in the wood, and sometimes very minor variations in size.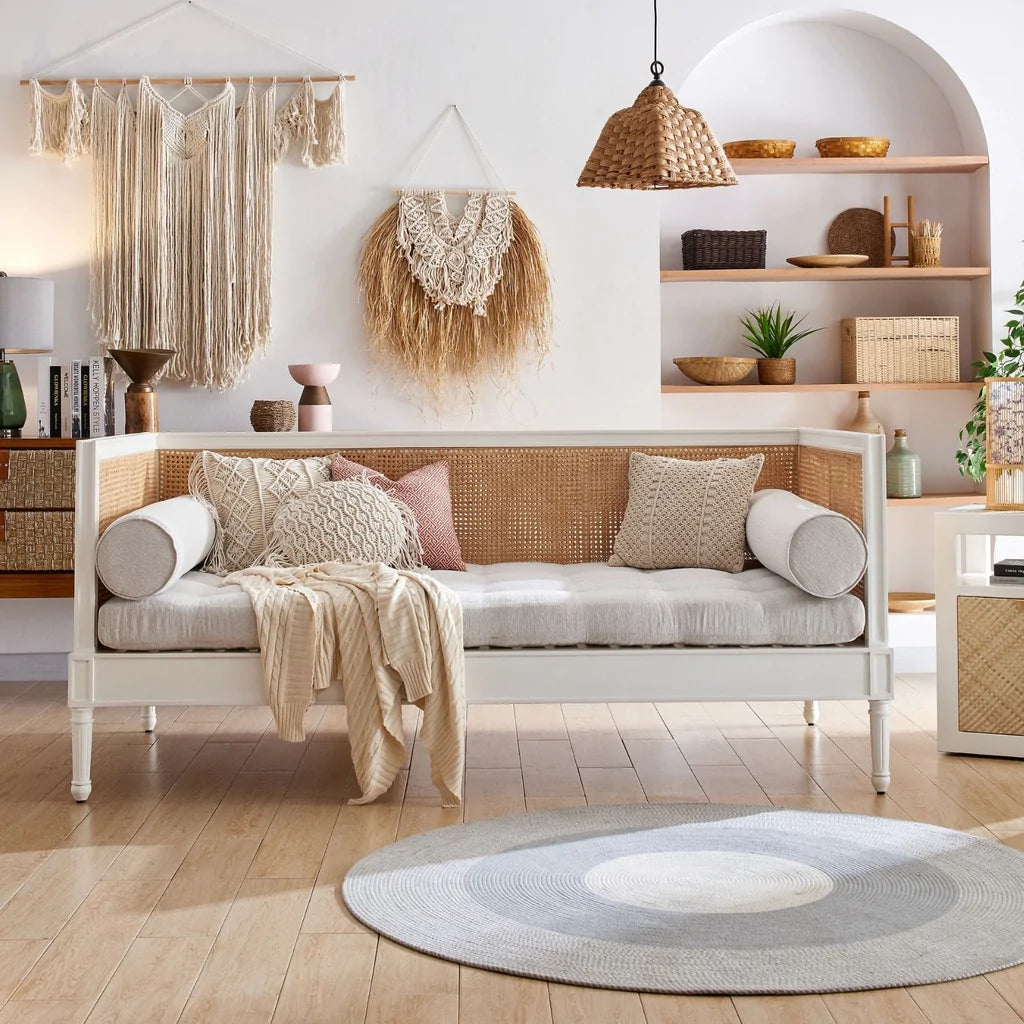 A daybed of the dreamy variety
The daybed aesthetic, here to bring a dreamy feel to any space. A classic, elegant silhouette, with natural touches of soft brown rattan. The Mahogany has a timeless white finish. Round pillows are a perfect rest for lazy heads and just the right amount of practical. The Harbor Cane is lightweight but still made to last – with stain-resistant fabric. A durable dream!

Handcrafted style day bed
Handcrafted mahogany wood with a white finish, and natural soft brown rattan panels.
In Real Life
Video taken by an iphone 12. No filters, No edits.
Modern comfort
Sink into HD medium-density foam, with cylindrical pillows for resting heads.
A durable dream
Lightweight but strong modern construction, and stain-resistant fabric.
Dimensions
Dimensions
Length: 80"
Depth: 41"
Height: 35"
This product has no reviews yet.