Intimo Recliner Sofa
---
Add Protection Plan
What's covered
Length: 122"
Depth: 37"
Height: 34.5"
Chaise Length: 62"
Base: Pine Wood
Fabric: Chamois Fabric
Filling: Memory Foam & Latex Blend
To clean: Vacuum the upholstery moving it from left to right in short, overlapping lines with a soft brush head.

For spills: Chamois fabric can stain, especially with liquids so be sure to attend to any spills quickly. Water-based spill wipe clean with a white cloth dampened with distilled water, then left to air dry. For a more stubborn stain, mix mild detergent with distilled water. Dampen a clean cloth or sponge with this mixture and apply gently to the spill. Remove the detergent mixture with a damp cloth. Pat dry with clean, dry cloth.
Carton Size
Box 1: 43" x 37" x 28"
Box 2: 37" x 37" x 28"
Box 3: 61" x 42" x 28"
Carton Weight: 363 lbs
Minimally cool, charmingly cozy
The Italian-designed Intimo is a minimal look, with maximum comfort. Win, win. Two lucky lounge lizards will enjoy the 140-degree power reclining chair, and the whole family's going to be super comfortable. The plush chaise is perfect for stretching out or just perching. You'll tell this reclining sofa is special before you've even sat on it. Who said cool can't be cozy?
In Real Life
Video taken by an iphone 12. No filters, No edits.
Italian cool
A contemporary Mario Capasa design, with multiple functional elements creating one inviting package. Made with solid pine frame, stainless steel legs with luxurious three-layer memory and latex foam cushioning all over and high-quality chamois fabric.
Designed to last
The perfect choice for anyone looking for durability and style all in one package! With its sturdy frame and stain-resistant fabric, this sofa will have you sitting pretty for years to come.
Dimensions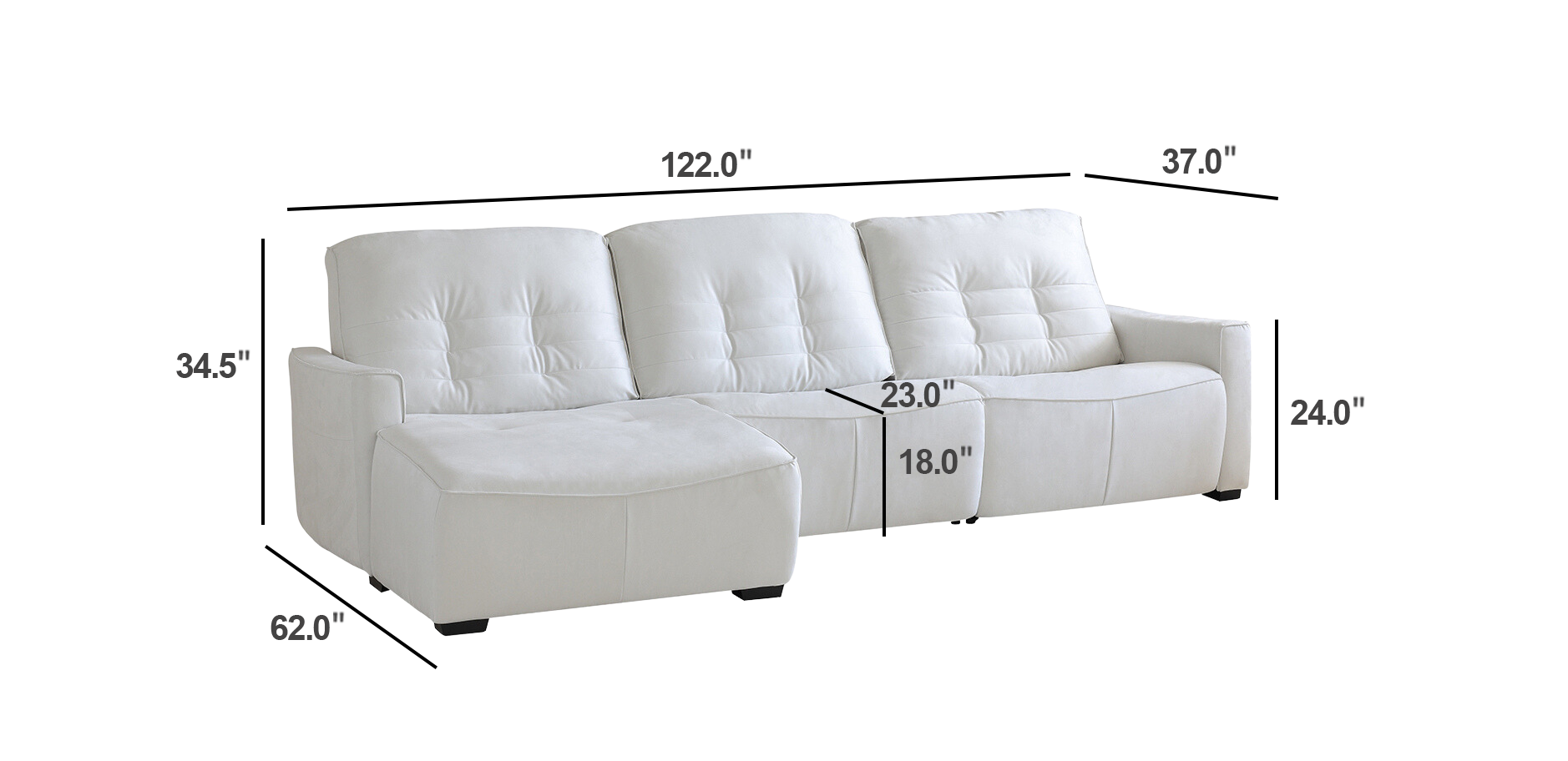 Dimensions
Length: 122"
Depth: 37"
Height: 34.5"
Chaise Length: 62"
This product has no reviews yet.