Koi Dining Chair
---
Length: 16.9"
Depth: 16.9"
Height: 34.6"
Fabric: Velvet (Teddy)
Inside: High-Elastic Foam
Inside Frame: Wrought Iron
Frame: Wood Grain Transfer

To clean: To combat dust, it helps to sweep or vacuum your velvet furniture on a regular basis to prevent buildup. A gentle bristle attachment on your vacuum will prevent scraping and denting in the fabric. Mild creases can be removed with a steamer. Never iron velvet.

Treat stains: Stains on velvet can be gently removed with an absorbent towel. Blot the area alternating between damp and dry towels and dry towels until the stain has lifted or lessened. Do not rub staining liquids into velvet. This keeps the stain from working its way deep into the velvet pile, where it becomes harder to remove.

To maintain: Avoid prolonged contact with bare skin or bare heads as the natural oils in human skin and hair create noticeable dark spots on velvet over time.
Carton Size: 18''L x 18''W x 35"H
Carton Weight: 9.08 lbs
Snuggle up in style
Our Koi Dining Chair is a comfy and stylish seating option that will make you feel cozy and relaxed. It has a soft, circular design that hugs you when you sit in it, providing ultimate comfort. The chair is covered in plush velvet fabric and has a thick cushion, making it a statement piece for any room. It's a great spot to comfortable eating, unwind, read, or just enjoy some peace and quiet. Whether you want to add a cozy touch to your dining room, bedroom, or office, our Koi Dining Chair is the perfect choice to snuggle up in style.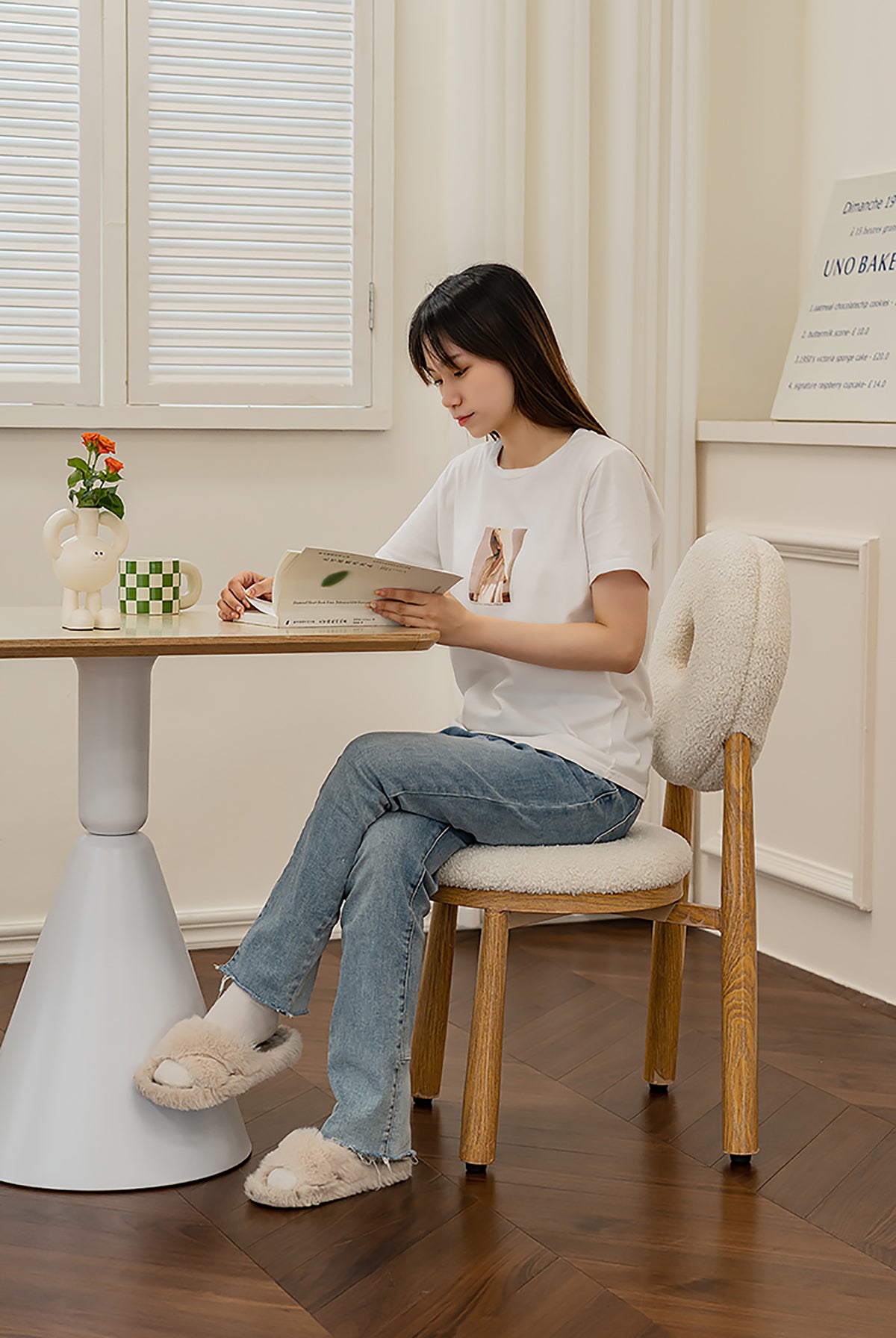 A seat worth savoring
Indulge in the ultimate seating experience with the Koi Dining Chair, a delightful fusion of comfort and style. Wrapped in a sumptuous layer of warm and plush Velvet fabric, this chair exudes a cozy charm that invites you to relax and unwind. The carefully crafted surface showcases a tight layer of fluffy goodness, while the interior is filled with a high-elastic foam, ensuring a luxuriously comfortable sitting sensation. With its unique combination of materials, including the sturdy and elegant wrought iron wood grain transfer, the Koi Dining Chair is a treat for both the eyes and the senses.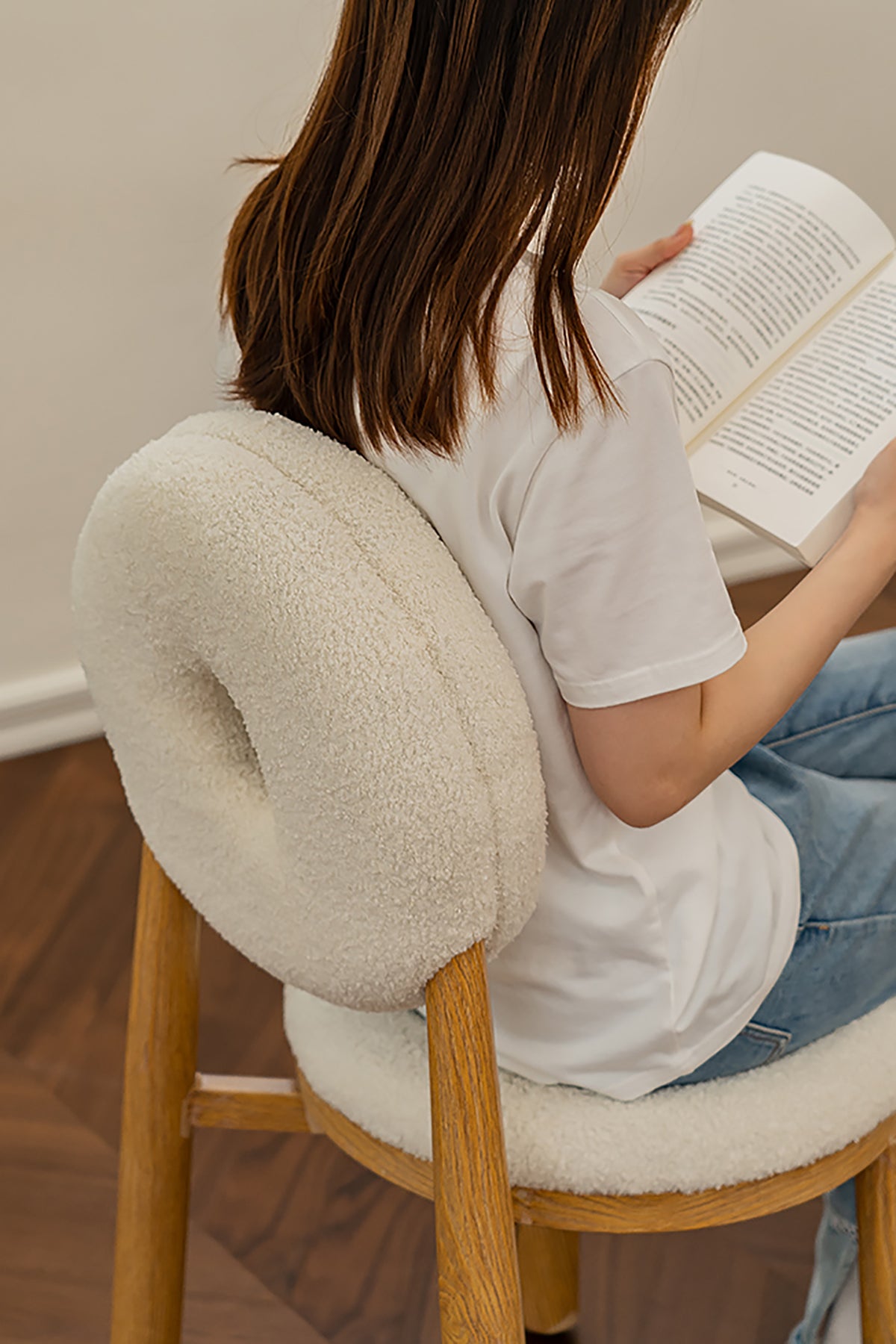 Cozy comfort
The Koi Dining Chair is a special type of chair that gives you the best sitting experience. It has a soft and fluffy design that feels really cozy. The chair is designed to support your back and help you sit with good posture, especially when you sit for a long time. It is a sturdy chair that you can rely on for sitting comfortably. When you sit in it, you can sink into its softness and relax completely. It's a stylish and luxurious chair that would fit well in any space that wants both comfort and style.
The Perfect Retreat
The Perfect Retreat for Dining Rooms, Bedrooms, Home Offices, and Study Rooms - Fit for All Ages. Transform any space into a cozy haven with our versatile Koi Dining Chair. This delightful seating option is an ideal addition to your dining room, bedroom, home office, or study room, offering a perfect retreat for relaxation and productivity. Its timeless design and plush cushioning provide comfort and support, ensuring a delightful experience for individuals of all ages. Embrace its inviting charm and indulge in ultimate comfort with our Koi Dining Chair.
Luxurious Lounging
Overall, the Koi Dining Chair is the ultimate in luxury and comfort. It has a soft and cozy cushion, a well-designed shape for your body, and is made with great attention to detail. Whether you want a comfortable spot to read or a stylish addition to your home, the Koi Dining Chair provides an unmatched experience of opulence and indulgence. It's like being hugged by the chair, helping you forget your worries and relax completely. The Koi Dining Chair takes lounging to a whole new level, combining luxury and comfort perfectly.
This product has no reviews yet.