Loft Sofa 2.0
---
Add Protection Plan
What's covered
Length: 98"
Depth: 43"
Height: 28"
Arm height: 20"
Bed depth: 57"
Base: Pine Wood
Fabric: Performance Leather
Filling: High Destiny Foam
Performance Leather is generally easy to care for with a few simple steps and a quick and easy maintenance routine

To clean: Vacuum the upholstery moving it from left to right in short, overlapping lines. You will typically want to vacuum daily to protect the material from dust and debris. This material is spot-clean only. Do not wash these covers in the washing machine.

Treat stains: Use a clean, dry cloth to dab and lift away any stains. Do not rub a stain in or push it further into the fabric. For water-based spills, use a white cloth dampened with distilled water then let air dry. For more stubborn stains, you may need to use a mild detergent diluted with distilled water. Dampen a clean cloth or sponge with this mixture and apply gently to the spill. Remove the detergent mixture with a damp cloth, pat dry with a clean dry cloth.
Carton size: 51" L x 43" W x 28"H (x2)
Total Carton weight: 265 lbs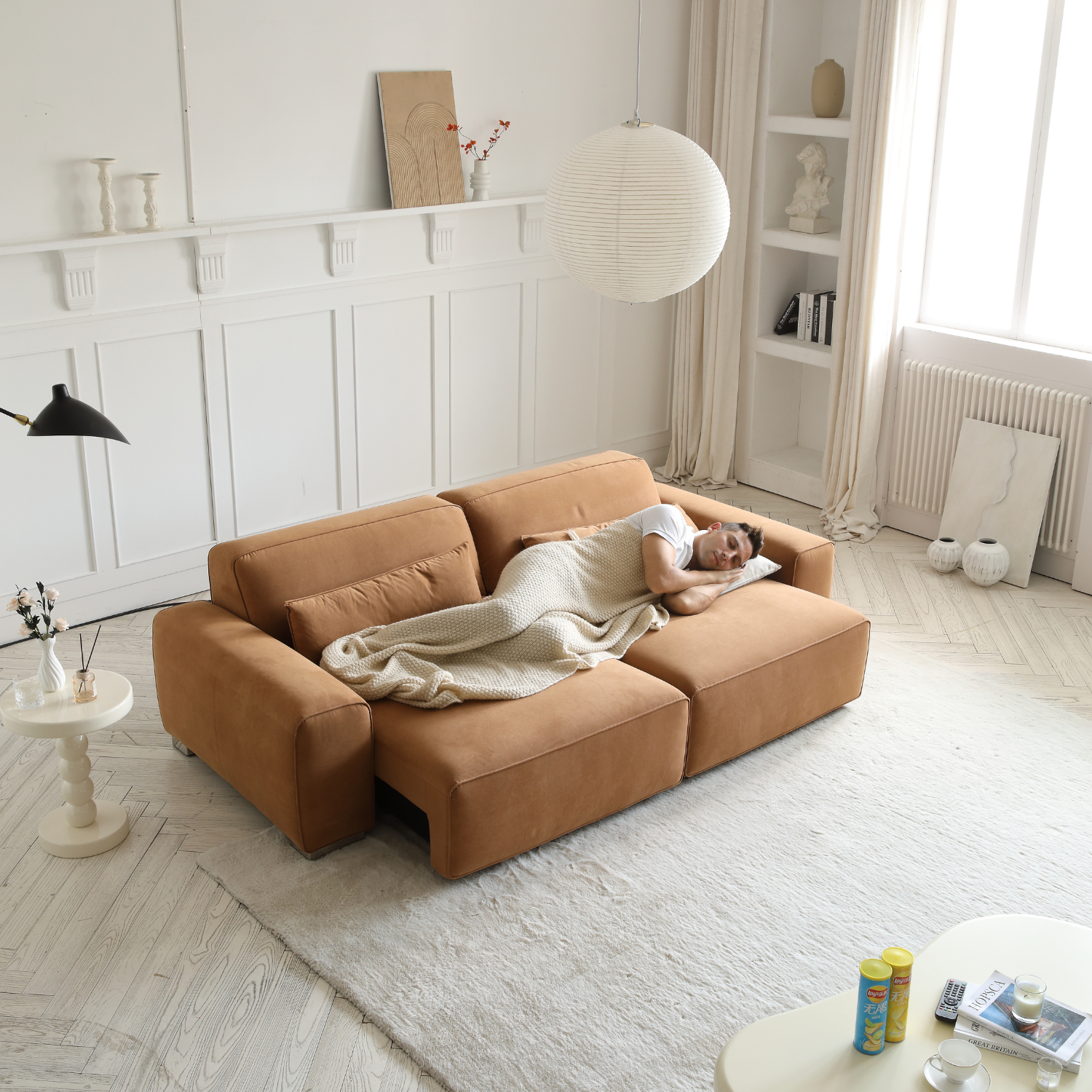 Out with the old, in with the new
Introducing the Loft 2.0 sofa - the sofa that's got a whole lot of benefits and is the perfect blend of modern and comfort. Firstly, forget about stiff backs and sore butts - this sofa is a game-changer because now it reclines! But don't get too relaxed because you might accidentally drift off and end up binge-watching the entire season in one night. Not that there's anything wrong with that, it's just a gentle warning.
Recline and unwind
The reclining feature is so effortless and easy to use, even your grandma can master it! just a push of a button, you can transform the Loft 2.0 Sofa from a regular couch into a lounging paradise.
Worry-free sofa living
But that's not all - Thanks to its performance leather fabric, it can withstand all the spills and stains you can throw at it (literally, we tested it). It's resistant to those pesky coffee spills and even the remnants of that Netflix marathon night where you ate a whole bag of popcorn.
Feather-soft foam filled fun
Now, let's talk about the filling used for this baby - Mario Capasa knew what he was doing and have taken it up a notch. You get not one but two layers of foam and feather filling! That's right, you can literally sink into this sofa. You'll be so comfortable you'll forget you even own a bed!
Rest & relaxation revolutionized
So go ahead and take a load off, kick your feet up, and let the Loft 2.0 Sofa take care of your relaxation needs. Just be warned – once you try it out, you may never want to leave!
This product has no reviews yet.