Oni Ottoman
---
Add Protection Plan
What's covered
Length: 40.2"
Depth: 40.2"
Height: 15.9"
Leg Height: 7"
Wood: Teak Wood
Fabric: Regency SR 10 fabric, Outdoor fabric sunny guard with UV protection
Filling: Medium Density Foam and Dacron Top
Legs: Stainless Steel
Upholstered outdoor furniture
Be sure to check the cloth tags for any manufacturer's instructions specific to the brand or fabric type. Here's a few extra tips to keep your outdoor upholstery clean and looking its best.

To clean: If you have natural fabric cushion covers that can be zipped off, wipe the surfaces first, then machine wash on a gentle cycle. For synthetic and waterproof fabrics, wipe down with a damp cloth first to clean dirt and dust. After removing dirt, use a diluted dish soap and water solution to clean without damaging fabric.

Treating mold: If the fabric has been left outside in the rain or damp weather, it could cause mold. You can scrub the mold with a dry brush after dusting with a dry cloth. Then wash according to the specific specifications of the fabric type.

Wood outdoor
To clean: Use a damp cloth to dust your furniture. You can also apply a gentle cleanser to give the wood a deep clean. We recommend an oil-based soap since it's free of harsh chemicals and easy to use. Work in small sections to make sure the surface is thoroughly cleaned.

To treat mold: During cooler, wetter months your furniture may develop mold. Allow the piece to dry out before approaching the spots. Next, scrub the surface with a dry brush until the mold flakes off. After the mold is cleared, check for any issues and allow it to dry again fully before cleaning further.

Peak-use seasons: During spring and summer, we recommend wiping down wood at least once a week with a damp cloth to prevent dirt and dust.

Metal Outdoor
The biggest risk for any outdoor metal furniture is rust and oxidation. However, it is easy to prevent rust with a simple routine.

To clean: We recommend using waterproof covers to take care of seasonal rain and dampness. Just be sure your covers are long enough to protect the bases or feet of chairs and tables.

Treating rust: The sooner rust is discovered, the easier it is to remove it. First, make sure to do a quick wipe down with a clean damp cloth but avoid the rusty spots. Then, use a DIY mixture of vinegar and water and simply brush the patchy orange spots with metal cleaning material or a steel wool pad.
Carton Size: 42.9"L x 42.9"D x 19.7"H
Carton Weight: 51.4 lbs
Outdoor safe; recommend covering when not in use.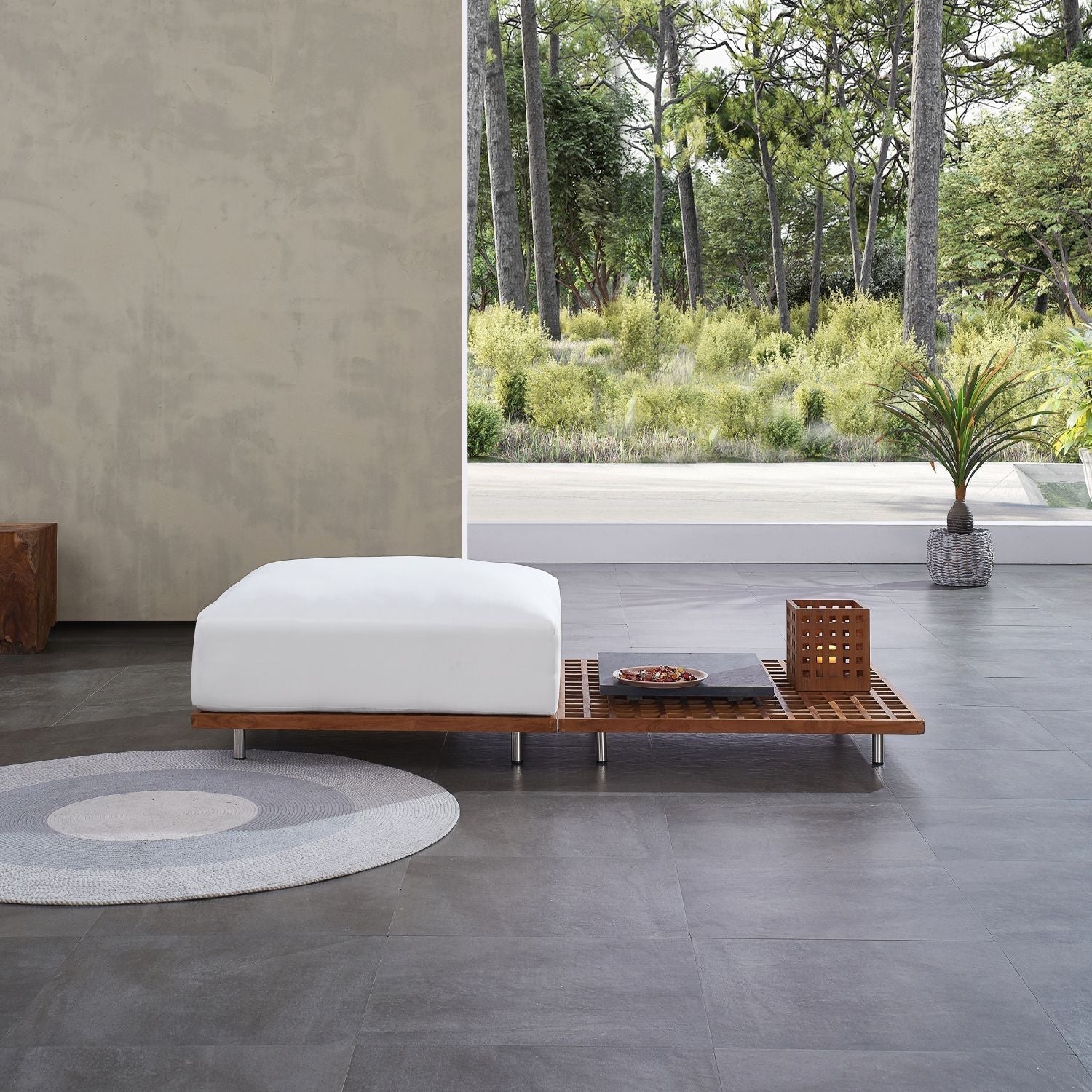 Can we send you Oni extras?
Whether it's a funky circle accent chair, an extra corner lounger, or some extra accessories, there is an Oni component to fill your need. Build your own outdoor furniture set from these individual pieces or add on to one of our expertly designed Oni lounger sets.
In Real Life
Video taken by an iphone 12. No filters, No edits.
Dayum, those legs!
All of the Oni pieces are built with strong, lightweight aluminum legs. They're powder coated to help them last even longer.
We couldn't make it Oni easier if we tried
Like the other Oni modular furniture, these individual components are easy to assemble, easy to clean, easy care and weatherproof.
Dimensions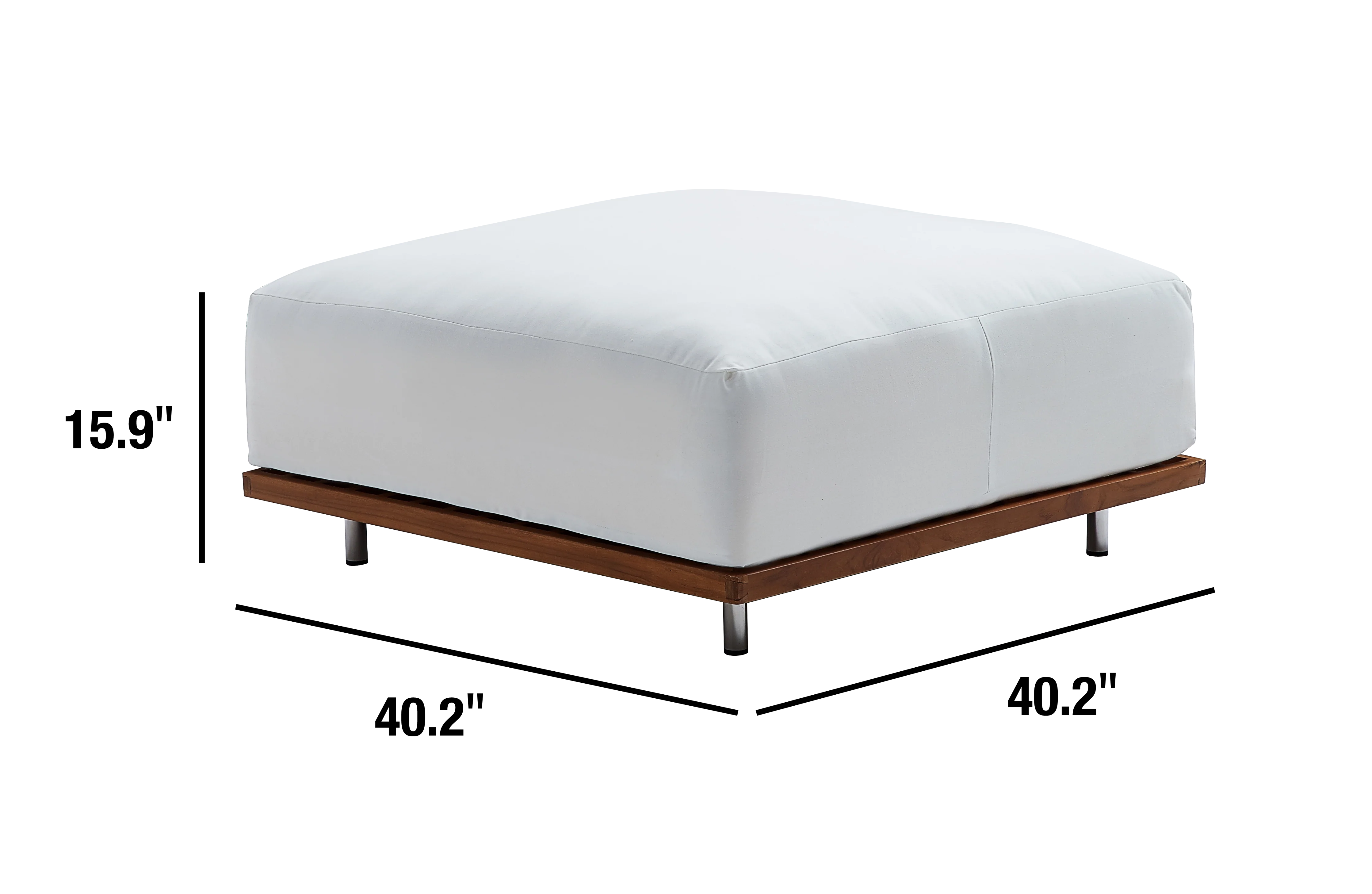 Dimensions
Length: 40.2"
Depth: 40.2"
Height: 15.9"
Leg Height: 7"
This product has no reviews yet.