Osaka Bench
---
Fabric: Boucle
Inside: Soft-Pack High-Rebound Foam
Frame: Hardware Iron
Boucle is a heavy fabric that is made of looped yarn and is highly textured. This high-fashion fabric is luxurious and soft.

To clean: Vacuum the upholstery moving it from left to right in short, overlapping lines. You will typically want to vacuum daily to protect the material from dust and debris.

Treat stains: Dab away any excess liquid immediately. Use a clean, damp cloth to dab and lift away any stains. Do not rub a stain in or push it further into the fabric. Use a soft, clean cloth, a natural sponge, or a soft-bristle brush with a mild solution of soapy water. Avoid a continuous back-and-forth motion and move from the edge of the stain toward the center.

For stubborn stains, use an upholstery spot-cleaning product and follow the directions on the label. Be sure to remove any solution by dabbing the area with a clean, damp cloth or sponge. Vacuum with the upholstery brush attachment once dry to restore original texture.
Small
Carton size: 42"L x 17"W x 13"H
Total Carton Weight: 33 lbs

Large
Carton size: 58"L x 17"W x 13"H
Total Carton Weight: 46 lbs
The versatile sofa-stool duo
Combining functionality and style, the Osaka Bench is a game-changer in the world of furniture design. This innovative piece effortlessly transforms from a sleek and comfortable sofa to a practical stool, adapting to any living space or social gathering. Its modern aesthetic, high-quality materials, and adjustable features make it the perfect addition to both small apartments and spacious homes, providing a versatile seating solution that suits every occasion. Experience the ultimate blend of comfort, flexibility, and sophistication with the Osaka Bench.
Design fusion
The Osaka Bench showcases an exquisite design fusion, blending elegance and comfort seamlessly. Crafted with boucle fabric, it exudes a luxurious and tactile appeal, inviting you to sink into its plush surface. The integration of soft-pack high-rebound foam ensures unparalleled comfort and support. Enhanced with hardware iron accents, the bench exudes a contemporary charm. Finishing touches of paint and electroplating add a refined touch, creating a stunning piece that effortlessly elevates any space. Experience the perfect marriage of style and relaxation with the Osaka Bench.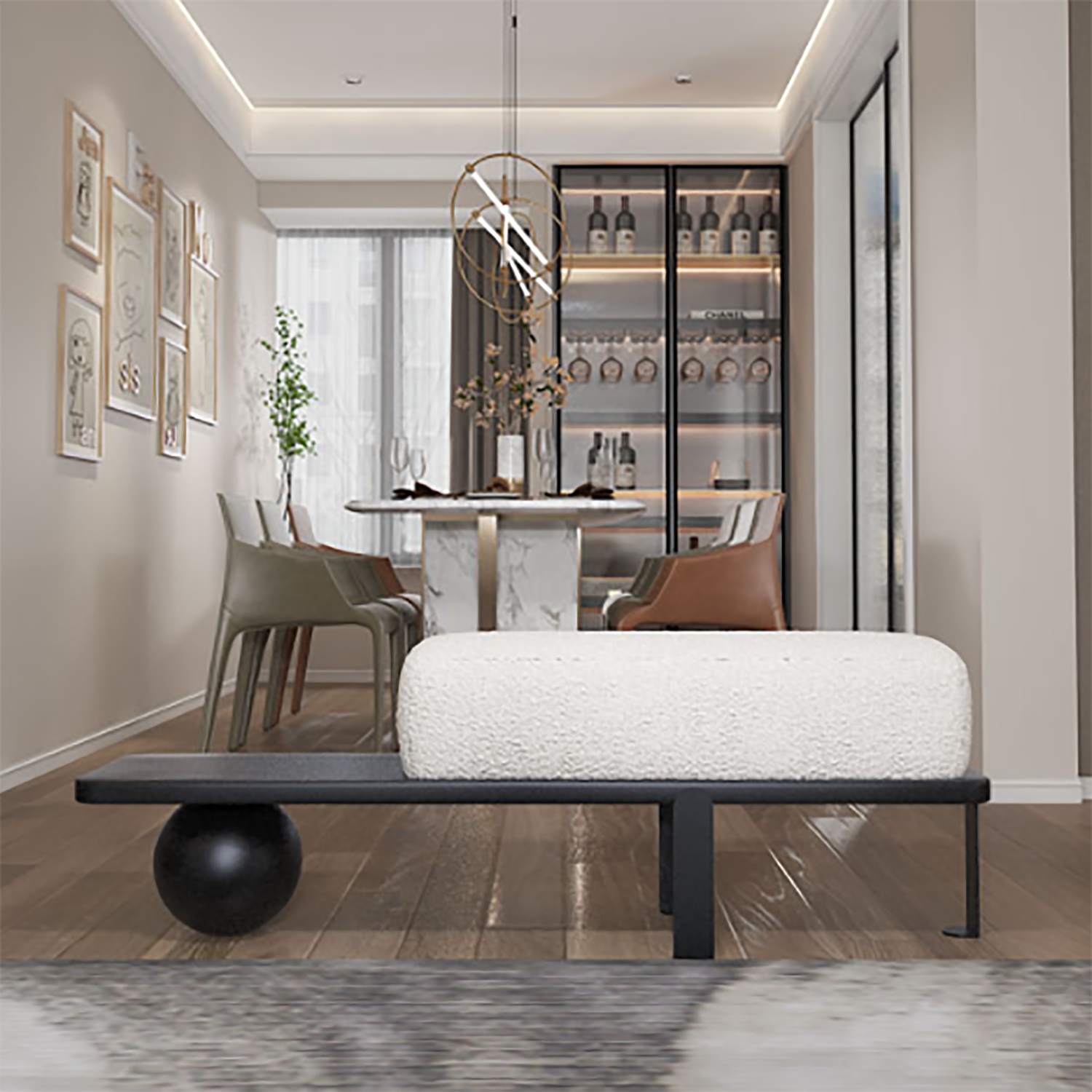 Sitting pretty
Overall, the Osaka Bench exemplifies the perfect blend of comfort, style and functionality. Its sleek design and ergonomic features make it a delightful addition to any space, whether it's a modern office or a cozy living room. With its sturdy construction and attention to detail, the Osaka Bench offers a charming seating solution that allows you to sit pretty, relax, and enjoy the beauty of your surroundings. So go ahead, take a seat on the Osaka Bench, and indulge in moments of pure comfort and aesthetic delight.
This product has no reviews yet.