Buy 2 Get 1 Free
Rocella Chair Set
---
Length: 23.3"
Depth: 18.5"
Height: 31.1"
Frame: FAS Grade Ash Wood Brackets
Filling: High-Density Foam
Fabric: Microfiber Leather Fabric
To clean: Vacuum the upholstery moving it from left to right in short, overlapping lines. Change over to the crevice nozzle, and vacuum in between the seams and under the cushions.

Treat stains: Attack stains with the appropriate water- or solvent-based cleaner. Let the cleaner sink in, and then blot it with a microfiber cloth. Don't scrub the stain, as the action could push the stain farther into the upholstery or damage the fabric.
Set of 2
Carton size
Box 1: 30"L x 24"W x 39"H
Total Carton Weight: 65 lbs

Set of 4
Carton size
Box 1: 30"L x 24"W x 39"H
Box 2: 30"L x 24"W x 39"H
Total Carton Weight: 132 lbs

Set of 6
Carton Size
Box 1: 30"L x 24"W x 39"H
Box 2: 30"L x 24"W x 39"H
Box 3: 30"L x 24"W x 39"H
Total Carton Weight: 198 lbs
Comfort and style combined
Introducing the Rocella Chair, a beautifully crafted piece of furniture designed to provide you with the ultimate comfort and style. With its carefully selected materials and expert craftsmanship, this chair is a perfect addition to any home or office.
Sophistication and relaxation
The high-quality microfiber "leather" fabric adds a touch of sophistication to the Rocella Chair, while the high-density foam offers superior comfort and support. Whether you're relaxing with a good book or enjoying a cup of coffee, this chair will quickly become your favorite place to sit. The 2.75" thick sitting cushion ensures a plush and luxurious feel, making it the perfect place to unwind after a long day.
The ergonomic design of Rocella Chair
The Rocella Chair's design features a contoured backrest and a generously padded seat, ensuring maximum comfort for extended periods of sitting. The backrest's curved shape provides excellent lumbar support, promoting proper posture and reducing discomfort during long meals or gatherings.
Durable Design with Natural Beauty
The frame of the Rocella Chair is made from white wax wood, a durable and sustainable material that adds a touch of natural beauty to the design. The FAS grade ash wood bracket further enhances the chair's durability and stability, ensuring that it can withstand daily use for years to come.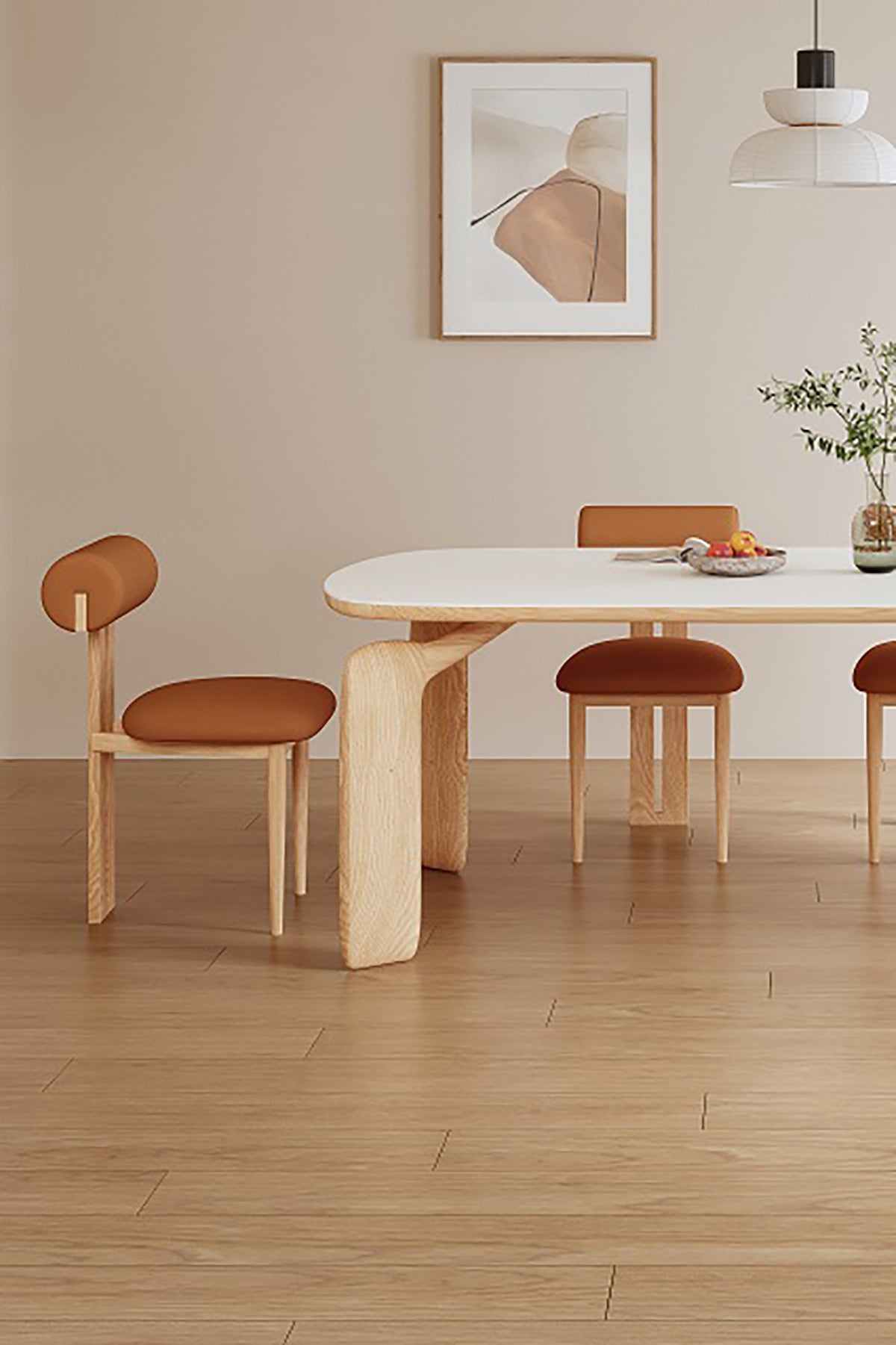 Sleek Design and Exceptional Softness
Whether you are looking for a comfortable place to work or a stylish addition to your home, the Rocella Chair is an excellent choice. Its sleek design and exceptional comfort make it a versatile piece of furniture that will elevate any space.
This product has no reviews yet.