Buy 2 Get 1 Free
Sheraton Coffee Table
---
Add Protection Plan
What's covered
Length: 39.4"
Width: 39.4"
Height: 15.2"
Light Brown Top: Bronze Glass
Dark Brown Top: Teak Wood
Frame: Iron
Wood
Wood furniture is beautiful, easy to care for, and classic. Quality wood furniture can last generations when properly maintained.

To clean: Wipe away debris with a damp, cotton cloth. You may use mild water on a damp cloth if needed. Always test first on an inconspicuous area. Remove any soap with a clean damp cloth. Wipe dry with a clean cloth.

To protect: Use coasters or other protection to avoid direct contact with wet, cold, or hot items. Use felt pads under any items that will be placed on your furniture and may cause scratches, ex-lamps, coasters, decor. Keep your wood furniture away from any heating source, moisture source, vent, and direct sunlight to prevent fading, discoloration, and warping.
For minor touch-ups: Minor scratches or dents - rub a color-matched marker, shoe polish, or furniture pen over the damaged area to make it less noticeable.
Watermarks - these marks, such as the white ring left under a glass, are caused by excess moisture. To remove the watermark, you will need to remove the moisture. In some cases, the moisture will eventually dissipate on its own. To speed the process, you may use a hairdryer set below 160 degrees F. There are also commercial products that will help remove watermarks.

Glass
To clean: Be sure to wipe off glass surfaces with a damp cloth before cleaning them to remove abrasive dust and dirt. Only use sprays or cleaners that are specifically made to clean glass. Another great in-between cleaning fit would be to leave the glass dry and wipe with a soft, lint-free cloth or feather duster.

To maintain: Dust the glass regularly, at least on a weekly basis or more often if dust tends to accumulate in your space quickly. For any silverware, tough and hard surfaces, ensure you put a soft material on the glass top table before placing any rough item. This will help prevent the glass from getting scratched.
Carton Size: 43.3"L x 43.3"D x 18.1"H
Carton Weight: 42.6 lbs
This item in our Foundry Collection is hand crafted and made from natural materials. The finish you see here may not be the vision you get at home. Nothing major, just different colors and grains in the wood, and sometimes very minor variations in size.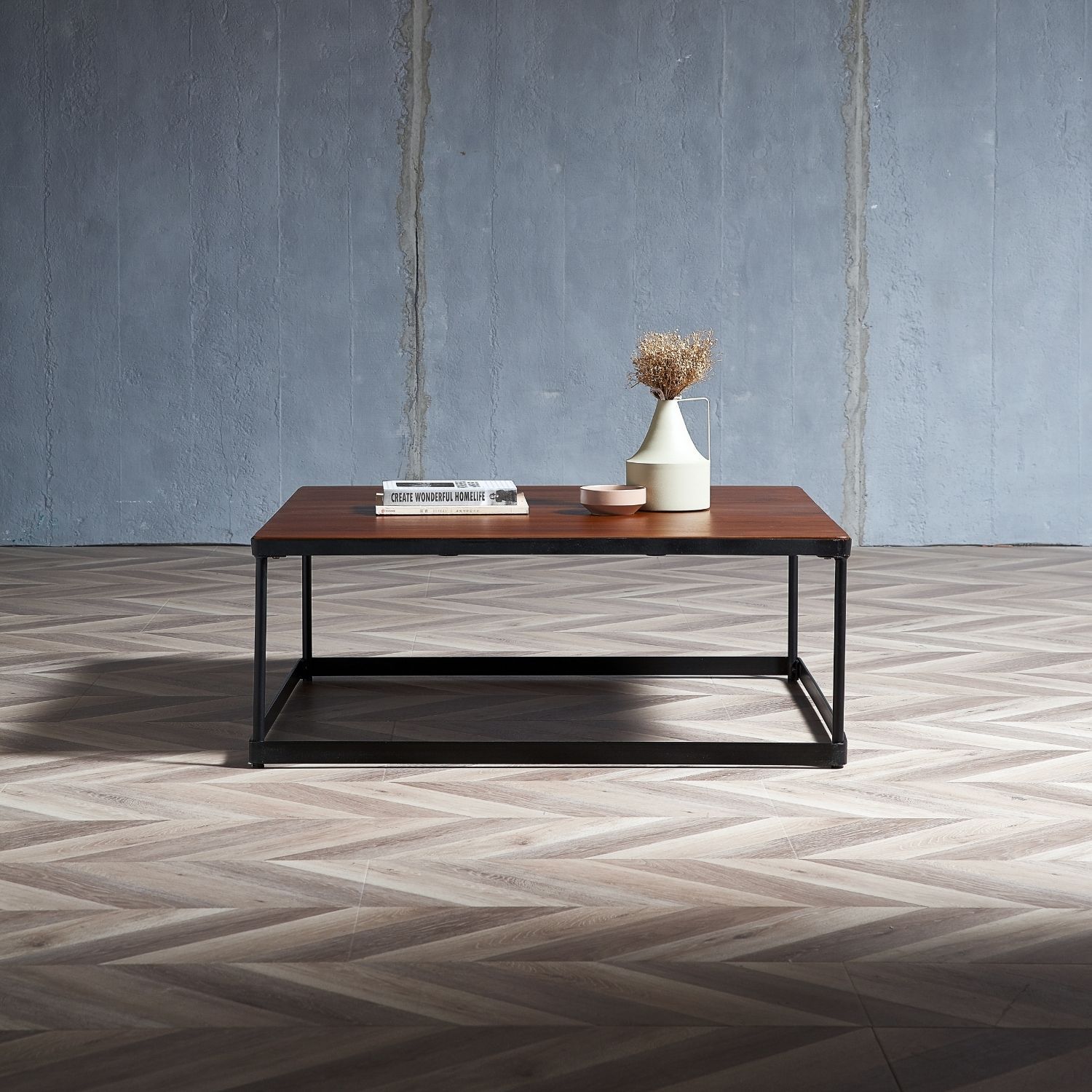 Your modern mate
The Sheraton Coffee Table is the perfect composition of natural teak wood and industrial iron base. Designed by Foundry, so you can expect detailed craftsmanship and quality materials.

Industrial modern style
There's just something so right about natural teak wood and industrial iron together. The result? A beautifully industrial, modern statement piece.
In Real Life
Video taken by an iphone 12. No filters, No edits.
Designed by Foundry
Foundry has created a new standard for industrial furniture. Each piece is designed with detailed craftsmanship and quality materials.
Protected perfection
The Sheraton is made with protected wood that is anti-scratch and requires low maintenance care.
Dimensions
Dimensions
Length: 39.4"
Width: 39.4"
Height: 15.2"
This product has no reviews yet.