Solid Wood Sectional
---
Add Protection Plan
What's covered
Length: 103"
Depth: 31"
Height: 30"
Chaise: 64"
Frame: 100% Eucalyptus Wood
Fabric: 100% Polyester
Filling: New & Recycled Medium-Density Foam
Legs: 100% Rubber Wood
To clean: Vacuum the upholstery moving it from left to right in short, overlapping lines. Change over to the crevice nozzle, and vacuum in between the seams and under the cushions.

Treating stains: Attack stains with the appropriate water- or solvent-based cleaner. Let the cleaner sink in, and then blot it with a microfiber cloth. Don't scrub the stain, as the action could push the stain farther into the upholstery or damage the fabric.

To maintain: Remove the fabric covers from the lumbar cushions. Wash it on a gentle cycle in cold water with a mild detergent.

Make sure the cover is zipped closed before you put it in the washing machine, or you may end up with a tangled-up mess. Covers can be line-dried, but many people prefer to put the cover back on the cushion while it is still damp.
Carton Size
Box 1: 68" D x 34" L x 25" H
Box 2: 39" D x 64" L x 25" H
Carton Weight: 205 lbs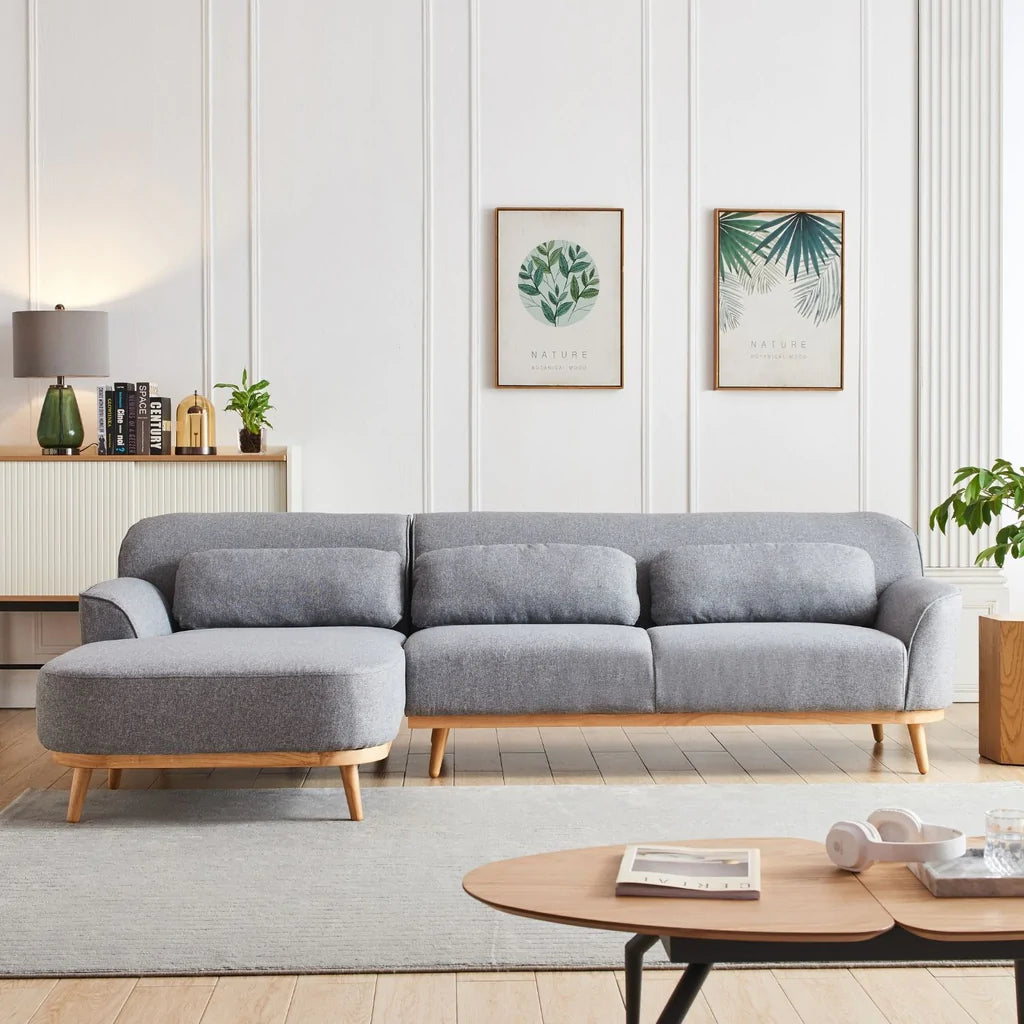 The roommate you'll want
The silhouette and construction says 'mid-century classic', the solid wood sofa sectional style with plump back cushions says 'live with me'. And this sofa sure is a treat to live with. The one-piece frame and cushion construction provides a minimal look, and with no cracks or crevices – your TV remote will stay found! This lounge-enhancer won't just catch your friend's eyes, it'll seat them too – comfortably fitting four or five. No need to stress about wear and tear either, the fabric's stain resistant. Phew.

Iconic look
A modern take on a mid-century Nordic classic. Crisp lines, meet plush cushions. Choose from a grey, beige or green sectional.
In Real Life
Video taken by an iphone 12. No filters, No edits.
Comfy feel
Made with three-layer medium-density foam for a form fit seat, and anti-sag cushions that keep their shape.
Designed for living
A sleek but sturdy Eucalyptus frame. Stain-resistant fabric. Raised for easy floor cleaning.

Dimensions
Dimensions
Length: 103"
Depth: 31"
Height: 30"
Chaise: 64"
This product has no reviews yet.