Buy 2 Get 1 Free
Theo Recliner Chair
---
Add Protection Plan
What's covered
Width: 44"
Depth: 40"
Height: 30"
Frame: Pine Wood & High-Density Foam
Legs: Black-Plated Iron
Upholstery: Water & Stain-Resistant Chenille Fabric
Mechanism: Dual-Motor Recline Mechanism
To clean: Vacuum the upholstery moving it from left to right in short, overlapping lines. Change over to the crevice nozzle, and vacuum in between the seams and or under the cushions.

Treat stains: Attack stains with the appropriate water- or solvent-based cleaner. Let the cleaner sink in, and then blot it with a microfiber cloth. Don't scrub the stain, as the action could push the stain farther into the upholstery or damage the fabric.
Carton Size: 45"L x 41"W x 28"H
Total Carton Weight: 135 lbs
This is not your grandma's La-Z-Boy, that's for sure.
It's the ultimate couch potato paradise, designed to complement any interior décor. So sit back, put your feet up, and prepare to enter full relaxation mode. Pair it with the Theo Sectional or the Sofa! Don't be surprised if you never want to leave this thing - just warn your friends not to stop by unannounced!

In Real Life
Video taken by an iphone 12. No filters, No edits.
From seated to snoozing
The smoothest way to go from seated to snoozing with just the push of a button. Thanks to our state-of-the-art technology, you can recline with ease, allowing your head to rest and your heart to sing with joy.
Relax & repel
Living in constant fear of accidental spills? Fear no more, as the Supreme Comfort Stain Fighter Recliner Armchair is here to save the day! This innovative armchair combines unmatched relaxation with a shield against any pesky stains that life may throw your way.
Crafted with attention to detail
Heavenly relaxation from the moment you sink into its plush embrace. Experience the exquisite support provided by its cloud-like cushioning and unparalleled design. Let the stress melt away as you effortlessly recline, embracing a state of utter bliss.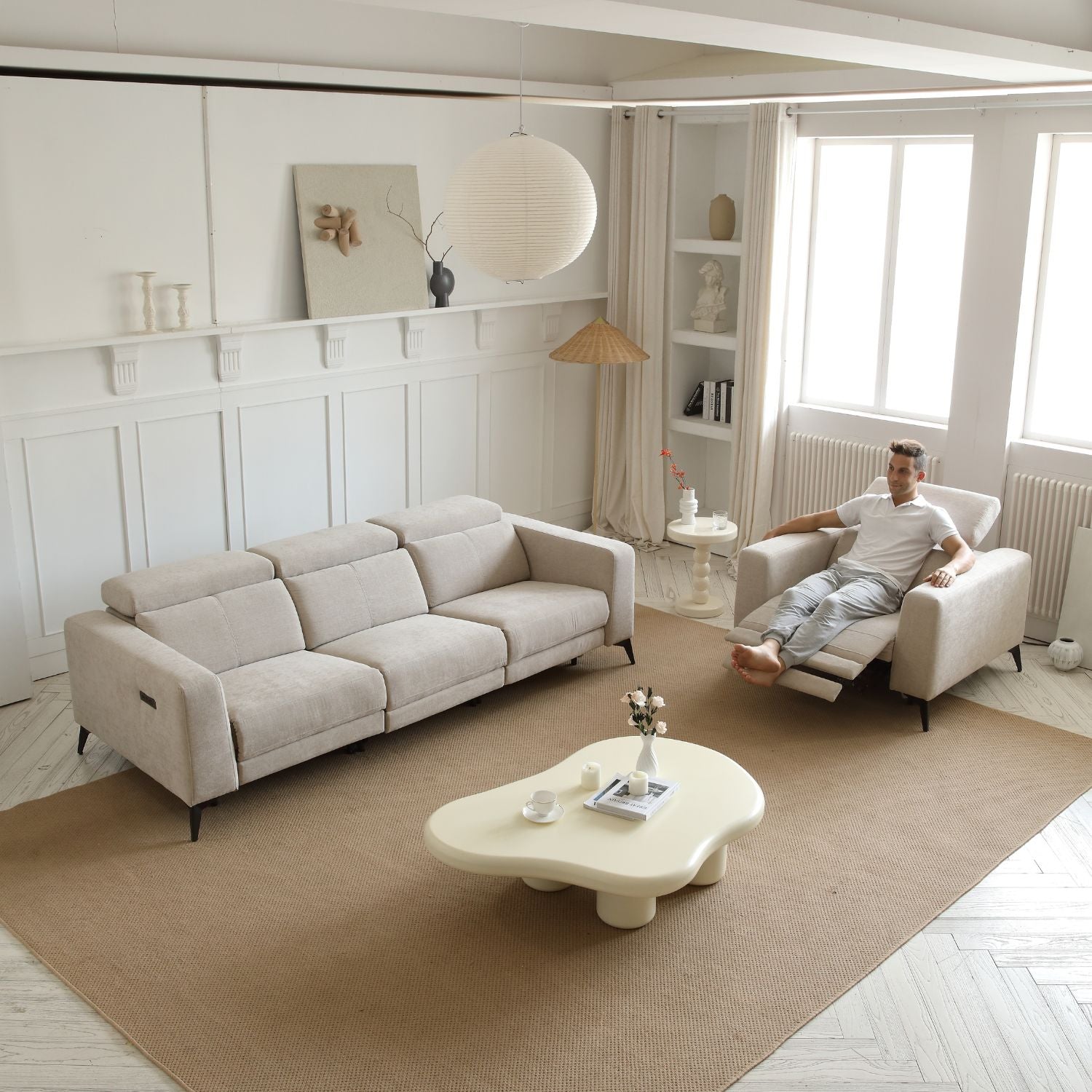 Kick up your feet & lay back
Trust us, with the Theo Recliner Chair, you'll never suffer through an uncomfortable sitting experience again. Get ready to enjoy your favorite show or movie in style with this sleek and contemporary masterpiece! And dont forget to bring the snacks!
Dimensions
Dimensions
Width: 44"
Depth: 40"
Height: 30"
This product has no reviews yet.