Valsheep Accent Chair
---
Add Protection Plan
What's covered
Width: 29"
Depth: 34"
Height: 27"

Upholstery: Boucle Fabric
Frame: Plywood
Filling: High-Density Foam
Base: Metal
Boucle is a heavy fabric that is made of looped yarn and is highly textured. This high-fashion fabric is luxurious and soft.

To clean: Vacuum the upholstery moving it from left to right in short, overlapping lines.

Treat stains: Dab away any excess liquid immediately. Use a clean, damp cloth to dab and lift away any stains. Do not rub a stain in or push it further into the fabric. Use a soft, clean cloth, a natural sponge, or a soft-bristle brush with a mild solution of soapy water. Avoid a continuous back-and-forth motion and move from the edge of the stain toward the center.

For stubborn stains, use an upholstery spot-cleaning product and follow the directions on the label. Be sure to remove any solution by dabbing the area with a clean, damp cloth or sponge. Vacuum with the upholstery brush attachment once dry to restore original texture.
Carton Size: 30"L x 37"D x 27"H
Carton Weight: 46 lbs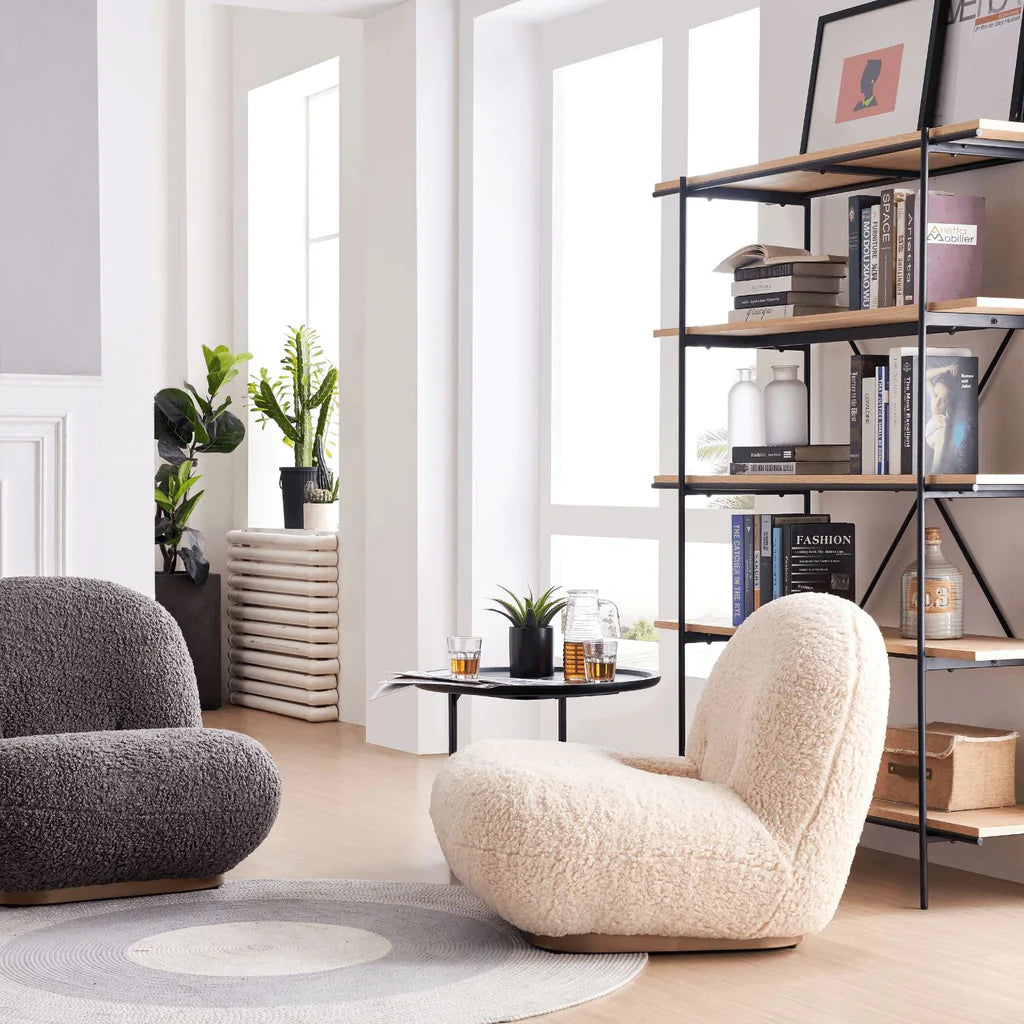 Bahhh-eautiful! Yes, sophistication can be fun
Plush, cushy and irresistible. The Valsheep is somehow both playful and sophisticated – with its sheep or cloud-like look, grounded by a low-profile design. Pop it in any modern space that could do with an injection of fun, and comfort. Then just enjoy owning a chair that's undeniably different.

Undeniably different
Over-the-top curves, with a cool low profile, and sophisticated coffee-gold base you'll catch on the second look.
In Real Life
Video taken by an iphone 12. No filters, No edits.
Irresistibly comfortable
Do we need to tell you this chair is comfy? Just look at it. Packed with high-density foam, with a soft boucle fabric.
Designed to last
Valyou made – which means quality materials and skilled craftsmanship, with durability at the heart of the design.
Dimensions
Dimensions
Width: 29"
Depth: 34"
Height: 27"

This product has no reviews yet.