Valsun Side Table
---
Add Protection Plan
What's covered
Overall: 18mm MDF board with oak veneer
Wood furniture is beautiful, easy to care for, and classic. Quality wood furniture can last generations when properly maintained.

To clean: Wipe away debris with a damp, cotton cloth. You may use mild water on a damp cloth if needed. Always test first on an inconspicuous area. Remove any soap with a clean damp cloth. Wipe dry with a clean cloth.

To protect: Use coasters or other protection to avoid direct contact with wet, cold, or hot items. Use felt pads under any items that will be placed on your furniture and may cause scratches, ex-lamps, coasters, decor. Keep your wood furniture away from any heating source, moisture source, vent, and direct sunlight to prevent fading, discoloration, and warping.

For minor touch-ups: Minor scratches or dents - rub a color-matched marker, shoe polish, or furniture pen over the damaged area to make it less noticeable.

Watermarks - these marks, such as the white ring left under a glass, are caused by excess moisture. To remove the watermark, you will need to remove the moisture. In some cases, the moisture will eventually dissipate on its own. To speed the process, you may use a hairdryer set below 160 degrees F. There are also commercial products that will help remove watermarks.
Coffee Table
Carton Size: 24"D x 23"L x 14"H
Carton Weight: 27 lbs

Side Table
Carton Size: 15.75"D x 16"L x 18"H
Carton Weight: 18.7 lbs
It's a block of wood... but a beautiful block of wood
This coffee table is for those who can't stand 'fussy furniture' and want to make that very statement in their lounge. This carefully crafted 6-sided table is minimal beyond measure, with strong MDF construction and a smooth oak grain finish. And that's all. Keep it clean, decorate it, use it as a proper table. Who needs legs anyway?

Talk about minimal
Mesmerizingly hexagonal. With carefully crafted MDF and a smooth oak veneer top.
In Real Life
Video taken by an iphone 12. No filters, No edits.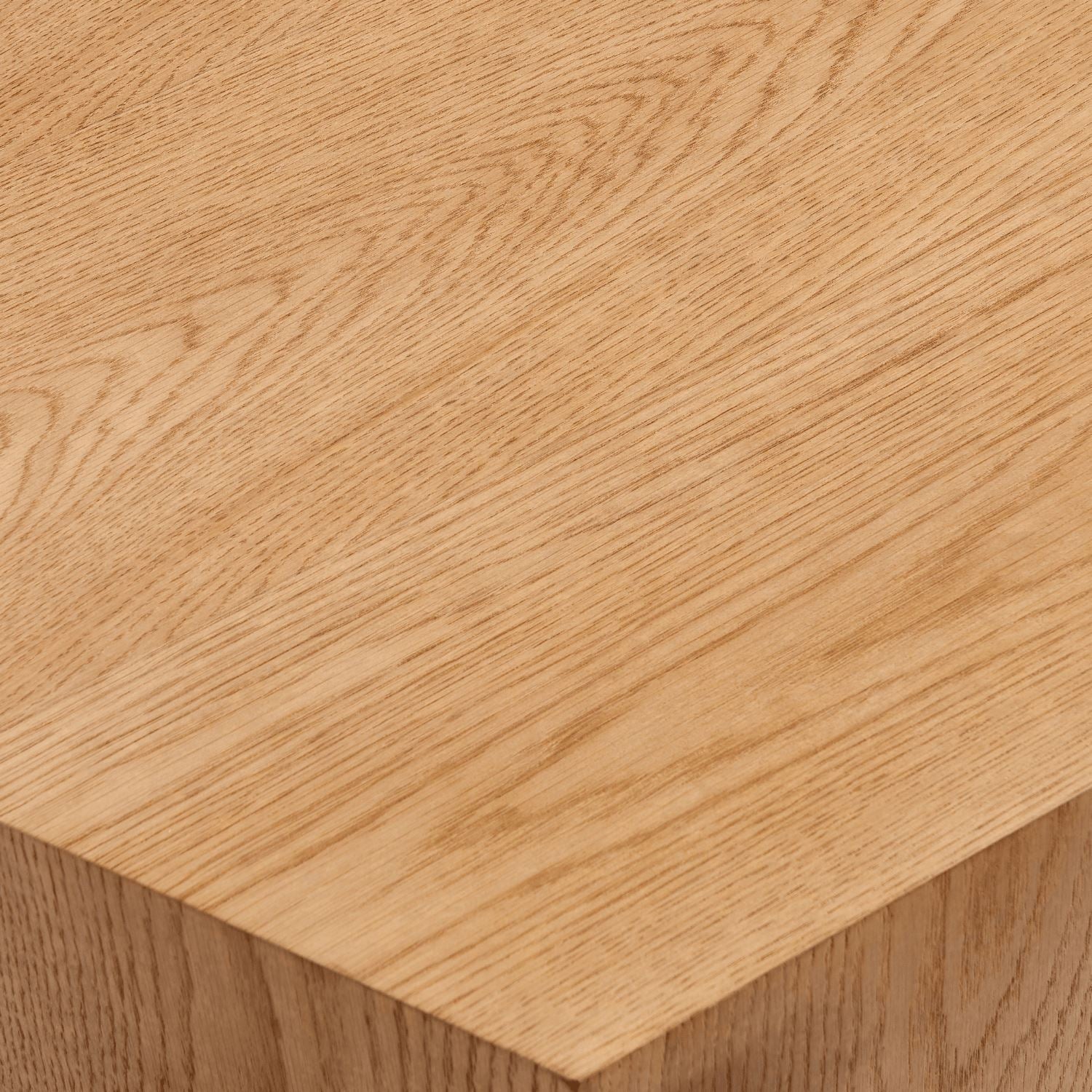 Less fuss, more space
In a coffee table and side table size – both maximizing spaces.
Designed to last
Valyou made – which means quality materials and skilled craftsmanship, with durability at the heart of the design.
Dimensions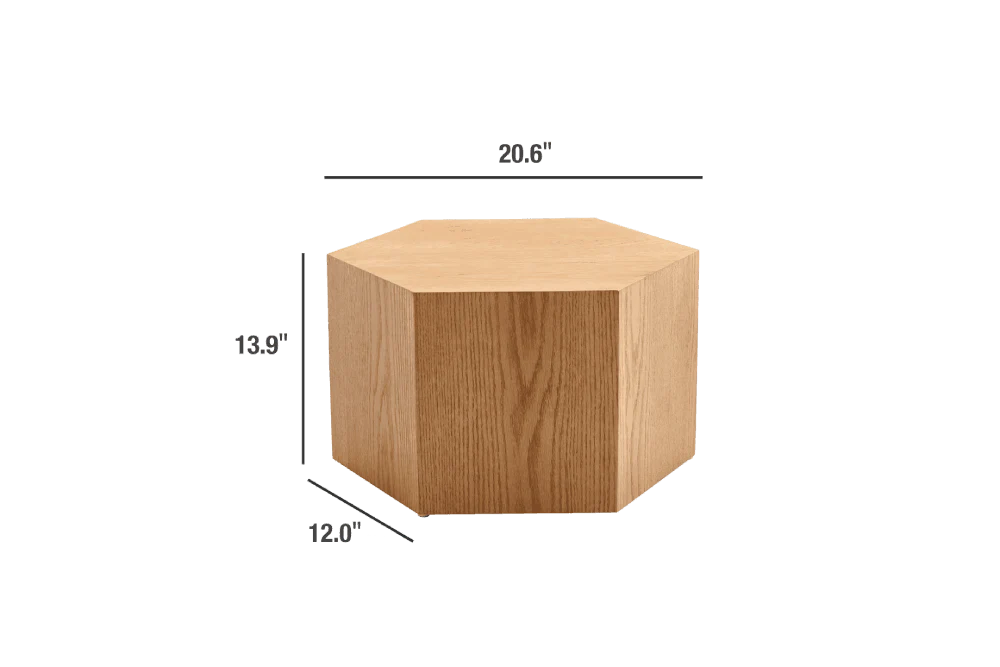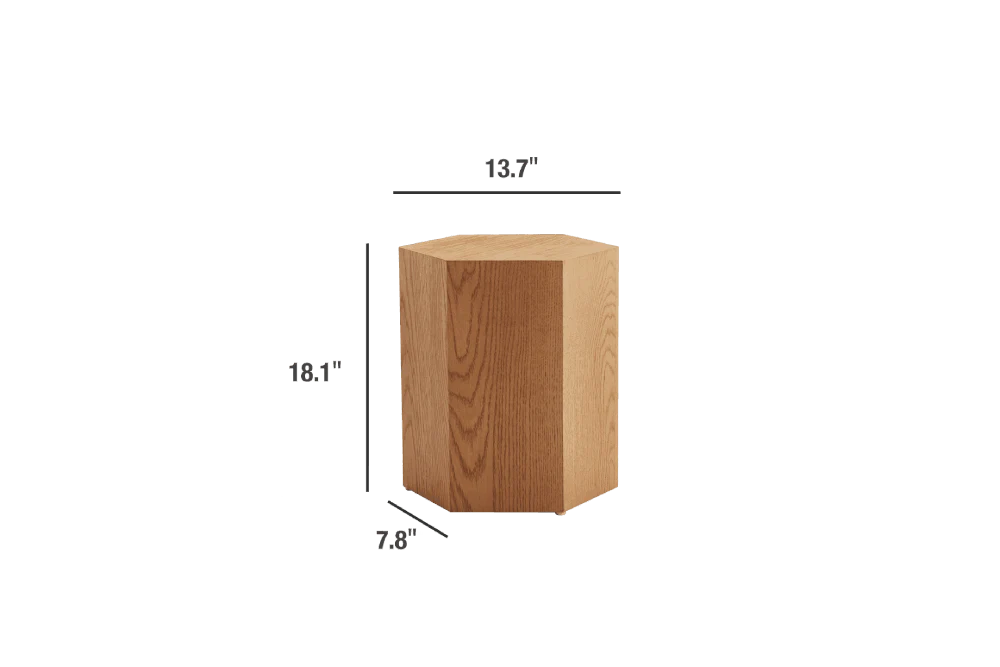 Dimensions
Coffee Table: 21"W x 12"D x 12"H
Side Table: 14"W x 8"D x 18"H
This product has no reviews yet.