Barney Dining Chair
---
Add Protection Plan
What's covered
Length: 20.9"
Depth: 21.6"
Height: 28.7"
Fabric: Boucle
Frame: Iron
Filing: Sponge
Boucle is a heavy fabric that is made of looped yarn and is highly textured. This high-fashion fabric is luxurious and soft.

To clean: Vacuum the upholstery moving it from left to right in short, overlapping lines.

Treat stains: Dab away any excess liquid immediately. Use a clean, damp cloth to dab and lift away any stains. Do not rub a stain in or push it further into the fabric. Use a soft, clean cloth, a natural sponge, or a soft-bristle brush with a mild solution of soapy water. Avoid a continuous back-and-forth motion and move from the edge of the stain toward the center.

For stubborn stains, use an upholstery spot-cleaning product and follow the directions on the label. Be sure to remove any solution by dabbing the area with a clean, damp cloth or sponge. Vacuum with the upholstery brush attachment once dry to restore original texture.
Carton Size: 22.8"L x 21.7"W x 29.5"H
Total Carton Weight: 21.38 lbs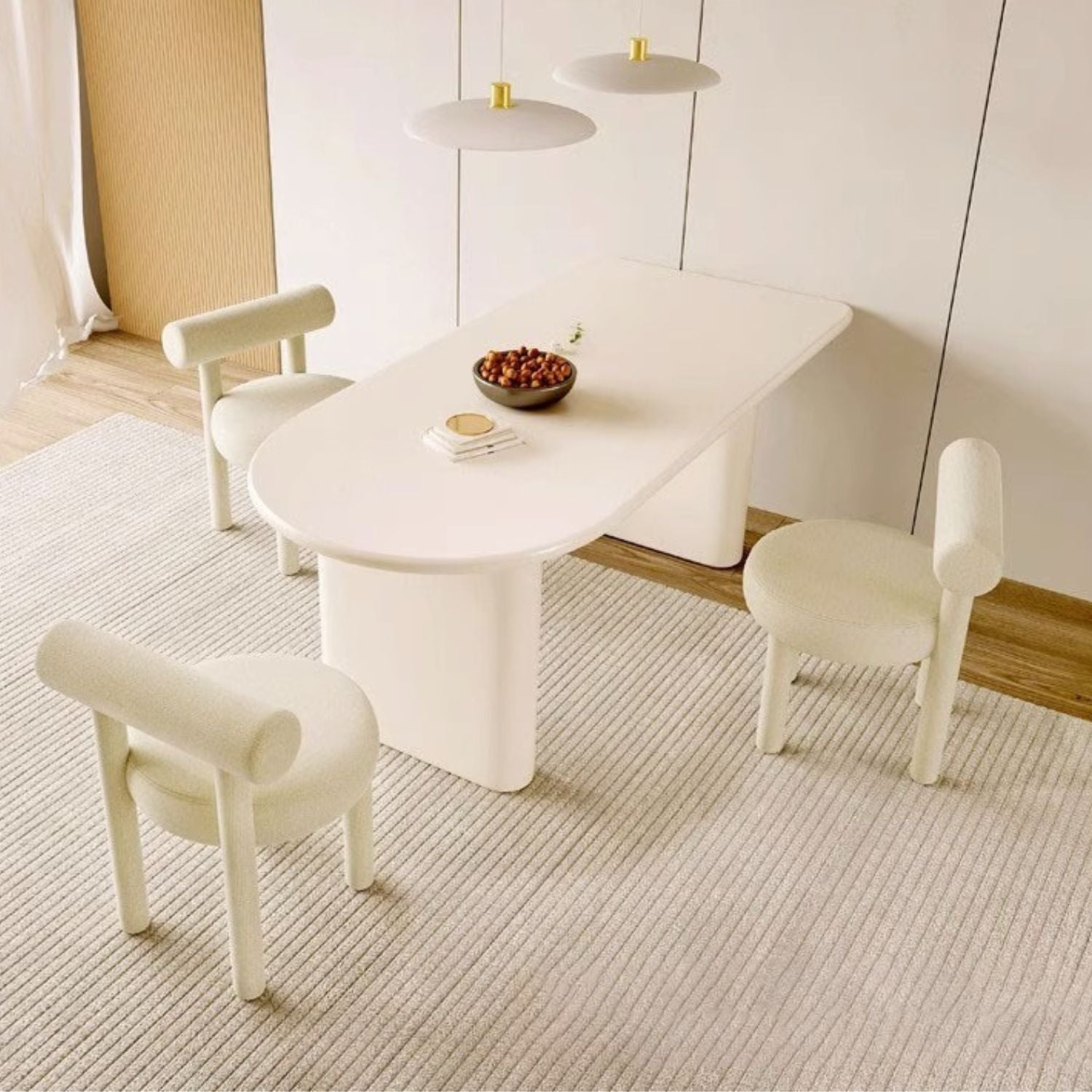 Eat, chat and chill
Whether you're sharing hearty laughter over a sumptuous feast or indulging in deep conversations over a fine glass of wine, the Barney Dining Chair is here to transform your dining experience into a magical blend of merriment and relaxation.
Sit in style
The fabulous fusion of comfort and chic! With its irresistibly fluffy Boucle fabric, sturdy iron frame, and a cushion so plump you'll want to sink into it forever, sitting in style has never been this cozy or cool!
Ticket to ultimate relaxation
This chair ensures that you not only enjoy your meal, but also feel like a VIP lounging on a first-class seat. So, sit back, buckle up, and prepare for a dining experience that's simply legendary!
This product has no reviews yet.