Cleo Dining Table
---
Add Protection Plan
What's covered
Small: 39.4"L x 39.4"W x 29.5"H
Medium: 47.2"L x 47.2"W x 29.5"H
Large: 55.1"L x 55.1"W x 29.5"H
Wood furniture is beautiful, easy to care for, and classic. Quality wood furniture can last generations when properly maintained.

To clean: Wipe away debris with a damp, cotton cloth. You may use mild water on a damp cloth if needed. Always test first on an inconspicuous area. Remove any soap with a clean damp cloth. Wipe dry with a clean cloth.

To protect: Keep your wood furniture away from any heating source, moisture source, vent, and direct sunlight to prevent fading, discoloration, and warping.

For minor touch-ups: Minor scratches or dents - rub a color-matched marker, shoe polish, or furniture pen over the damaged area to make it less noticeable.

Watermarks - To remove the watermark, you will need to remove the moisture. In some cases, the moisture will eventually dissipate on its own. To speed the process, you may use a hairdryer set below 160 degrees F. There are also commercial products that will help remove watermarks.
Small
Carton size
Box 1: 43"L x 43"W x 12"H
Box 2: 22"L x 55"W x 58"H
Total Carton Weight: 143.3 lbs

Medium
Carton size
Box 1: 51"L x 51"W x 12"H
Box 2: 22"L x 55"W x 58"H
Total Carton Weight: 154.3 lbs

Large
Carton size
Box1: 59"L x 59"W x 12"H
Box 2:22"L x 55"W x 58"H
Total Carton Weight: 176.4 lbs
Dine in style
The life of every gathering, the superstar of your dining space, and the catalyst for unforgettable feasts! This avant-garde masterpiece effortlessly merges sophistication with practicality, creating the perfect recipe for endless laughter, shared memories, and delectable dining experiences.
Champignon circular table
The perfect centerpiece for all your feasts and soirées! Crafted from solid wood with round edges and sleek curves, this table will make your dining room the envy of every gourmand and design enthusiast alike.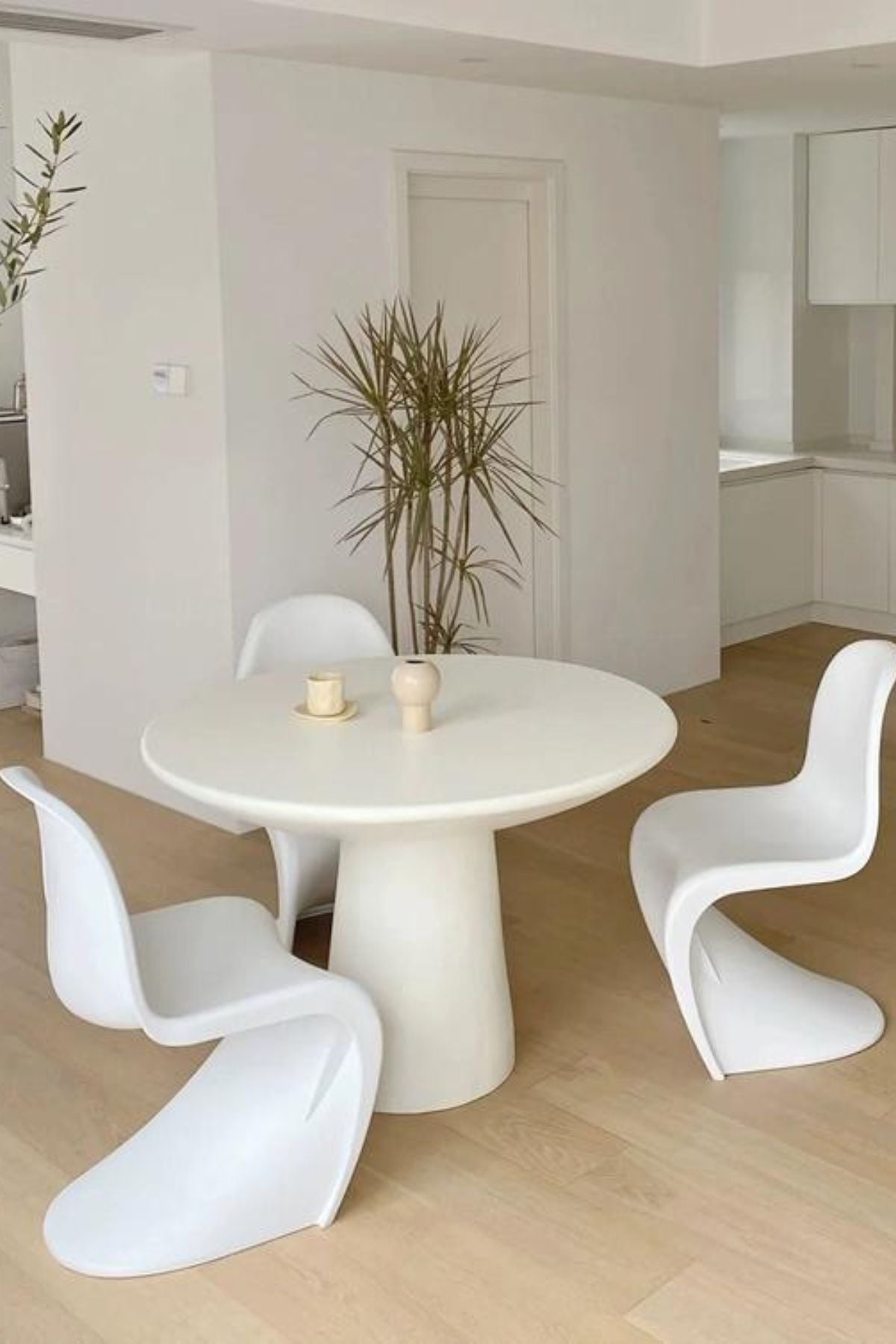 Invincible feast
Experience the ultimate dining adventure with the Cleo Dining Table. With thick legs that can withstand any food frenzy, this durable and sturdy table is sure to bring joy to all your meals.
A feast for the Senses!
Cleo goes beyond being just a table, Its a captivating work of art that elevates your dining experience to new heights. So go ahead, bring out the fine china, polish those silverware sets, and let the Cleo Dining Table take centre stage.
This product has no reviews yet.