Everly Dining Table
---
Overall: Whole Solid Wood
Wood furniture is beautiful, easy to care for, and classic. Quality wood furniture can last generations when properly maintained.


To clean: Wipe away debris with a damp, cotton cloth. You may use mild water on a damp cloth if needed. Always test first on an inconspicuous area. Remove any soap with a clean damp cloth. Wipe dry with a clean cloth.

To protect: Use coasters or other protection to avoid direct contact with wet, cold, or hot items. Use felt pads under any items that will be placed on your furniture and may cause scratches, ex-lamps, coasters, decor. Keep your wood furniture away from any heating source or moisture source, vent, and direct sunlight to prevent fading, discoloration, and warping.

For minor Touch-ups: Minor scratches or dents - rub a color-matched marker, shoe polish, or furniture pen over the damaged area to make it less noticeable.

Watermarks - these marks, such as the white ring left under a glass, are caused by excess moisture. To remove the watermark, you will need to remove the moisture. In some cases, the moisture will eventually dissipate on its own. To speed the process, you may use a hairdryer set below 160 degrees F. There are also commercial products that will help remove watermarks.
55"
Carton size
Box 1: 59"L x 35"W x 4"H
Box 2: 33"L x 35"W x 10"H
Total carton weight: 106 lbs

63"
Carton size
Box 1: 67"L x 35"W x 4"H
Box 2: 33"L x 35"W x 10"H
Total Carton Weight: 117 lbs

71"
Carton size
Box 1: 75"L x 35"W x 4"H
Box 2: 33"L x 35"W x 10"H
Total Carton Weight: 128 lbs
Table for two... and your curves!
The Everly Dining Table is more than just a surface to rest your dinner plates - it's an experience! Crafted from smooth slate material, this table creates a sense of openness that invites you and your guests to pull up a chair and stay awhile. Available in three sizes (55", 63", and 71"), this table is suitable for small or large spaces and features polished rounded edges and corners that make it a joy to touch.
A curvaceous delight
The unique curved table leg design adds a touch of elegance while the curved outline design of the table itself creates a stunning focal point in any room. Crafted from smooth slate material and polished rounded edges and corners that make it not just visually stunning but safe too.
Rock solid dinners
The Everly Dining Table boasts an even distribution of force thanks to its whole 10mm of wood. Its stronger load-bearing capacity allows you to seat as many friends or family members as you please without worrying about structural stability. The table's environmentally friendly and odorless paint, along with its white wax wood frame, ensure a preserved texture of wood that looks just as beautiful as the day you bought it.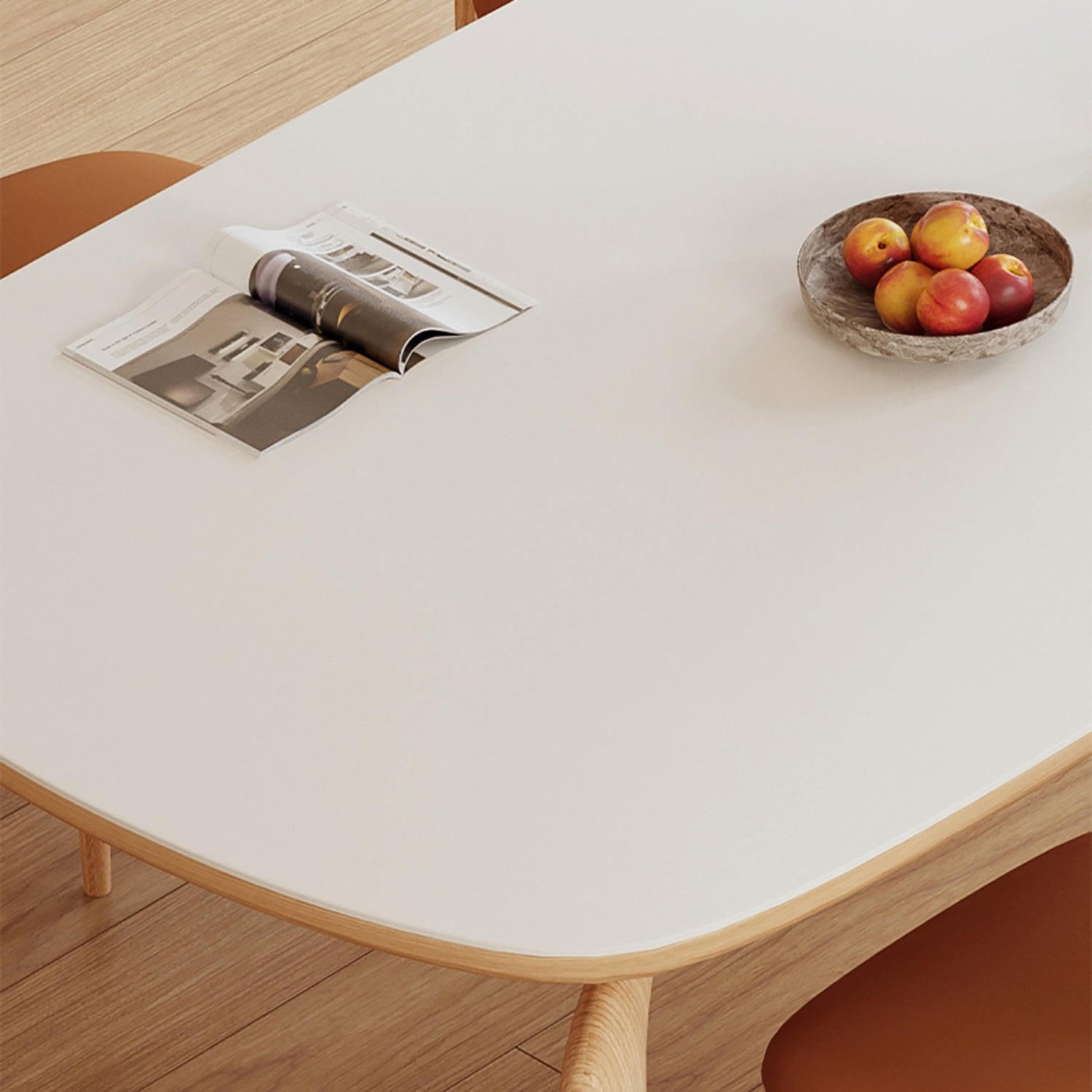 From Smooth to Sharp.
Built entirely from solid wood, this dining table is as tough as it is gorgeous. High temperature resistant, easy to clean, and Mohs hardness level 7 make it perfect for families or anyone who loves to entertain. This dining table can handle anything life throws at it: wear resistant, scratch resistant, crack resistant and inhibits mold growth, all while maintaining a sleek appearance that elevates any room.
The Ultimate Dining Experience
No matter what your taste in décor, the Everly Dining Table will fit right in. Get ready to enjoy years of delicious meals, wonderful conversation and good company around this elegant and timeless dining table!
This product has no reviews yet.