Maroc Pouf Ottoman
---
Add Protection Plan
What's covered
Width: 21"
Depth: 21"
Height: 18"
Durable and low maintenance, leather will stay looking great over time with proper care. Leather is generally easy to care for with a few simple steps and a quick easy maintenance routine.

To clean: Vacuum the upholstery moving it from left to right in short, overlapping lines. Apply commercial leather cleaner as directed on its original packaging.

For spills: Leather can stain, especially with liquids so be sure to attend to any spills quickly. For water-based spills wipe clean with a white cloth that is dampened with distilled water, then let air dry.

For more stubborn stains, combine mild detergent with distilled water. Dampen a clean cloth or sponge with this mixture and apply gently to the spill. Pat dry with a clean, dry cloth.

Oil stains should be blotted with a dry, clean, white cloth. Excel oil will dissipate over time. If the stain causes discoloration, you may consider a leather degreaser to reduce the appearance of the stain.

To maintain: A leather conditioner will keep your leather soft and supple over time. We recommend applying a conditioner every 6 to 12 months to help your leather furniture maintain its natural oils.
Carton Size: 25"D x 24"L x 20"H
Cartons Weight: 17.64 lbs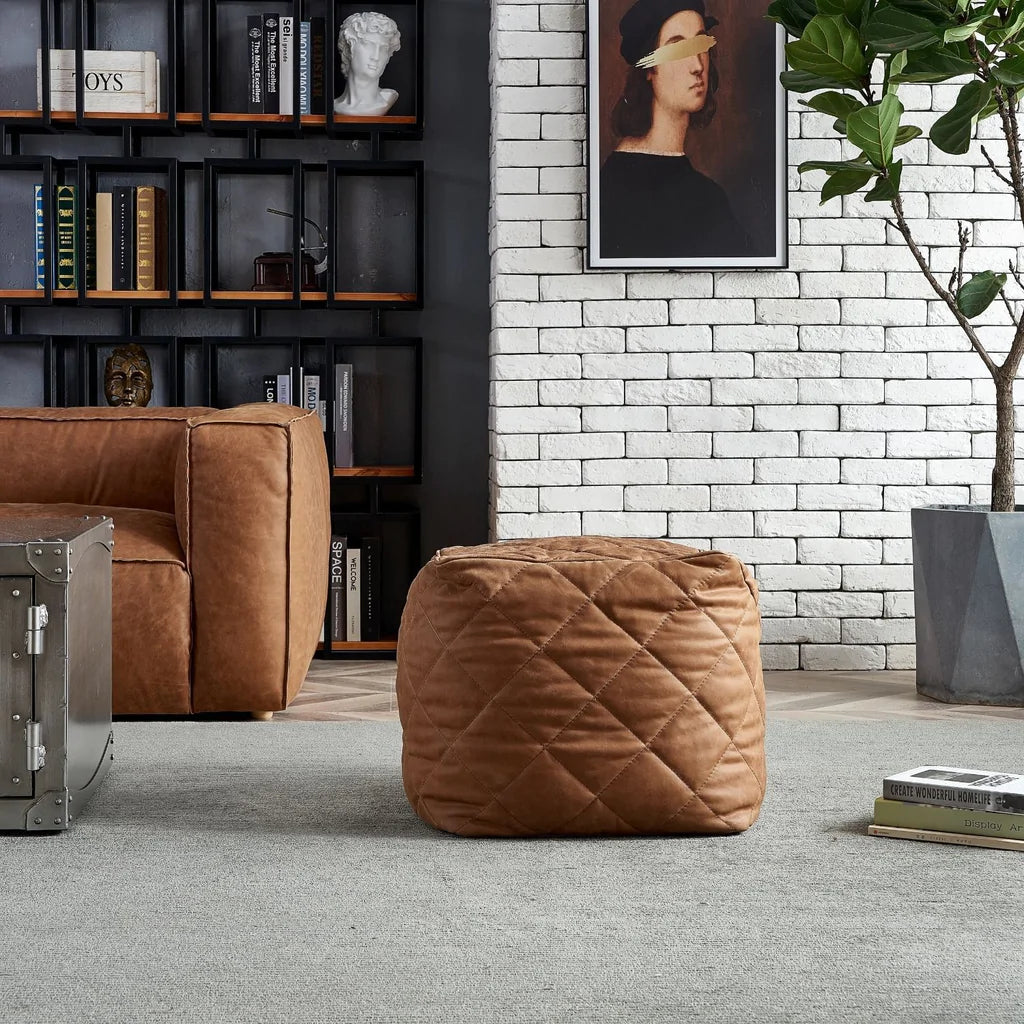 A worldly leather ottoman that's ready to come home
This leather ottoman from the vintage masters at Foundry is inspired by the handmade leather poufs of Morocco. No need to take a trip abroad to bring some Morrocan texture into your home. The supple leather features geometric detailing and only gets better with age. Put your feet up on this relaxed leather ottoman.

Luxury leather
Soft brown leather brings an earthy warmth into your space.
In Real Life
Video taken by an iphone 12. No filters, No edits.
Perfectly padded
This leather ottoman has just the right amount of relaxed cushioning.
Tuck it away
The low, square profile makes it easy to clean and store when not in use.
Dimensions
Dimensions
Width: 21"
Depth: 21"
Height: 18"
This product has no reviews yet.