Mella Dining Table
---
Add Protection Plan
What's covered
Frame: Molded Cast Aluminum
Overall: Shined Carrara Marble
To clean: Wipe down the surface using a non-abrasive cloth or sponge and a mild soap and water. Dishwashing detergent can also be used. Avoid vinegar, Windex or bleach as these acidic substances will eat into the marble and dull the stone.

Remove stains: Attack stains with the appropriate water- or solvent-based cleaner. Let the cleaner sink in, and then blot it with a microfiber cloth. A more natural method is combining acetone and baking soda to make a thick paste and letting sit on the stain for 24 hours. After the stain has cleared up, clean the marble surface as normal and re-apply sealant, as the acids used for cleaning will cause damage to the sealant.

To maintain: Clean up any spills immediately before they can soak in. Use coasters, cutting boards and placements to keep the surface safe from stains. Any etching in the marble can be fixed by using a marble polishing powder.
Large
Carton Size
Box 1: 82"L x 52"D x 6"H
Box 2: 36"L x 26" D x 31"H
Carton Weight: 220 lbs

Small
Carton Size
Box 1: 39"L x 39"D x 6"H
Box 2: 30"L x 30"D x 31"H
Carton Weight: 99 lbs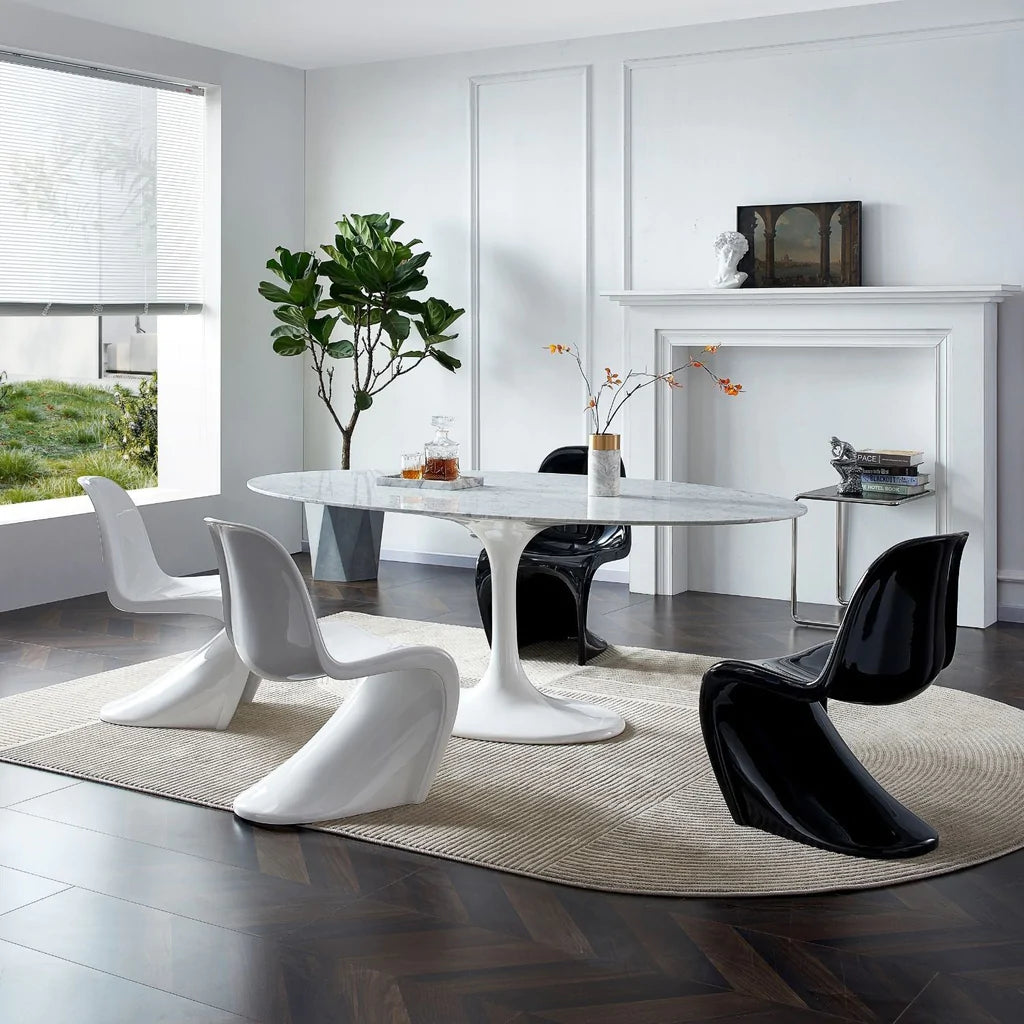 Flowers fade but a tulip table lasts
This classic pedestal dining table is a staple of modern design. The Mella Dining Table takes things further with the addition of a unique marble top. The exquisite Carrara marble features a shiny finish that protects the stone underneath. The aluminum base is substantial and made to last. This pedestal dining table is available in two sizes. The small is great for a kitchen breakfast nook. The large makes a dramatic statement in your dining room and you don't even have to water it.

Minimal design
Make your space feel light and airy with the Mella dining table by Mario Capasa.

In Real Life
Video taken by an iphone 12. No filters, No edits.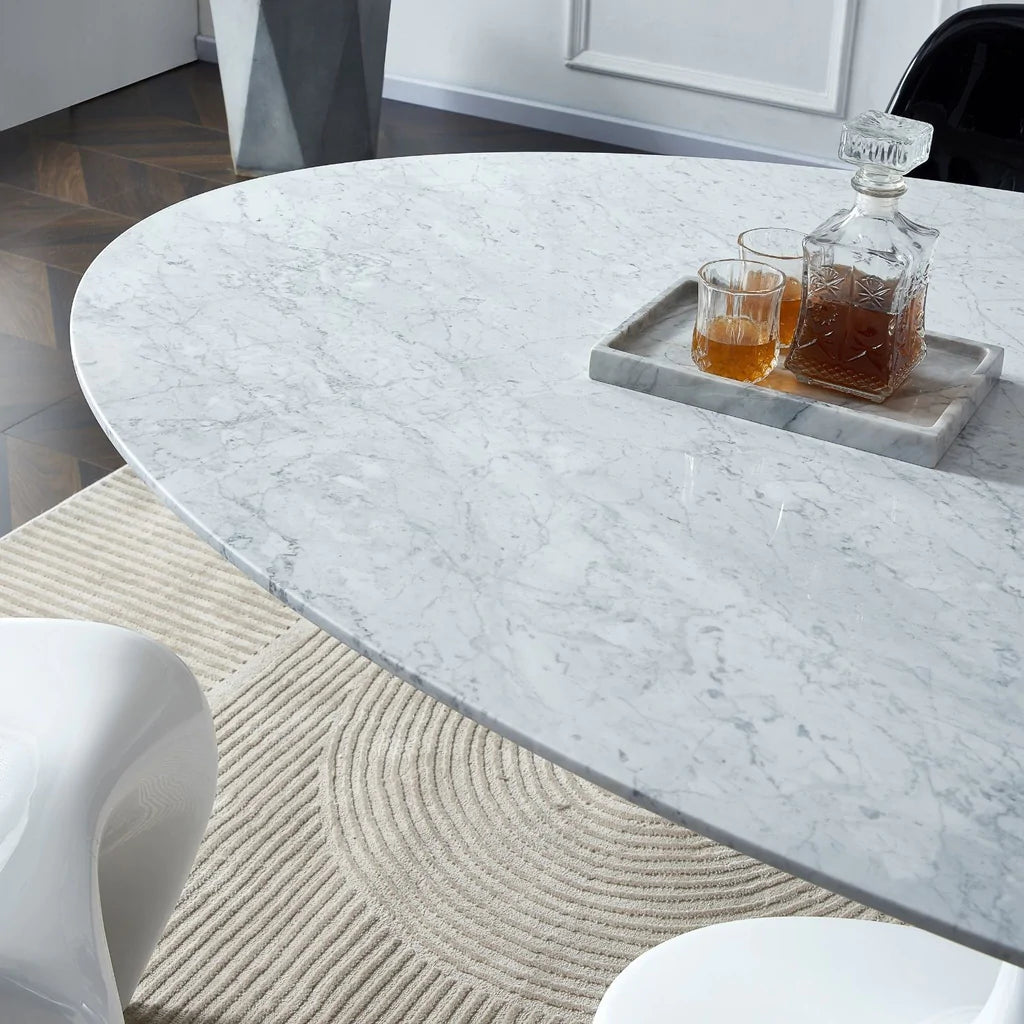 Fine Italian marble that never goes out of style
Classic Carrara.
This table is built to last
Sturdy materials.
Dimensions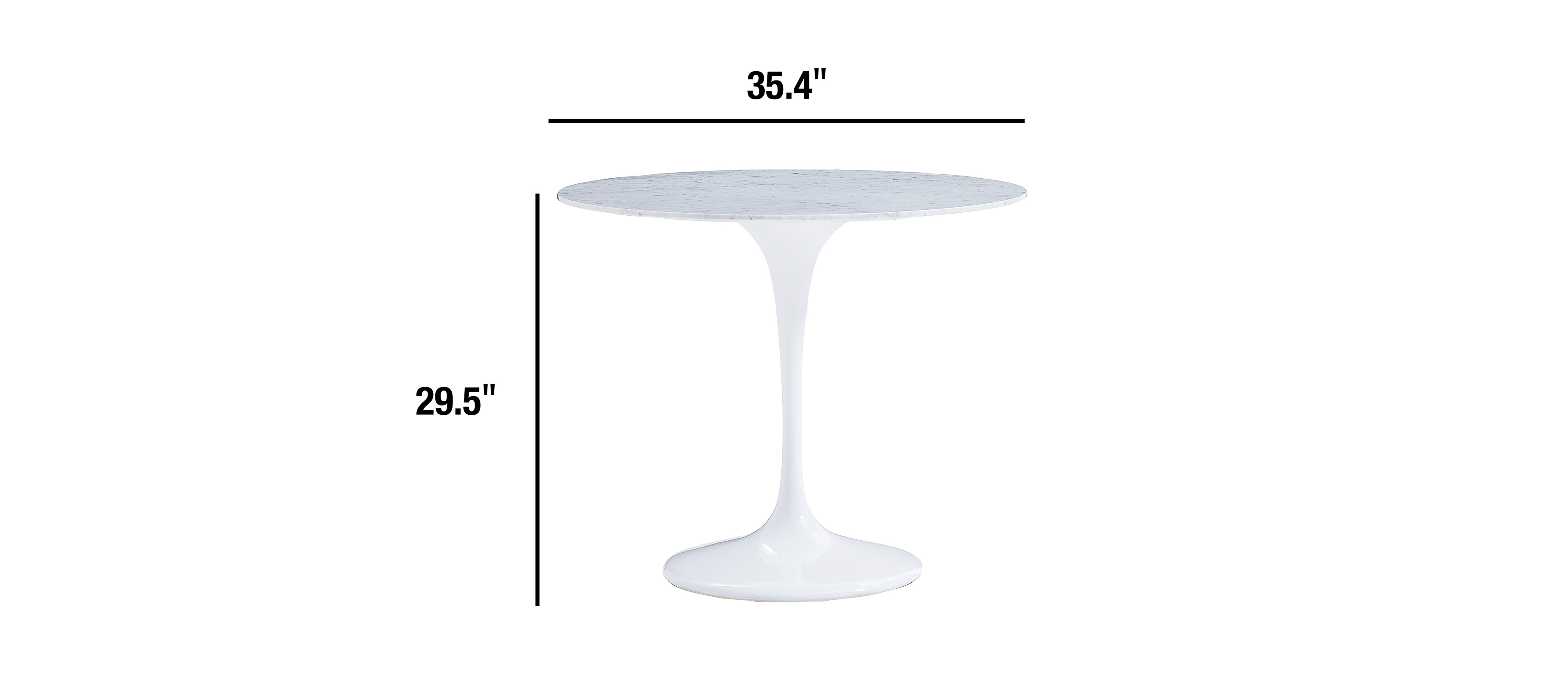 Dimensions
Large: 84"L x 47"W x 29"H
Small: 35"L x 35"W x 29"H
This product has no reviews yet.