Buy 2 Get 1 Free
Melo Side Table
---
19.68''L x 20.47''W x 19.89''H
Top: Solid Wood
Body/Legs: Iron
Wood furniture is beautiful, easy to care for, and classic. Quality wood furniture can last generations when properly maintained.

To clean: Wipe away debris with a damp, cotton cloth. You may use mild water on a damp cloth if needed. Always test first on an inconspicuous area. Remove any soap with a clean damp cloth. Wipe dry with a clean cloth.

To protect: Use coasters or other protection to avoid direct contact with wet, cold, or hot items. Use felt pads under any items that will be placed on your furniture and may cause scratches, ex-lamps, coasters, decor. Keep your wood furniture away from any heating source, moisture source, vent, and direct sunlight to prevent fading, discoloration, and warping.

For minor touch-ups: Minor scratches or dents - rub a color-matched marker, shoe polish, or furniture pen over the damaged area to make it less noticeable.

Watermarks - these marks, such as the white ring left under a glass, are caused by excess moisture. To remove the watermark, you will need to remove the moisture. In some cases, the moisture will eventually dissipate on its own. To speed the process, you may use a hairdryer set below 160 degrees F. There are also commercial products that will help remove watermarks.
Carton Size: 20''L x 21''W x 20''H
Carton Weight: 8.17 lbs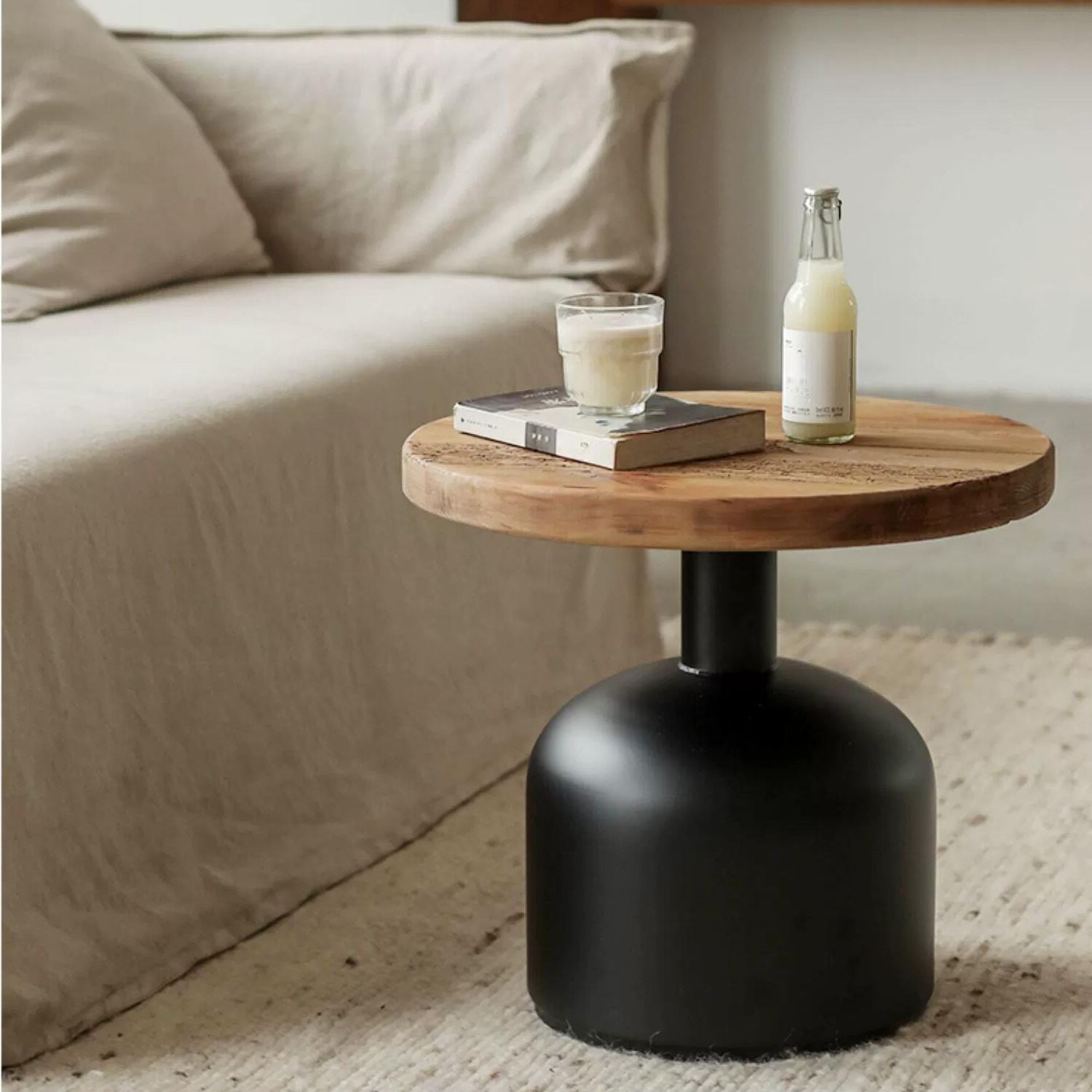 Smart spot: The savvy side table
Introducing the newest addition to your living space that is sure to steal the spotlight! Our smart spot savvy side table is not your average piece of furniture. It's smart, sleek, and sophisticated - a perfect fit for the modern and discerning individual!
Funsize fixture
This side table may be small, but it's made with top-notch solid wood and iron legs that are nothing short of impressive. Don't let its size fool you, this table is ready to take on any room with its charming and sleek design.
Ironclad investment
This ironclad investment side table with legs so strong, even Hercules would approve. Built to last and stand the test of time, it's the perfect addition to any home with an appetite for adventure.
Space saver supreme
This side table has got your back when it comes to being compact and cool. Whether you're a minimalist or a clutter queen, this little piece of furniture will help you rule your space kingdom with style.
This product has no reviews yet.