Onsen Vanity with Drawers
---
Add Protection Plan
What's covered
Length: 51"
Width: 15.7"
Height: 29.5''
Extend table total length: 90.6"
Table: Solid Wood
Chair: Acrylic
Wood furniture is beautiful, easy to care for, and classic. Quality wood furniture can last generations when properly maintained.

To clean: Wipe away debris with a damp, cotton cloth. You may use mild soap on a damp cloth if needed. Always test first on an inconspicuous area. Remove any soap with a clean damp cloth. Wipe dry with a clean cloth. To remove dust, use a microfiber or disposable duster or a vacuum cleaner with an upholstery brush to dust the entire surface. This will prevent excessive soil build-up in the weaving. To remove any stubborn build-up, use a soft-bristled toothbrush or blast compressed air in tight areas to dislodge dust and dirt.

To protect: Keep your wood furniture away from any heating source, moisture source, vent, and direct sunlight to prevent fading, discoloration, and warping.

For minor touch-ups: Minor scratches or dents - rub a color-matched marker, shoe polish, or furniture pen over the damaged area to make it less noticeable.

Specified for indoor use.
Table and chair
Carton Size
Box 1: 57"L x 19"W x 20"H
Box 2: 21"L x 53"W x 30"H
Total Carton Weight: 432.11 lbs

Table
Carton Size: 57"L x 19"W x 20"H
Total Carton Weight: 396.83 lbs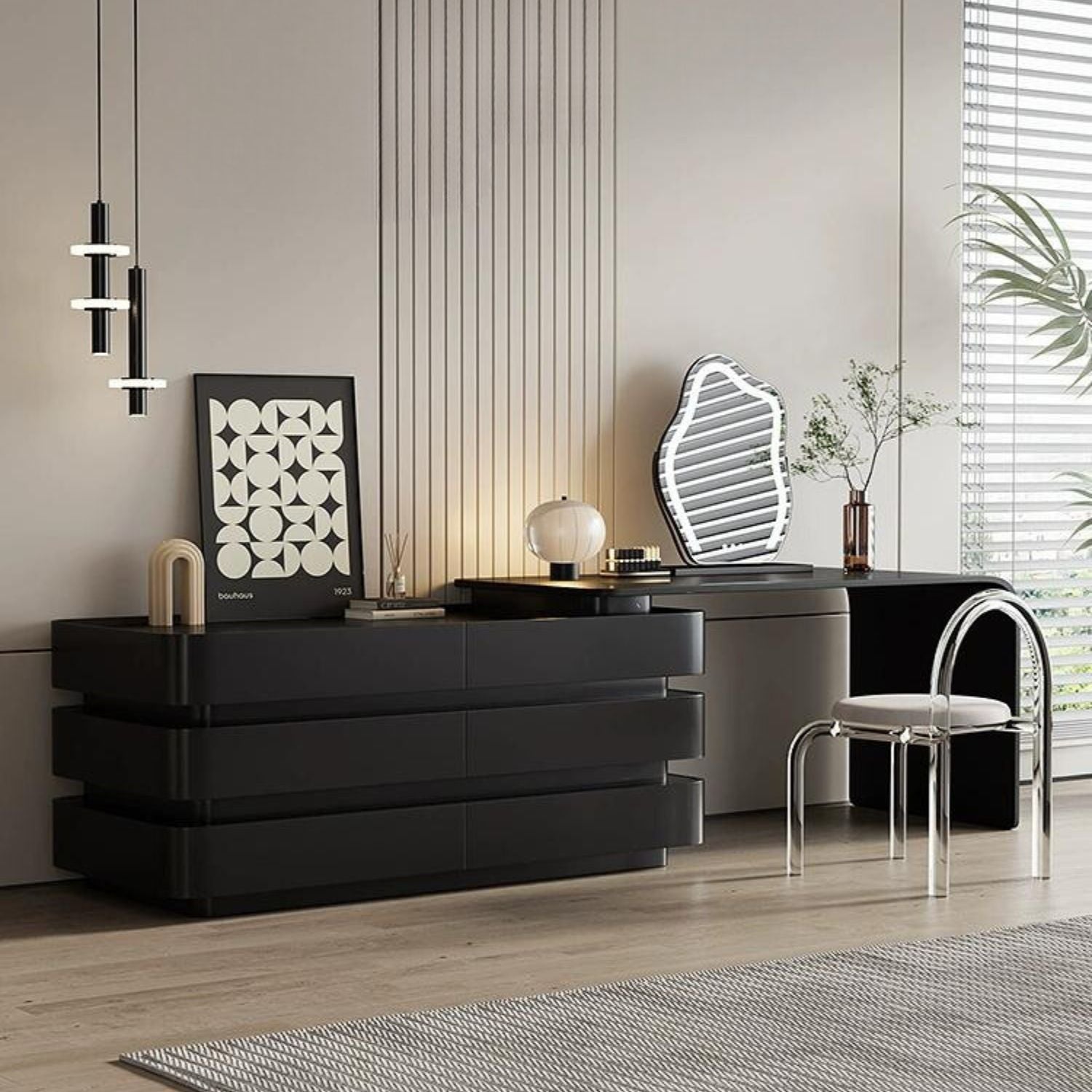 Get Organized, Get Gorgeous
Introducing the perfect companion to your morning routine, the Onsen Vanity with Drawers. Say goodbye to clutter and hello to flawless glam as you get ready with ease on this fabulous piece of furniture.
Secrets & Storage
The Onsen Vanity with Drawers is crafted with solid wood and features hidden handles under its ample drawers for a touch of elegance that won't clutter your space. Plus, with so much storage space at your fingertips, you'll have plenty of room to hide all your beauty secrets!
Style and Smarts
Featuring 6 wide drawer organizers and a movable and adjustable extension table top, this beauty station will have you slaying your makeup game with ease or be still a chic while reading emails.
Perfectly Polished
With its shiny finish, sleek design, and cheeky personality, it's sure to elevate your vanity game to the next level. Plus, its durability that can withstand all your beauty essentials, this table will have you looking flawless for years to come.
This product has no reviews yet.