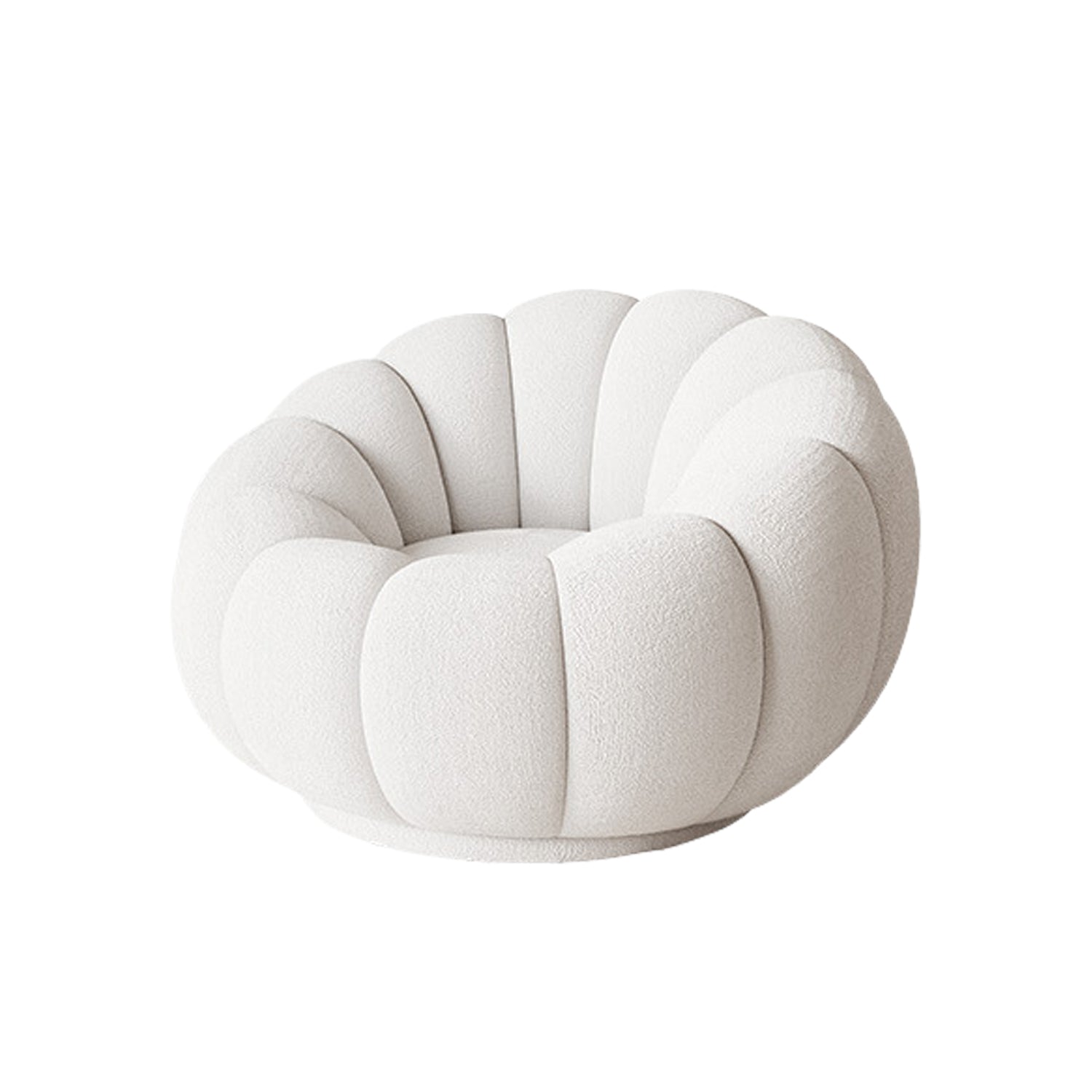 Pumpkin Accent Chair
---
Add Protection Plan
What's covered
Length: 37.4"
Depth: 37.4"
Height: 27.6"
Fabric: 3D teddy fleece fabric
Filling: Sponge
Frame: Solid wood
To clean: It is recommended to vacuum your furniture at least once a week, especially if it is placed in high traffic areas or near pets. This will help to remove any dirt, dust or debris that may accumulate over time.

Treating stains: Important to spot clean any stains or spills as soon as they occur, using a cloth and gentle fabric-specific cleaning solution. Avoid using harsh chemicals or rubbing the stain aggressively, as this can cause damage to the fabric.

To maintain: Protect your fabric from prolonged exposure to sunlight, as this can cause fading or discoloration. Avoid exposing your chair to moisture or humidity, as this can lead to mold or mildew growth. Keep your furniture in a well-ventilated room and avoid placing it near damp areas.
Add pumpkin spice to your living room!
Don't settle for a basic old armchair - upgrade to the Pumpkin Accent Chair. This thing is so soft and snuggly, you'll swear it's stuffed with actual pumpkin spice. And get this - it's made with new 3D teddy fleece fabric! That's right, this chair is softer than a baby bunny in a cashmere sweater.
Squash your stress away
But the real kicker is the 3D concave shape. What does that even mean? Well, basically it's like sitting in a big ol' pumpkin-shaped hug. We've scientifically designed this chair to contour to your body, so you can feel enveloped in cozy comfort.
The power of rotation
Want to show off your Halloween costume to everyone in the room? Just spin in its 360-degree rotating swivel function. Feeling too lazy to get up and grab the remote? No problem, just twist and turn until you're facing the TV.
Fashion-forward couch
Choose from three fabulous colors - white, grey, and pink. Want to be the fairest pumpkin in the patch? Go with white. Feeling like a classic with a touch of darkness? Grey is the way to go. Feeling girly and spunky? Pink is your new pumpkin spice latte.
This product has no reviews yet.