Sina Coffee Table
---
Add Protection Plan
What's covered
Length: 40.1"
Width: 40.1"
Height: 18.5"
Frame: Stainless Steel
Materials: Tempered Glass 15mm
To clean: Be sure to wipe off glass surfaces with a damp cloth before cleaning them to remove abrasive dust and dirt. Only use sprays or cleaners that are specifically made to clean glass. Another great in-between cleaning fit would be to leave the glass dry and wipe with a soft, lint-free cloth or feather duster.

To maintain: Dust the glass regularly, at least on a weekly basis or more often if dust tends to accumulate in your space quickly. For any silverware, tough and hard surfaces, ensure you put a soft material on the glass top table before placing any rough item. This will help prevent the glass from getting scratched.
Carton Size
Box 1: 28"D x 28"L x 18"H
Box 2: 43"D x 43"L x 3"H
Carton Weight: 88.18 lbs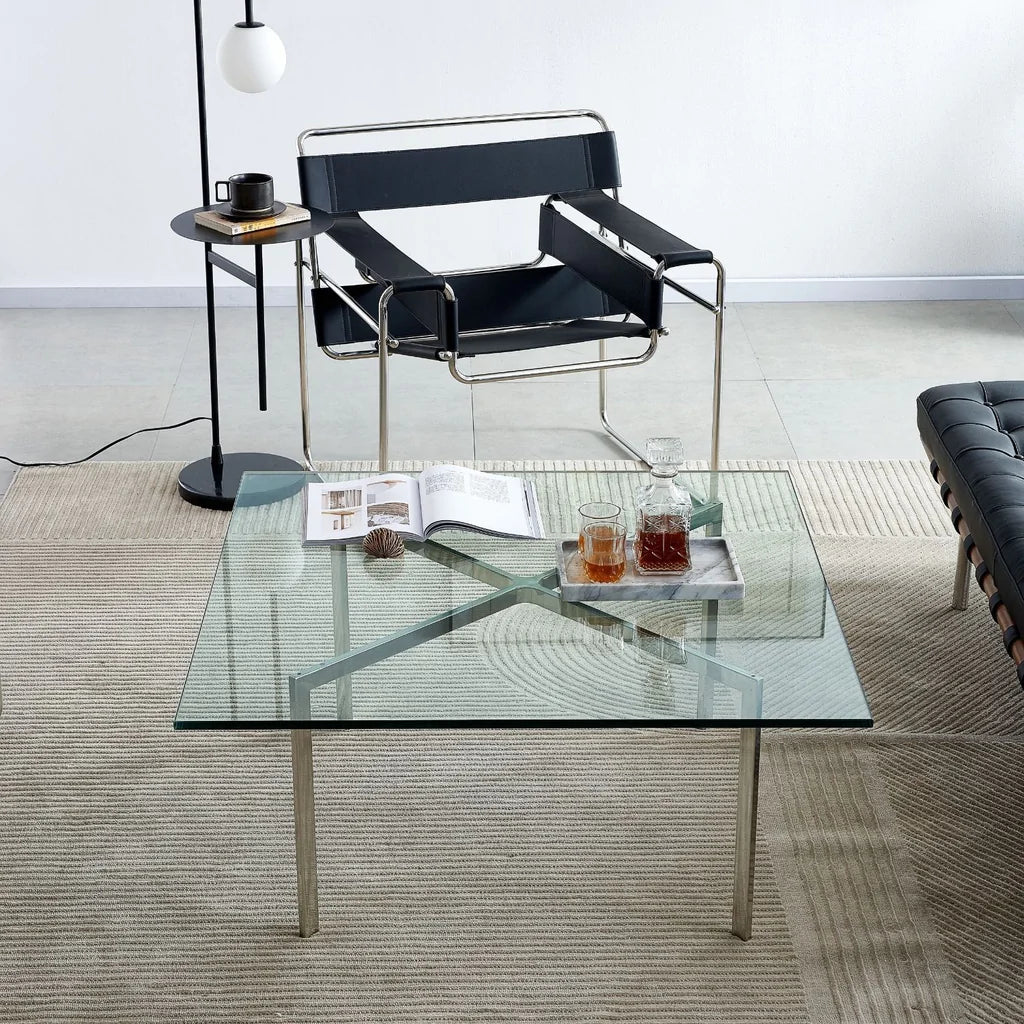 The coffee table version of a blank slate
Style this glass coffee table with fresh flowers, a luxury candle, and a few back issues of Architectural Digest or Vogue. Whatever your passion, put it center stage in your living space. More of a best-supporting actress than a leading lady, this glass coffee table won't overwhelm. A thick slab of tempered glass sits on top of a sturdy stainless-steel base, so even though it looks light as air it's totally grounded. Go ahead, you can even put your feet up. This coffee table can take it.

Arrives assembled
So it won't spend six weeks sitting in the box waiting for you to put it together.
In Real Life
Video taken by an iphone 12. No filters, No edits.
Light and airy
Keeps your space from feeling cluttered.
Shatter-resistant glass
Thick, tempered glass that's built to last.
Dimensions
Dimensions
Length: 40.1"
Width: 40.1"
Height: 18.5"
This product has no reviews yet.