Buy 2 Get 1 Free
Sleek Recliner Chair
---
Length: 34.6"
Depth: 37.4"
Height: 38.6"
Full Stretch: 63.0"
Seat Width: 23.0"
Frame: Wood
Filing: HD Foam
Fabric: Fabric Blend
Base: Iron
To Clean: Vacuum the upholstery moving it from left to right in short, overlapping lines. Change over to the crevice nozzle, and vacuum in between the seams and under the cushions.

Treat stains: Attack stains with the appropriate water- or solvent-based cleaner. Let the cleaner sink in, and then blot it with a microfiber cloth. Don't scrub the stain, as the action could push the stain farther into the upholstery or damage the fabric.
Carton Size: 36"L x 34"W x 29"H
Carton Total weight: 22.7 lbs
Spark up your seating game
Are you tired of lounging on a boring, outdated recliner? Say goodbye to your lumpy old cushion and hello to the sleek and stylish electric reclining chair of your dreams. With this bad boy in your living room, you'll be sitting pretty - and with the touch of a button, you can elevate your seating game to the next level.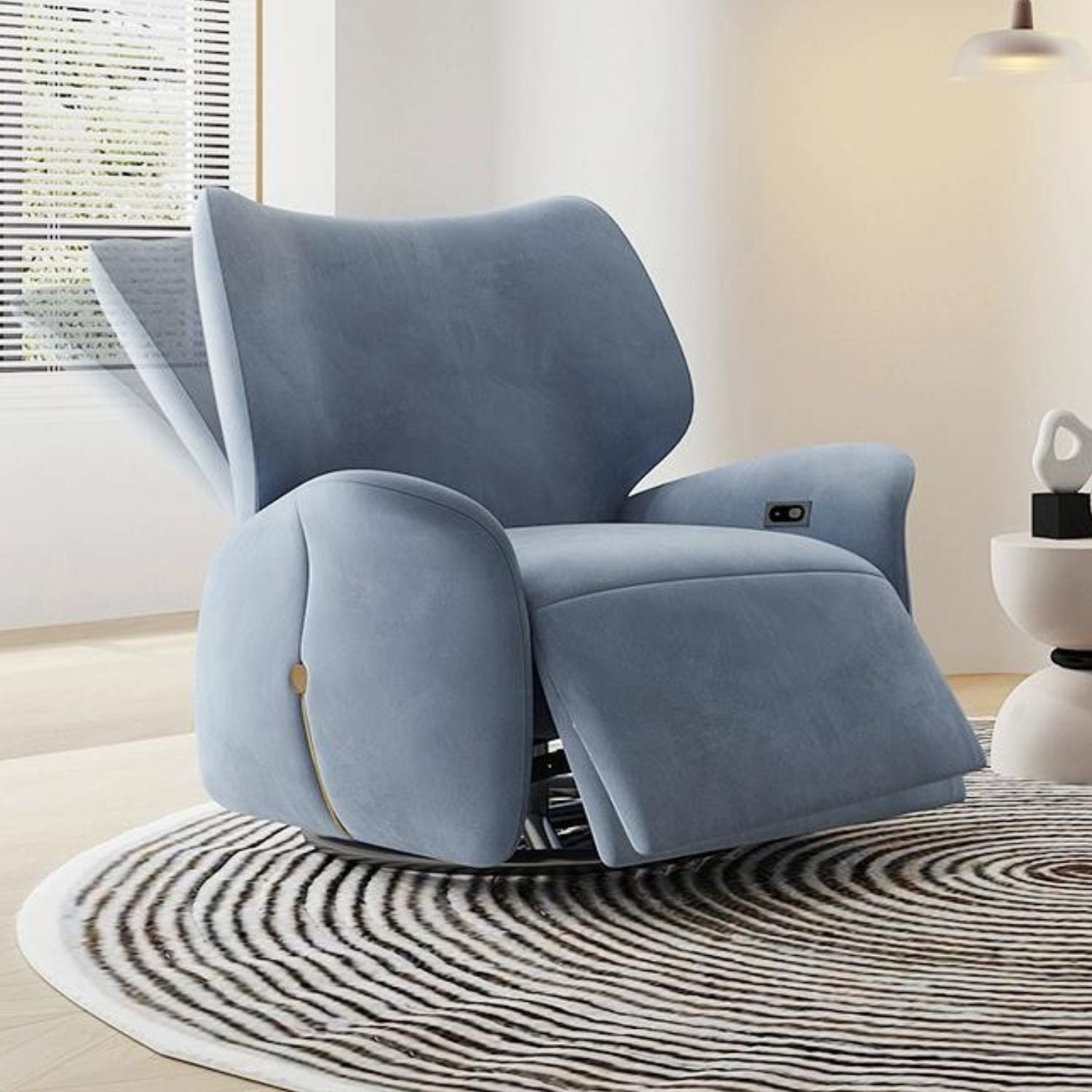 Smart meets comfort
Get ready to experience a royal level of relaxation with this reclining chair that's smoother than butter on a hot pan. With HD Foam filling and reclining head and feet, this chair is like a comfortable dream you never want to wake up from.
Switch on to luxury
This sleek chair is as smooth as butter, and with fabric blend this soft, you'll never want to get up - even if you do have an important Zoom meeting.
Elevate your relaxation
Built to last and equipped with an automatic button and USB charging port, this chair is not only ergonomic but will also give your tired body the jolt it needs!
A comfortable revolution
The reclining chair that revolutionizes the way you sit, all without the uncomfortable wobbling of a traditional rocking chair. Just don't get too relaxed or you may end up sparking joy with the world's first self-electrifying lounge chair.
This product has no reviews yet.