Buy 2 Get 1 Free
Sonomi Chair
---
Length: 20"
Depth: 19"
Height: 31"
Seat Height: 18"
Frame: Wood
Fabric: PU Leather
To clean: Vacuum the upholstery moving it from left to right in short, overlapping lines. This material is spot-clean only. Do not wash these covers in the washing machine.

Treat stains: Use a clean, dry cloth to dab and lift away any stains. Do not rub a stain in or push it further into the fabric. For water-based spills, use a white cloth dampened with distilled water then let air dry. For more stubborn stains, you may need to use a mild detergent diluted with distilled water. Dampen a clean cloth or sponge with this mixture and apply gently to the spill. Remove the detergent mixture with a damp cloth, pat dry with a clean dry cloth.
Carton Size: 22"L x 21"W x 33"H
Carton weight: 3.32 lbs
The perfect blend
Introducing the ultimate fusion of elegance and durability - the Sonomi Chair! Whether you're a fancy-schmancy sophisticate or a rough-and-tumble roughneck, this chair has got you covered (literally and figuratively).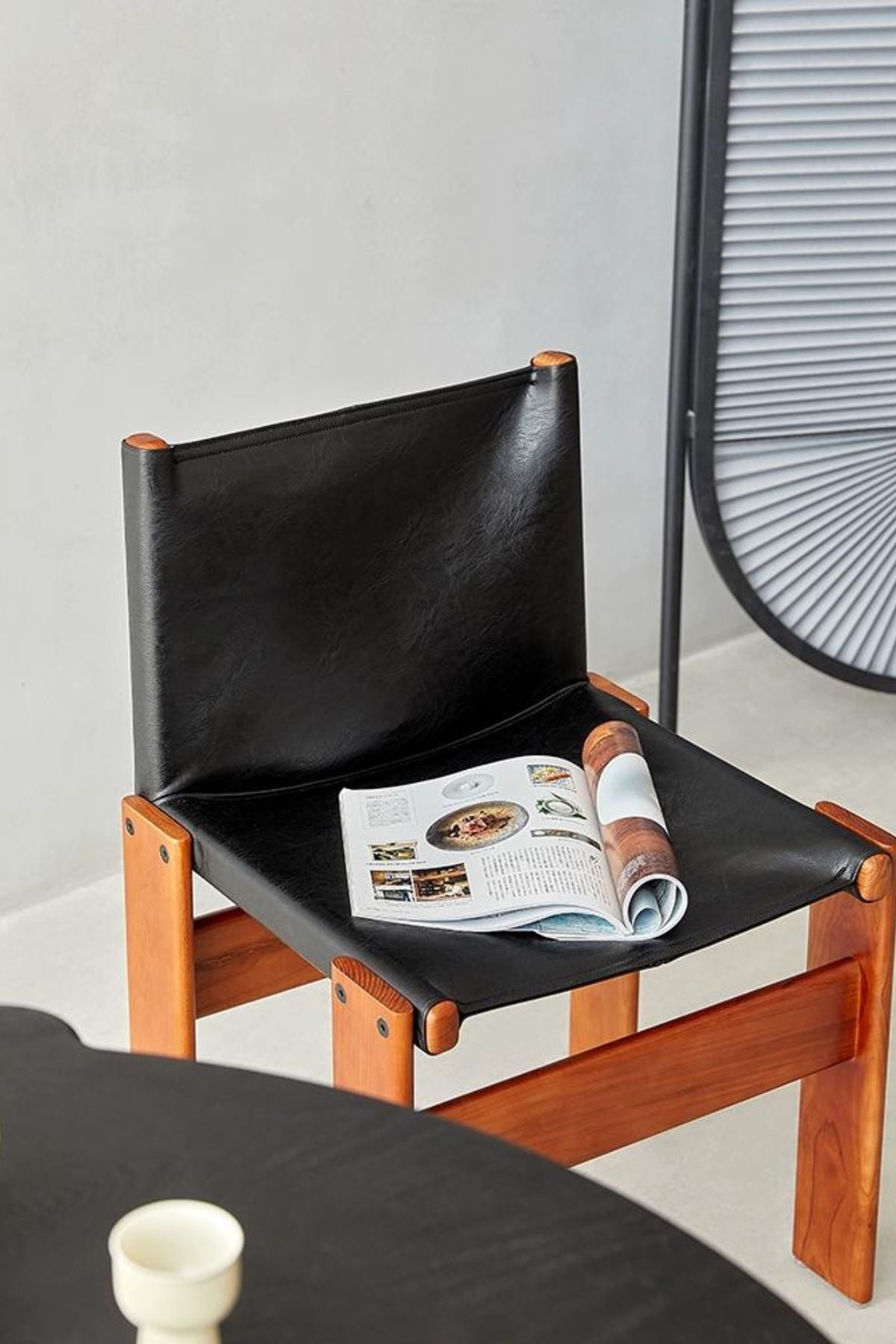 Style meets comfort
Take a seat on this beautiful chair and indulge in ultimate luxury as style meets comfort. Made from solid wood and draped in smooth leather, it's a furniture piece fit for royalty, or at the very least, someone who wants to feel like a fancy king or queen.
Sitting in style
The perfect blend of sophistication and ruggedness. Available in both a bold brown leather with black wood frame or a sleek black leather with brown wood frame, you'll never have to sacrifice style for comfort again.
Aged to Perfection
Durable and timeless piece that's aged to perfection like a fine wine. Perfect for cozying up with a good book or impressing your guests, this chair will withstand the test of time and elevate any room's aesthetic.
Fine-leather and Woody Chair-ade!
Say goodbye to boring sitting with this leather wooden chair that's just as fun to look at as it is to sit in! Whether you're relaxing with a book or catching up on emails, this chair has got you covered with its stylish design and comfortable seat.
This product has no reviews yet.