Spazio Mini Sofa Bed
---
Add Protection Plan
What's covered
Frame: Pine Wood Base
Fabric: Full-Grain Italian Leather
Filling: 1x Layer HD Dense Foam & 1x Layer HD Soft Foam
Mattress: HD Foam
Durable and low maintenance, leather will stay looking great over time with proper care. Leather is generally easy to care for with a few simple steps and a quick easy maintenance routine.

To clean: Vacuum the upholstery moving it from left to right in short, overlapping lines. Apply commercial leather cleaner as directed on its original packaging.

For spills: Leather can stain, especially with liquids so be sure to attend to any spills quickly. For water-based spills wipe clean with a white cloth that is dampened with distilled water, then let air dry.

For more stubborn stains, combine mild detergent with distilled water. Dampen a clean cloth or sponge with this mixture and apply gently to the spill. Pat dry with a clean, dry cloth.

Oil stains should be blotted with a dry, clean, white cloth. Excel oil will dissipate over time. If the stain causes discoloration, you may consider a leather degreaser to reduce the appearance of the stain.

To maintain: A leather conditioner will keep your leather soft and supple over time. We recommend applying a conditioner every 6 to 12 months to help your leather furniture maintain its natural oils.
Carton Size: 41"D x 79"L x 30"H
Carton Weight: 276 lbs
Live luxuriously
Just like the full-size Spazio, the Spazio Mini is top of the line in every sense. This piece is a comfortable multi-tasker disguised as a luxury sofa. With a gorgeous design and a full-grain leather finish, you would never expect this sofa is also a sleeper. Complete with a full-size bed, the Spazio is as versatile as it is luxurious. Enjoy superior comfort and luxury in both a couch and a bed. Experience the fine Italian design in this soon-to-be classic from Mario Capasa.

Italian design
An acclaimed Mario Capasa 'new classic', with a full-grain leather finish that will look great for years to come.
In Real Life
Video taken by an iphone 12. No filters, No edits.
Comfortable and functional
One layer of HD dense foam and one layer of HD soft foam make this a sofa to truly sink into
Long-lasting luxurious feel
A strong pinewood base construction covered in leather, made for living, and easy cleaning.
Dimensions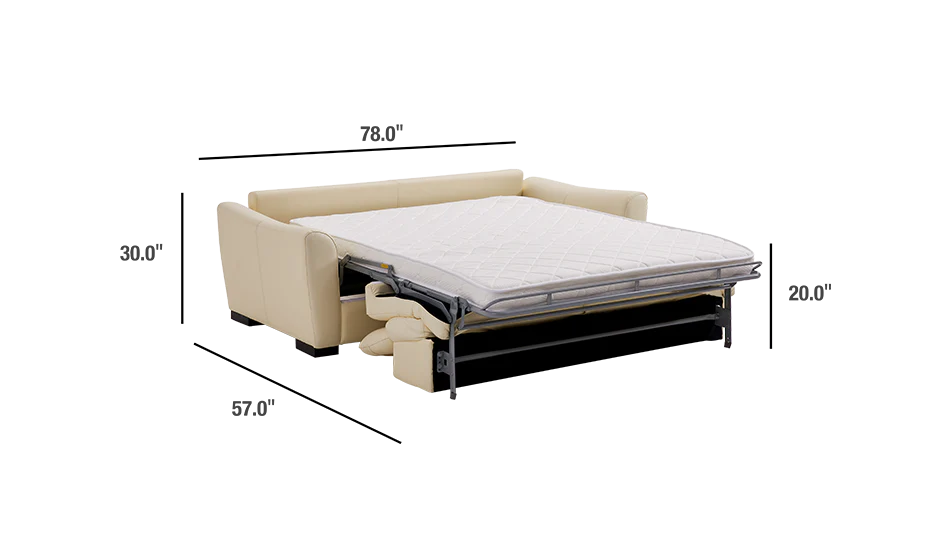 Dimensions
Length: 78"
Depth: 38"
Height: 38"
Mattress Length: 75"
Mattress Width: 55"
Mattress Thickness: 5"
This product has no reviews yet.