Buy 2 Get 1 Free
The Eclipse Sofa + Armchair
---
Add Protection Plan
What's covered
Upholstery: Boucle Fabric
Frame: Wood
Inside: Soft HD Foam
Boucle is a heavy fabric that is made of looped yarn and is highly textured. This high-fashion fabric is luxurious and soft.

To clean: Vacuum the upholstery moving it from left to right in short, overlapping lines.

Treat stains: Dab away any excess liquid immediately. Use a clean, damp cloth to dab and lift away any stains. Do not rub a stain in or push it further into the fabric. Use a soft, clean cloth, a natural sponge, or a soft-bristle brush with a mild solution of soapy water. Avoid a continuous back-and-forth motion and move from the edge of the stain toward the center.
For stubborn stains, use an upholstery spot-cleaning product and follow the directions on the label. Be sure to remove any solution by dabbing the area with a clean, damp cloth or sponge. Vacuum with the upholstery brush attachment once dry to restore original texture.
2-Seater
Carton Size: 85"L x 40"D x 28"H
Carton Weight: 126.7 lbs

3-Seater
Carton Size: 94"L x 51"D x 32"H
Carton Weight; 191.4 lbs

Armchair
Carton Size: 38"L x 35"D x 30"H
Carton Weight: 76 lbs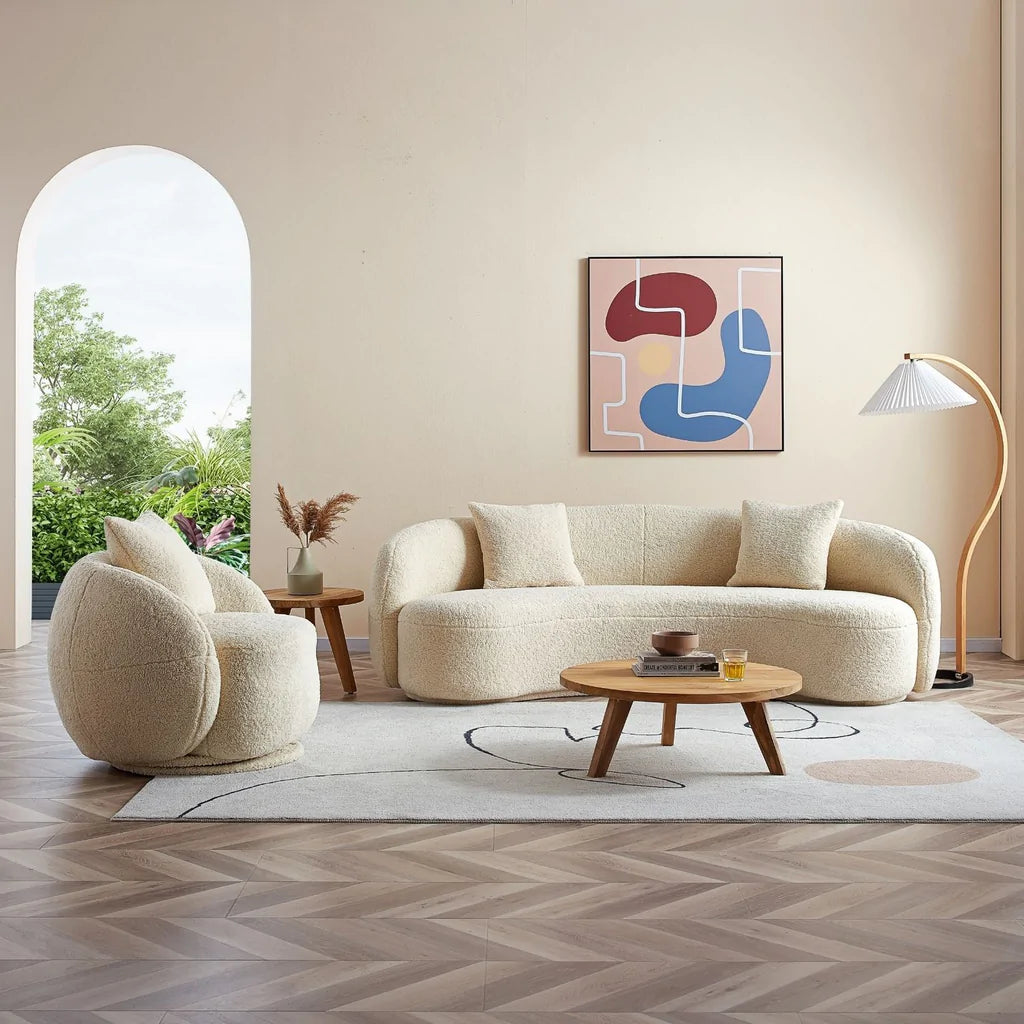 Out-of-this-world set
Make this Eclipse set the center of your universe, or living room at least. The Eclipse Sofa and Armchair are thoughtfully designed to provide ultimate comfort and unique style. Made with boucle wool and memory foam to ensure every seat is the best seat.

Designed by Milloze
This moon-shaped sofa and curvy armchair are uniquely designed by none other than Milloze.

In Real Life
Video taken by an iphone 12. No filters, No edits.
Not your typical pair
The Eclipse Sofa and Armchair offer an alternative to the typical living room set with a modern and comfort forward design.
Long-term looks
Stain-resistant fabric to keep your sofa looking good for a long time.
Dimensions
Dimensions
2-Seater: 82"L x 43.5"D x 21.5-26.5"H
3-Seater: 94"L x 51"D x 26.5-31"H
Armchair: 37"W x 33"D x 27"H
This product has no reviews yet.