The Eirik Sofa
---
Add Protection Plan
What's covered
Length: 85"
Depth: 35.5"
Height: 30"
Frame: Eucalyptus Wood
Legs: Zinc Alloy with Chrome Finish
Filling: New & Recycled Medium-Density Foam
Fabric: 100% Polyester Linen Look
To clean: Vacuum the upholstery moving it from left to right in short, overlapping lines. Change over to the crevice nozzle, and vacuum in between the seams and under the cushions.

Treat stains: Attack stains with the appropriate water- or solvent-based cleaner. Let the cleaner sink in, and then blot it with a microfiber cloth. Don't scrub the stain, as the action could push the stain farther into the upholstery or damage the fabric.

Machine wash: Remove the fabric from the cushions. Wash it on a gentle cycle in cold water with a mild detergent.

Make sure the cover is zipped closed before you put it in the washing machine, or you may end up with a tangled-up mess. Covers can be line-dried, but many people prefer to put the cover back on the cushion while it is still damp.
Carton Size: 87"D x 37"L x 18"H
Carton Weight: 127 lbs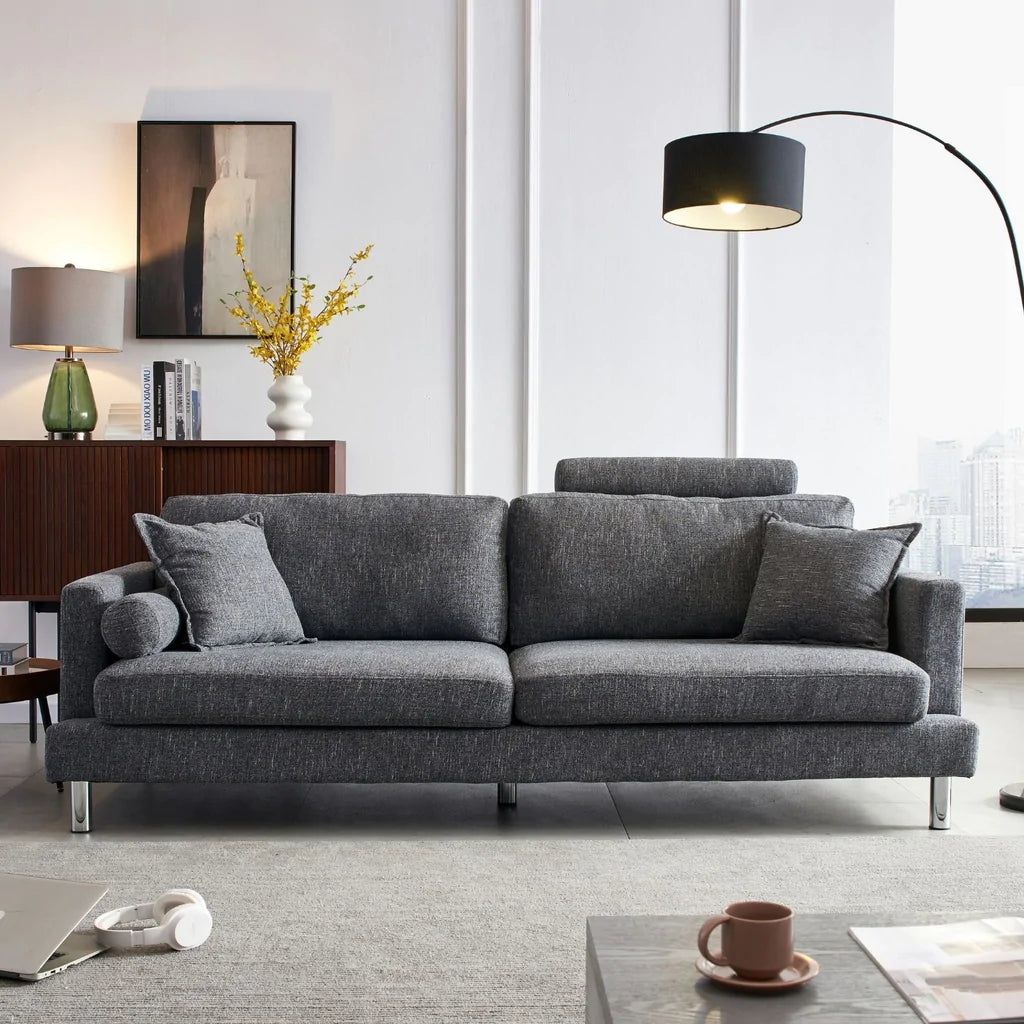 Handsome, practical living
Practicality is a style, and this Eirik sofa has got it down. Sturdy and sleek stainless-steel legs contrast the three-layer foam cushions, in an attractive way. You'll note the round cushions included – adding an inviting flourish, or just some lower back support. That raise off the ground? It's not just a design feature, it makes for easy vacuuming too. Drop a drink? Enjoy the stain-resistant fabric and removable, washable covers. Yep, the Eirik is practically the best.

Pretty
Contrast steel and polyester fabric construction delivers a clean simple look. Detail pillows bring a little personality.
In Real Life
Video taken by an iphone 12. No filters, No edits.
Comfy
Three-layer medium-density foam cushions to sink into, and Anti-Sag cushions that stay plump.
Practical living
Fit three, comfortably. Stain-resistant polyester fabric with washable covers. Raised 7" for easy floor-cleaning.
Removable and Washable Covers!
The Eirik Sofa offers a convenient solution for easy maintenance and cleanliness. With its removable and washable design covers, this sofa ensures hassle-free care. To effectively clean the cover, it is recommended to wash it in cold water using a mild detergent. However, it is important to avoid using a dryer, as it may cause shrinkage or damage to the fabric. Instead, the covers can be line-dried, although a popular alternative is to reapply the cover onto the cushion while it is still damp, allowing it to naturally dry in place. This approach provides a practical and efficient way to maintain the cover's fit and overall appearance.
This product has no reviews yet.