The Helen Bed
---
Add Protection Plan
What's covered
Frame & Slats: Plywood, Solid Wood, MDF, Polar Wood
Legs: Stainless Steel Metal
Cover: Technical PU Leather over High-Density Foam
To clean: Vacuum the upholstery moving it from left to right in short, overlapping lines. Change over to the crevice nozzle, and vacuum in between the seams and under the cushions.

Treat stains: Attack stains with the appropriate water- or solvent-based cleaner. Let the cleaner sink in, and then blot it with a microfiber cloth. Don't scrub the stain, as the action could push the stain farther into the upholstery or damage the fabric.
Full Size
Carton Size
Box 1: 63"L x 49.2"D x 4.7"H
Box 2: 84.3"L x 11"D x 11.4"H
Carton Weight: 123.3 lbs

Queen Size
Carton Size
Box1: 69.7"L x 49.2"D x 4.7"H
Box2: 92"L x 11"D x 11.4"H
Carton Weight: 123.3 lbs

King Size
Carton Size
Box1: 85.5"L x 49.2"D x 4.7"H
Box2: 92"L x 11"D x 11.4"H
Carton Weight: 130 lbs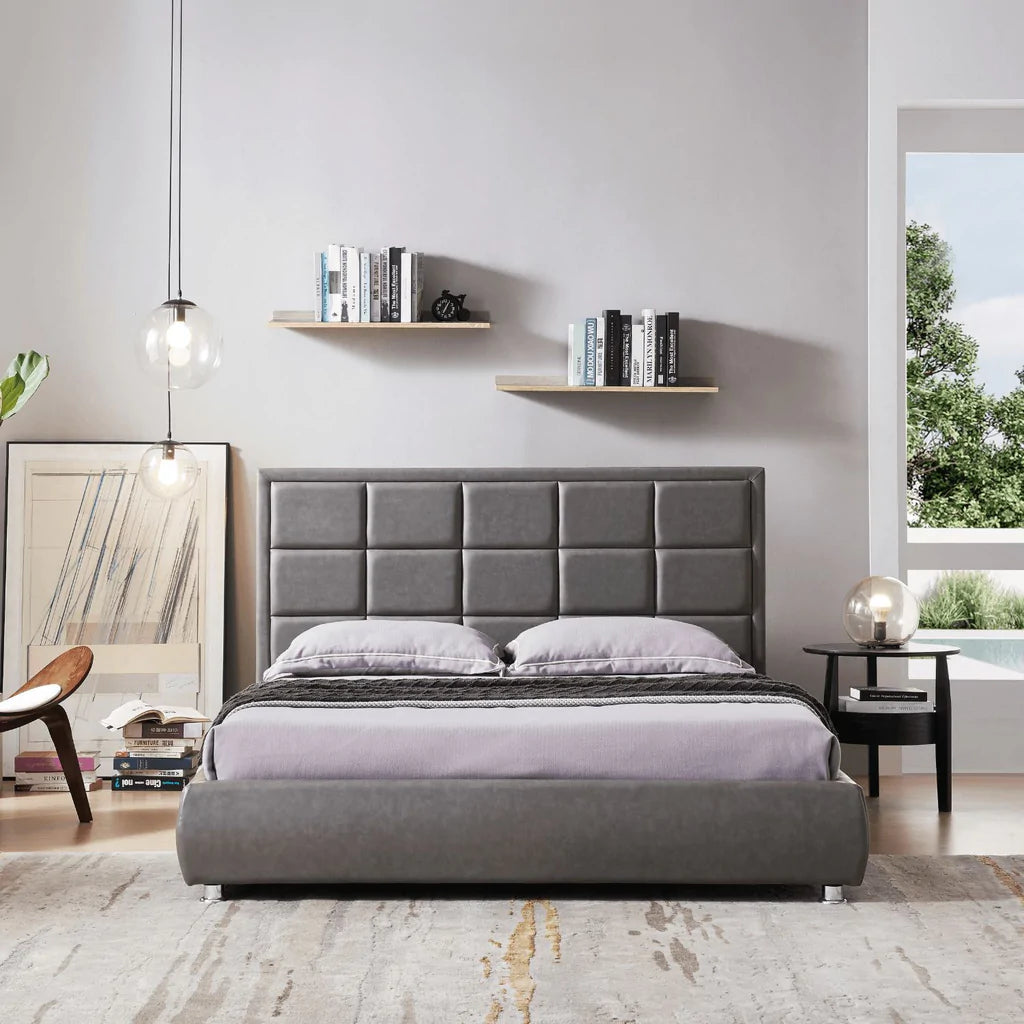 A mid-century silhouette, a modern shade, a friendly feel
The Helen strikes a perfect balance. It's mid-century in its shape and modern in both its cool gray shade and strong, efficient construction. Then there's the plush waffle headboard, a statement yes, but a homely one. Couple that with a technical PU leather that's super smooth to the touch, and you have a bed that welcomes you in. Well paired with waffles!

The 'waffle' look
The plush waffle headboard is a friendly feature piece, complementing a modern platform frame, with technical PU leather for durability.
In Real Life
Video taken by an iphone 12. No filters, No edits.
Designed to last
A strong pinewood and slat construction, no need for a box spring. Technical PU leather, made for living on. It's built to take 38% more weight than a standard bed – we've tested it!
Easy assembly
Good news – this bed isn't just a dream to sleep on, but to assemble too.
Dimensions
Dimensions
Full Size: 61"W x 82.3"L x 43.7"H
Queen Size: 67.7"W x 87.8"L x 43.7"H
King Size: 83.5"W x 87.8"L x 43.7"H
Base with Leg Height: 12"
This product has no reviews yet.