Valmolar Sectional
---
Add Protection Plan
What's covered
Frame: Wood
Filling: 1x Layer HD Dense Foam, 1x Layer HD Soft Foam
Fabric: Technical Fabric
To clean: Vacuum the upholstery moving it from left to right in short, overlapping lines. Change over to the crevice nozzle, and vacuum in between the seams and under the cushions.

Treat stains: Attack stains with the appropriate water- or solvent-based cleaner. Let the cleaner sink in, and then blot it with a microfiber cloth. Don't scrub the stain, as the action could push the stain farther into the upholstery or damage the fabric.
122 Inch
Carton Size
Box 1: 30"L x 39"D x 28"H
Box 2: 46"L x 53"D x 28"H
Box 3: 53"L x 39"D x 28"H
Carton Weight
Box 1: 44 lbs
Box 2: 87.3 lbs
Box 3: 77.4 lbs

92 Inch
Carton Size
Box 1: 46"L x 53"D x 28"H
Box 2: 53"L x 39"D x 28"H
Carton Weight
Box 1: 87.3 lbs
Box 2: 77.4 lbs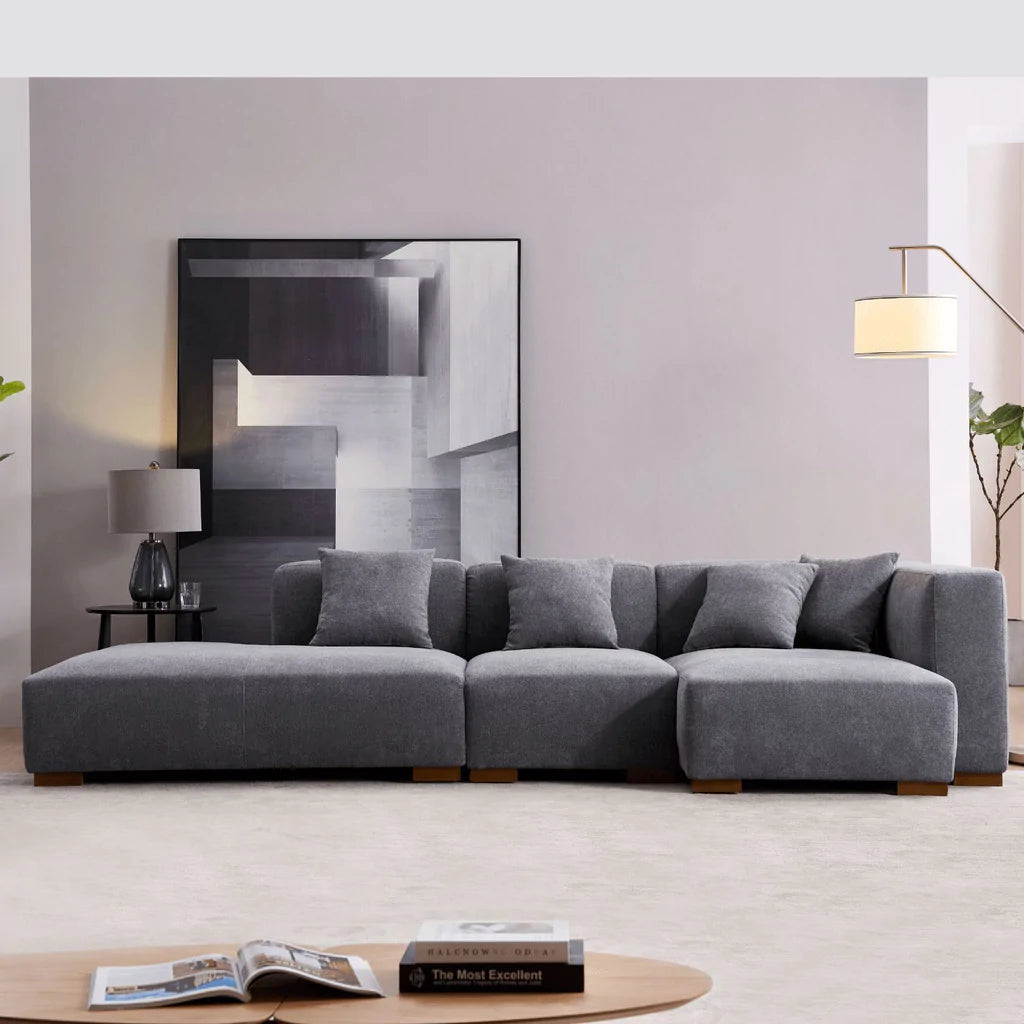 Minimal style monumental design
Its sleek style combines breathable yet sustainable fabrics, the perfect ratio of dense filing for a soft feel, complete with low thick wooden legs easily making this the masterpiece of the home. This pattern less sectional will captivate your friends and family with its straight cut edges and modern finishes that's not only pretty to see but durable to live with. Who wouldn't feel comfortable to stretch and lay down?

Styler
A simply minimal yet dramatic design whose, elegant yet accessible.
In Real Life
Video taken by an iphone 12. No filters, No edits.
Customize to your comfort
Reduce or extend the Valmolar sectional to cater towards your size, you are in complete control.
Designed for living
Water-resistant, stain-proof fabric, durable for the toughest and roughest conditions.