Crosshatch Table
---
Add Protection Plan
What's covered
Frame: Bronze Frame
Overall: Copper (old)
A unique, timeless and resistant metal that is easy to maintain.

To clean: Wipe with a damp microfiber cloth as needed to remove debris and oxidation. Warm water is the best option for cleaning stainless steel and will be the only cleaning required in most situations.

Treating stains: You may use a small amount of nonabrasive detergent added to water for stains. A drop of mild dish soap works well. Do not use bleach or chloride-based cleaners. Stubborn stains may require a commercial stainless steel cleaning product. These products can remove stains, protect against scratches, and polish the surface of the metal.

To maintain: Apply clear paste wax every few weeks. This will preserve the finish and protect against spills and oxidation. Apply a very thin coat of any commercially available furniture paste wax, let it dry for five to ten minutes. Then buff to a glossy sheen using a clean, dry cotton cloth.
Large Table
Carton Size: 20"D x 33"L x 34"H
Carton Weight: 4 lbs

Small Table
Carton Size: 19"D x 19"L x 21"H
Carton Weight: 4 lbs

Slim Table
Carton Size: 18"D x 18"L x 27"H
Carton Weight: 4 lbs
This item in our Foundry Collection is hand crafted and made from natural materials. The finish you see here may not be the vision you get at home. Nothing major, just different colors and sometimes very minor variations in size.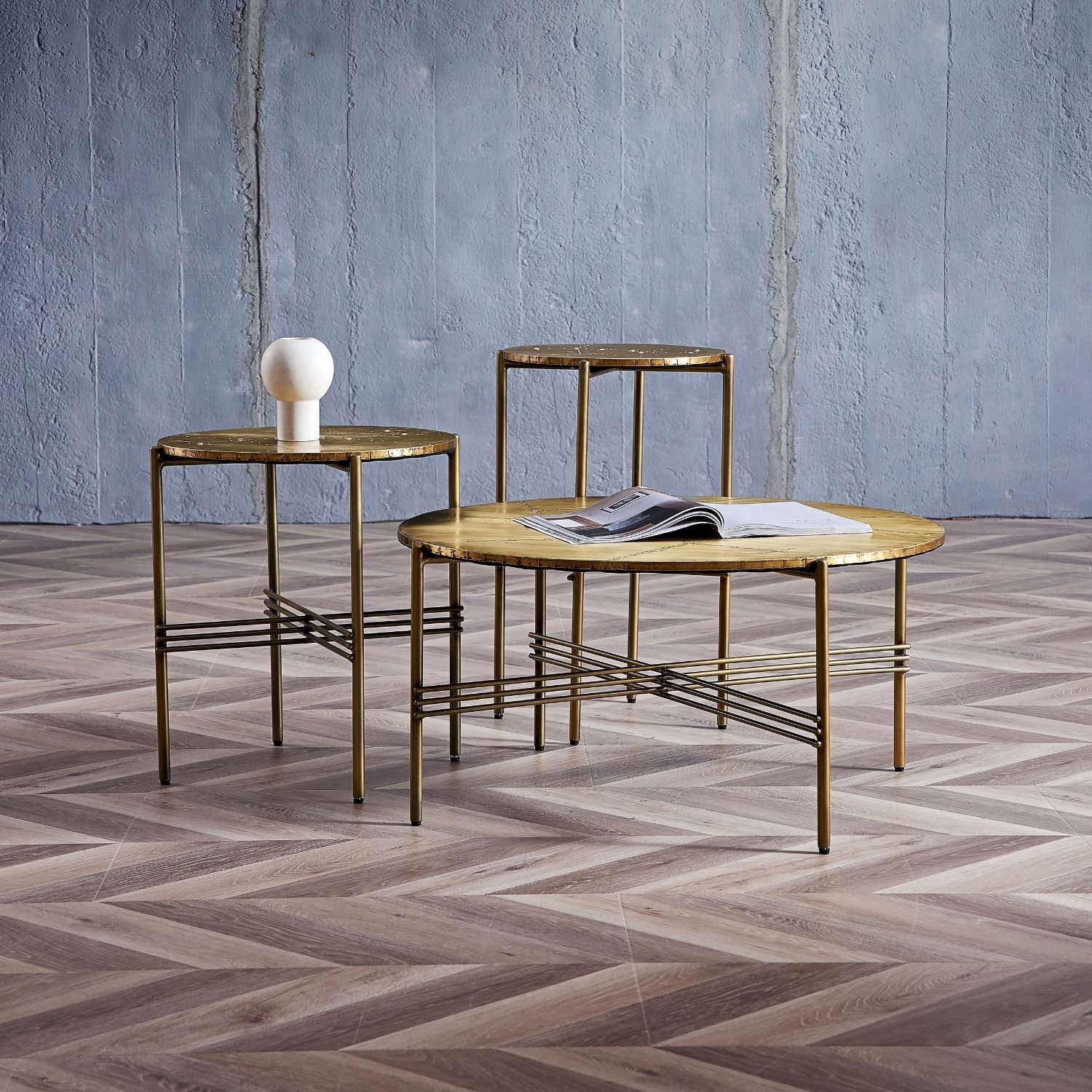 A copper and bronze table fit for royalty
Bring a little edge and a touch of sophistication to your home with this gold accent table. Available in three sizes, find one that's perfect for your space. Or grab all three for a precisely coordinated look. Made from copper and bronze this table can take a beating, plus it will develop a beautiful patina as it ages. The hammered design on top and the crosshatch bars underneath mean this industrial accent table looks good from every angle.

Distinctive details
This gold accent table is kind of a showoff.
In Real Life
Video taken by an iphone 12. No filters, No edits.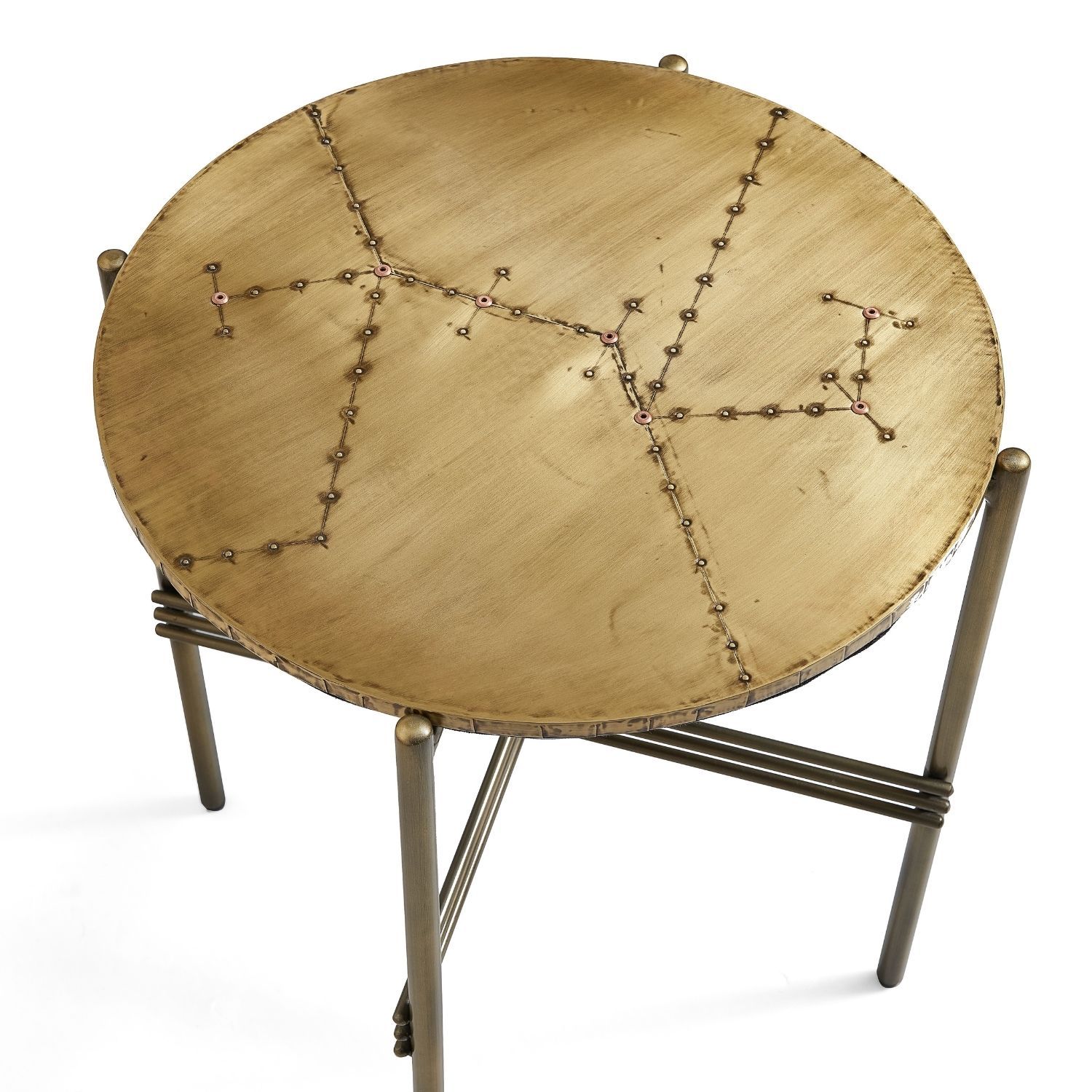 A serious accent
Elevate your space with this gold accent table.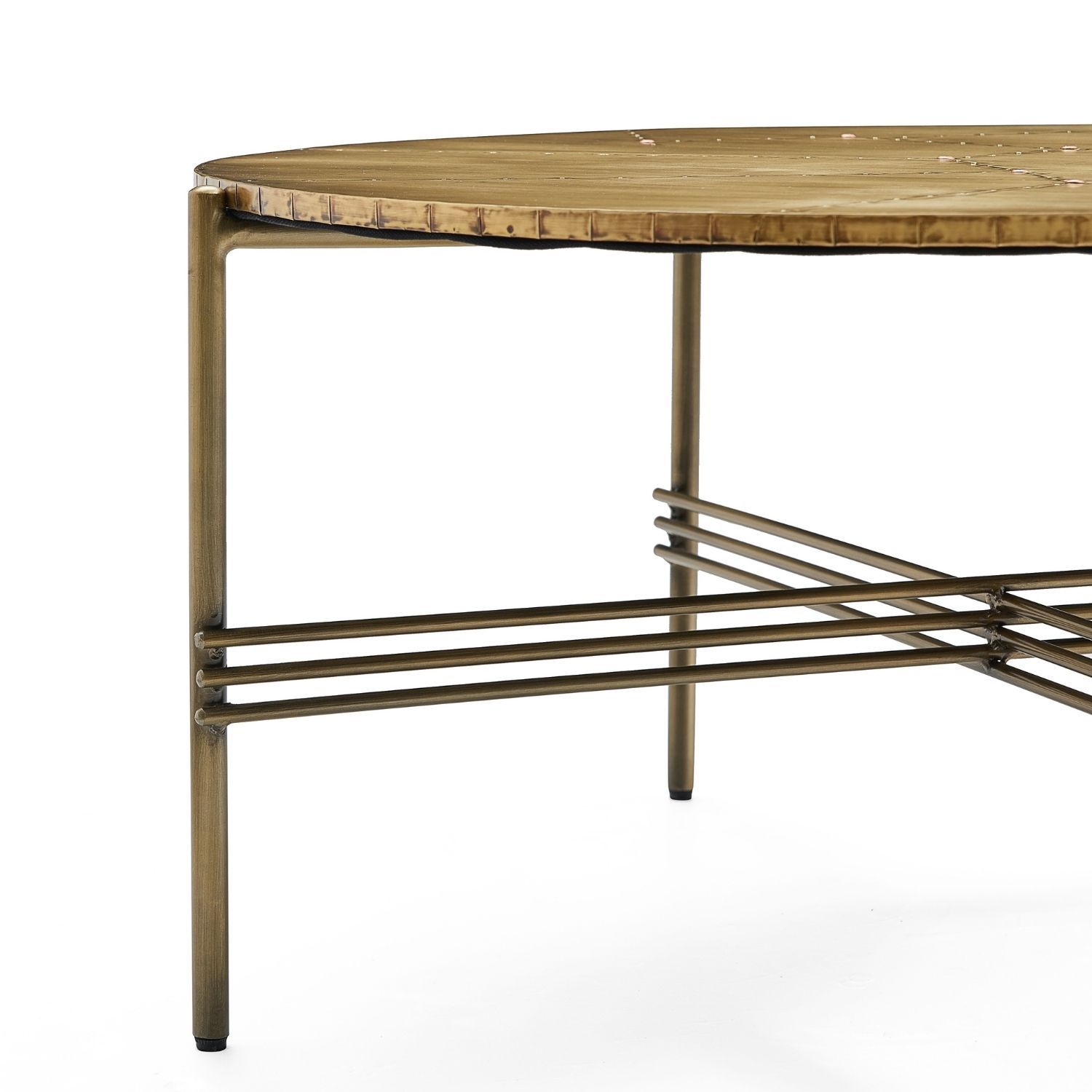 Strong and sturdy
Can take whatever life throws at it or spills on it.
Dimensions
Dimensions
Large Table
Length: 30"
Width: 30"
Height: 15"

Small Table
Length: 18"
Width: 18"
Height: 19"

Slim Table
Length: 15"
Width: 15"
Height: 22.6"
This product has no reviews yet.